"When I die, I will tell my ancestors especially my father and mother of the nice house and staggering cash you have showered on me. their response will be you have really enjoyed before coming."
These were the words of Daari Pogo after officials of the Wa-Branch of Fidelity Bank opened an account for her.
The opening of the account was necessitated by the sea of donations following the hotline documentary by setter Kwame Boateng on the squalid life of the 80-year-old leper who lost all 10 fingers as a result of leprosy.
Several donations have poured in ever since Daari Pogo's story was aired on JoyNews' Hotline Documentary 'Withered Skin' by Seth Kwame Boateng.
She suffered leprosy during her childhood years and as a result, lost all 10 fingers and her toes except the two big toes.
The monetary donations made to her is so staggering to be handed over to an old lady living in an outlandish community like Motori.
They then decided to open an account with Wa Branch of Fidelity bank to enable her receive some monthly stipends. Officials of the bank rolled in to the Motori community to open the account for her.
Wa Branch manager of Fidelity Bank, Mawiah Shani spoke through an interpreter on what is required. The first requirement was a voter ID Card which was asked for and she presented both the old and the new one.
With a heart loaded with prayer and thanks to all the people who supported her since the story was aired Daari Pogo said her life has changed significantly.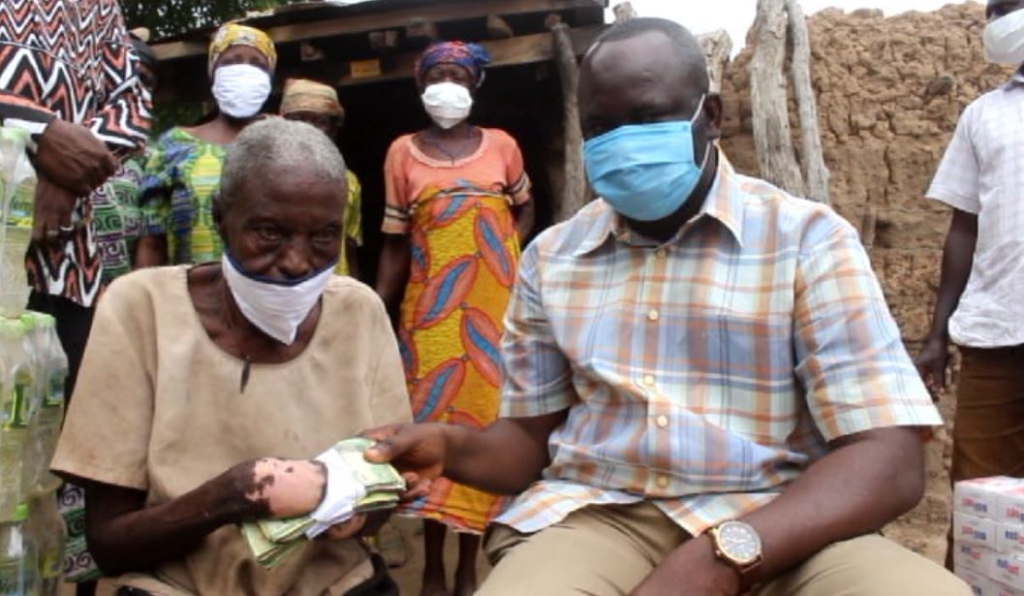 It started with the donation of food items and cash amount of ¢2,000 from Vice President, Dr Mahmudu Bawumia. The second gentleman also paid for the construction of a two-bedroom house which has so far been roofed with the windows almost being fixed.
The emotional nonagenarian said she has a story to tell to her ancestors when she is called by her maker.
"I never expected money as huge as this. Every day I struggle to survive. Now, I don't only have money but a house…when I die I will tell my ancestors of what you have done for me…they will be happy that I enjoyed before coming," she stated amid uncontrolled laughter.
"The clothes I am wearing, my mother didn't have. She was virtually naked before she died and buried here," she added with nostalgia.
It is not only Dari Pogo who is happy about the construction of the house.
Her middle-aged son, Kutuoku Gyaadu since his birth has been staying with the mother in the dilapidated makeshift structure
He was born with hydrocephalus and as a result, his speech is slurred.
Gyaadu was over the moon and pointed his hand to the sky to thank God for their newfound life.