What could cause a mother to leave her six-month-old daughter in the care of a five-year-old child to go in search of the day's meal?
While the answer to this question may be numerous and the ordeal farfetched, that was the reality of Little Rahina when JoyNews' My Community team visited Tuya Primary School in the Mion District of the Northern Region.
The destitute pupil struggles to carry her snivelling infant sister.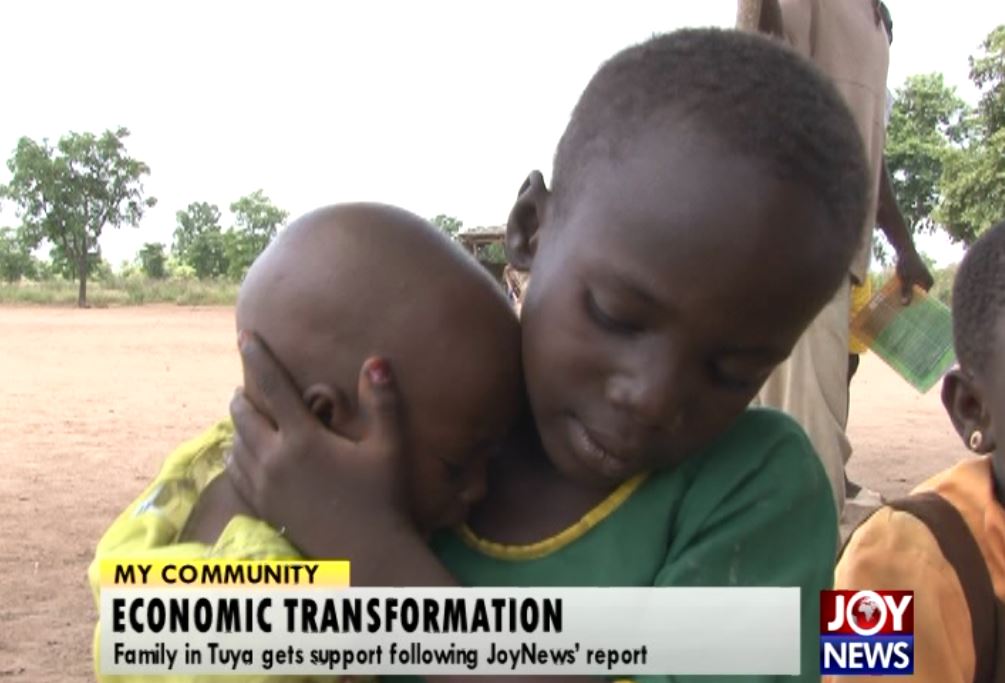 Their mother, Afiwa, explained that she could not allow the child to be subjected to the harsh sun rays while she journeys her way to the nearby town to labour for the day's meal hence her decision to leave her behind.
This is her regular routine especially during the time of harvest when she frequents their little farm to support her children.
This story is a reflection of a vulnerable group of the citizenry who live in abject poverty in rural Ghana.
With very little or no formal education, the possibility of breaking the trend looks bleak from the get-go.
Following the airing of her plight by JoyNews' Abla Desouza, however, their predicament caught the attention of philanthropists who stepped in.
Cash support, solar lamps among other remittances are what the family received from their benefactors.
Watch the full episode of My Community below.
Your rural development-driven programme, My Community, airs every Sunday at 6:30 pm on JoyNews via the Digital Terrestrial platform, on DSTV channel 421, GOtv channel 144 and on YouTube via JoyNews TV.