Some final year students of the Nalerigu Senior High School (NASS), in the Northern Region are stranded around the school premises following the postponement of the reopening date by the Ghana Education Service (GES).
The frustrated students have already reported to school two days ahead of the initial reopening date.
However, the GES on Tuesday morning announced that it has rescheduled the reopening for Senior High School (SHS) Form 3 students to May 5.
"This applies to all Form 3 students (single track and double track schools). Further details will be announced. All other arrangements on the calendar remain unchanged," the Service said.
But according to the Form 3 students, Covid-19 has already ceased part of their preparation time for the final examination leaving them with very limited time hence the desire to cover the remaining lessons on time.
"What they are doing is not good, it will not help us because we are final years', we should have been in school by now," a student told JoyNews.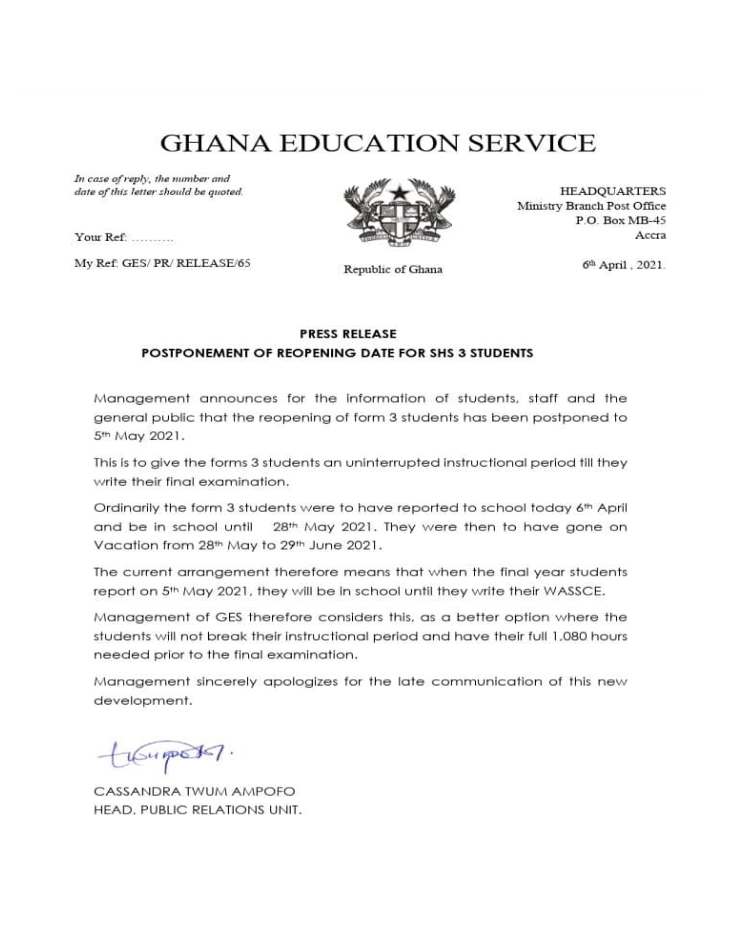 For other students, the situation "is just painful, because we thought because we are final years' this is our time to study and go, and now that we are asked to go back home without knowing what we are going to do at home, it's just painful."
JoyNews' Eliasu Tanko on Tuesday, spotted a student crying, according to her she had come from Konongo a day before the announcement from GES got to them.
"I was crying because I would not get money for transportation. This is because I got here just yesterday and I have already used the money I had for provisions so I don't have any money," she told Eliasu Tanko.
"I came from Konongo just yesterday… Now going back is difficult because I can't afford the transport fare, and even if you call home, it will lead to no avail so now what will we do," the student quizzed.
Meanwhile, the Service in its statement indicated that the new development was "to give the form 3 students an uninterrupted instructional period till they write their final examination."