Pope Francis has called for an end to violence and extremism, on the first-ever papal visit to Iraq.
The pontiff is making his first international trip since the start of the coronavirus pandemic.
Covid and security fears have made this his riskiest visit yet, but the 84-year-old insisted he was "duty bound".
He also said Iraq's dwindling Christian community should have a more prominent role as citizens with full rights, freedoms and responsibilities.
He is hoping to foster inter-religious dialogue – meeting Iraq's most revered Shia Muslim cleric – and will celebrate Mass at a stadium in Irbil in the north.
About 10,000 Iraqi Security Forces personnel are being deployed to protect the Pope, while round-the-clock curfews are also being imposed to limit the spread of Covid.
Iraq's PM Mustafa al-Kadhimi greeted him at the airport, with a red carpet, Iraqis in national dress and songs from a largely unmasked choir.
Hundreds of people lined the airport road as the Pope's convoy, heavily chaperoned by police motorcycles, left for the city.
But the Pope was seen to have a pronounced limp, suggesting that his sciatica condition continues to bother him.
'Rich Christian heritage'
In a speech after being welcomed by Iraqi President Barham Salih, Pope Francis said he was very pleased to come to Iraq, which he described as the "cradle of civilisation".
"May the clash of arms be silenced… may there be an end to acts of violence and extremism, factions and intolerance!" he said.
"Iraq has suffered the disastrous effects of wars, the scourge of terrorism and sectarian conflicts often grounded in a fundamentalism incapable of accepting the peaceful coexistence of different ethnic and religious groups."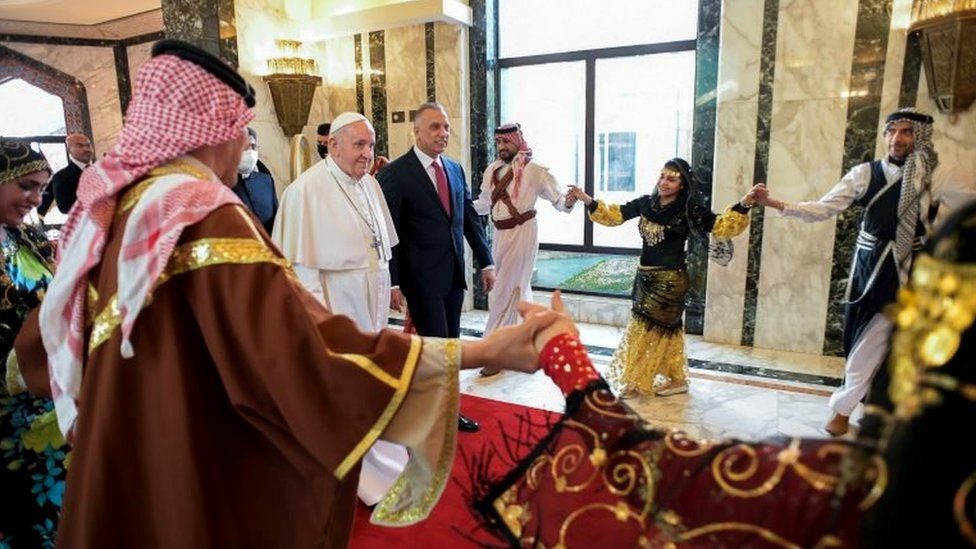 He turned to the country's Christians, who he said should have a greater role in public life.
"The age-old presence of Christians in this land, and their contributions to the life of the nation, constitute a rich heritage that they wish to continue to place at the service of all," he said.
He said Iraq's diversity was a "precious resource on which to draw, not an obstacle to eliminate".
He had earlier said Iraqi Christians could not be "let down for a second time", after Pope John Paul II cancelled plans for a trip in 1999 when talks with then-President Saddam Hussein's government broke down.
In the two decades since then, one of the world's oldest Christian communities has seen its numbers plummet from 1.4 million to about 250,000, less than 1% of the population.
Many have fled abroad to escape the violence that has plagued the country since the US-led invasion in 2003 that ousted Saddam.
Tens of thousands were also displaced when Islamic State (IS) militants overran northern Iraq in 2014, destroying their historic churches, seizing their property, and giving them the choice to pay a tax, convert, leave or face death.
What does the Pope hope to achieve?
The head of the Roman Catholic Church aims to embolden persecuted Christians and call for peace in meetings with political and other religious leaders, reports the BBC's Mark Lowen, who is travelling with him.
Addressing the Iraqi people in a video message on the eve of his trip, Pope Francis said he was "coming as a pilgrim, as a penitent pilgrim, to implore from the Lord forgiveness and reconciliation after years of war and terrorism".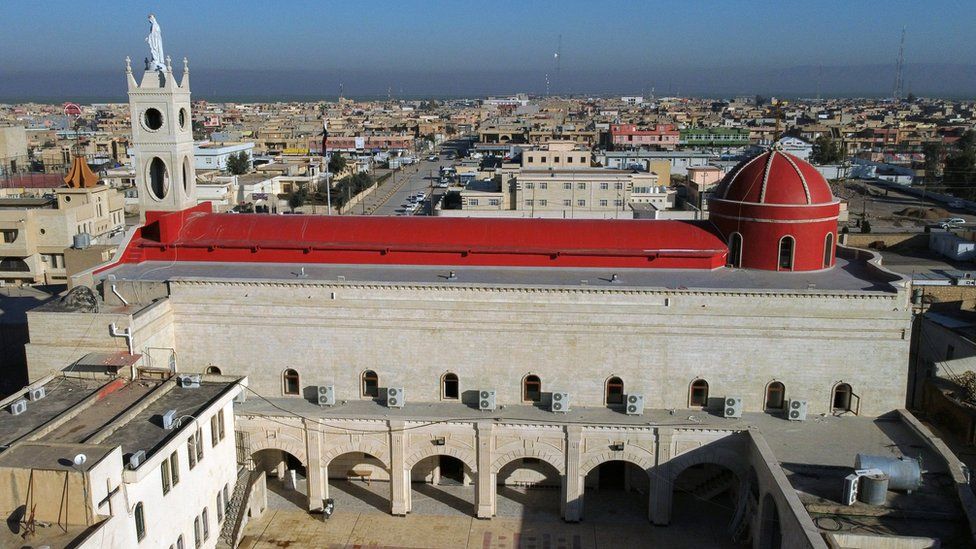 Christians, who had some protection under Saddam, later suffered increased attacks by militant Islamists.
In 2010, an attack by jihadists on a Syriac Catholic church in Baghdad left 52 Christians and police dead. Pope Francis will visit the church, Our Lady of Salvation, on Friday.
But the post-Saddam violence has affected all of Iraq's faiths and communities, much of it the result of sectarian tension between majority Shia and minority Sunni Muslims.
How is the Pope being received?
Security arrangements are massive, with the Pope mostly flying to make his visits, and possibly using an armoured car for shorter trips. In central Baghdad, billboards welcome the Pope, and Iraqi and Vatican flags fly together.
The Christians of Iraq are hoping the Pope will help them overcome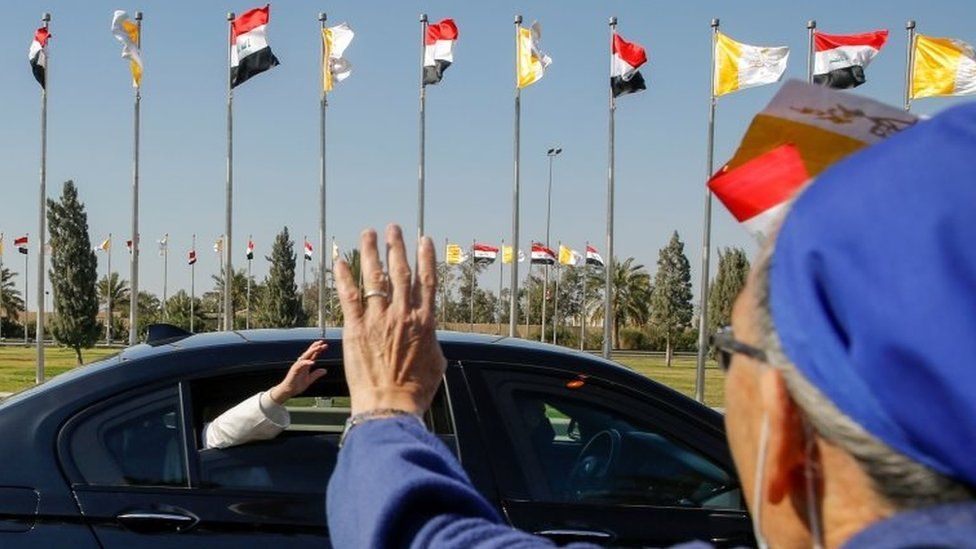 In Baghdad, there was joy that he was visiting.
"I feel an indescribable happiness. We're all brothers and sisters, we're all one hand. We're all going to greet someone great, the greatest figure, the Pope," Naem Faouzi told Reuters news agency.
Father Martin Ra'ad, a Christian priest said: "Today, Pope Francis is realising the dream that Iraqis have had for the past 20 years, waiting for him to arrive on Iraqi soil."
Christians in the north were also looking forward to his visit. Alla Hana Shaba, who fled to Irbil in Iraq's Kurdistan region after the IS invaded the Nineveh Plain in 2014, told Iraqi TV: "We want the Pope to help the displaced find a place to settle. We have lost our houses and money."
DISCLAIMER: The Views, Comments, Opinions, Contributions and Statements made by Readers and Contributors on this platform do not necessarily represent the views or policy of Multimedia Group Limited.