The Public Utilities Regulatory Commission (PURC) has assured Ghanaians of their commitment to investigate and resolve the recent power outages in the country.
Earlier this month, major parts of the country witnessed a series of interruptions in its power supply.
On Sunday, March 7, 2021, a total system collapse that occurred in the transmission network resulted in a national power outage.
The Public Utilities Regulatory Commission (PURC) in a statement on Thursday noted that although they acknowledge the press releases from GRIDCo and ECG, regarding the power outage, they will conduct their own investigation and take the necessary action.
"Whilst acknowledging the press releases from GRIDCo, ECG and NEDCo on these incidences, the PURC wishes to assure consumers that it is investigating the issue and take appropriate regulatory action against any utility in the power value chain that is found "non-compliant with regulatory standards and benchmarks."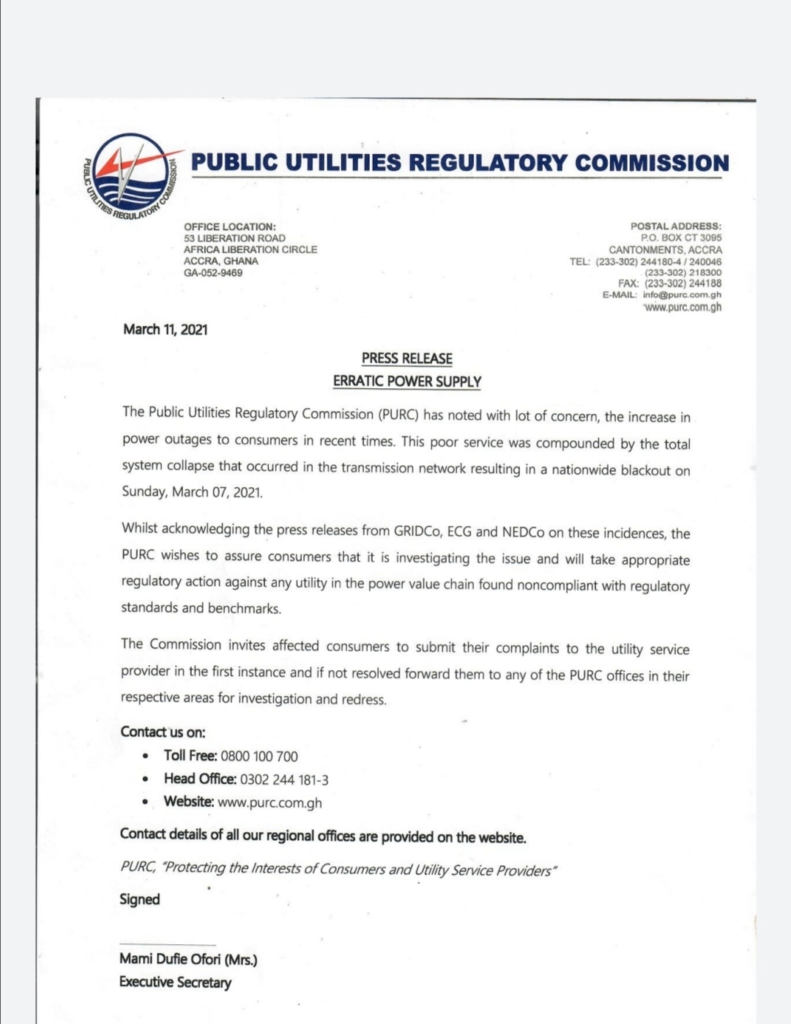 Reasons given by the Ghana Grid Company Limited (GRIDCo) indicated that the nationwide power outage experienced was due to a technical fault on one of the major transmission lines between Prestea and Obuasi.
GRIDCo, ECG and NEDCo, a week ago, also in press statements disclosed that their technical teams were handling the issue.
Meanwhile, members of the public who are affected have been encouraged by the PURC to submit their complaints to the Commission or their respective PURC offices in various localities for redress.