Members of the Minority in Parliament are demanding the immediate dismissal of Environment, Science, Technology & Innovation, Prof. Kwabena Frimpong-Boateng over the missing excavators seized from illegal miners.
According to them, the President should also ensure the Minister's prosecution over his involvement that led to the undisclosed number of missing excavators.
Currently, over six suspects are assisting the Ghana Police Service with investigations over the missing excavators and other equipment seized by operatives of Operation Vanguard.
Their demands follow reports that Prof. Frimpong-Boateng who was the Chairperson for the Inter-Ministerial Committee on Illegal Mining (IMCIM) has been replaced.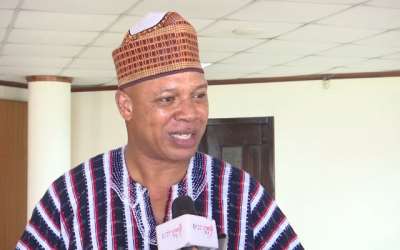 Addressing the press in Parliament on Wednesday, Minority Spokesperson on Mines and Energy, Adam Mutawakilu said his dismissal as the chairperson of the committee is not enough.
"The President and Cabinet made a mistake by putting him in charge of the Inter-Ministerial Committee on Illegal Mining because the Minerals and Mining Act is clear that Minister for Lands and Natural Resources should be in charge.
"So dismissing him is not enough, he has engaged in a criminality by not following the law and taking advantage of his position to rob this nation of several millions of dollar and therefore he must be dismissed and prosecution should commence," he added.
Prof. Frimpong Boateng's prosecution in Mr. Mutawakilu's view will serve as a deterrent to other government officials engaging in illegalities in the fight against galamsey.
The Damango MP said he was surprised to hear that an additional eight excavators which were seized have also been disappeared from a parking yard in Accra.
He wants the sector Minister to handover the seized excavators and other equipment's to the police as prescribed by the Minerals and Mining Act Section 99 (5).
Mr Mutawakilu believes the failure of President Akufo-Addo to stand his ground and punish his appointees is accounting for the ongoing impunity.
"President Akufo-Addo's actions go to confirm that he doesn't take Ghana seriously and is only interested in his people making money, and they can only make money is by stealing. We call on him to ensure that the law is followed.
"Give the excavators to the police for safekeeping and not party apparatchiks," he added.