The town of Campobello di Mazara on the Italian island of Sicily overlooks rows of olive trees blanketing verdant fields – farm trucks zoom past with crates brimming with plump green olives.
But a short stroll away from this idyllic view is something much darker – a filthy makeshift encampment that resembles a refugee camp.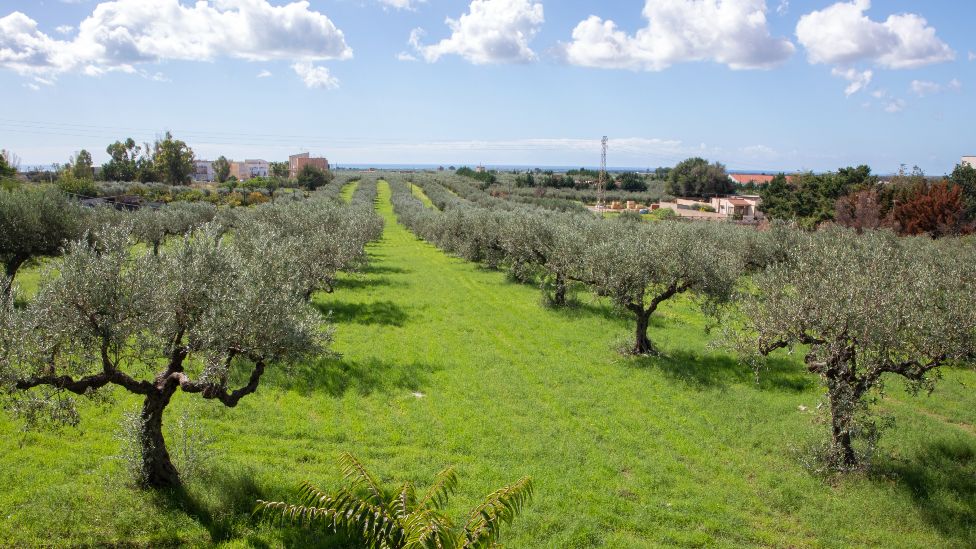 Known as the "ghetto", it is home to hundreds of African migrant farm workers, most of whom are from The Gambia, Senegal and Tunisia.
Such "ghettos" housing mainly African agricultural workers also exist in other parts of Italy like Puglia in the south. The UN estimates that between 450,000 to 500,000 irregular migrants are working in the country's agricultural sector – about half of its total workforce.
"Campobello" in Italian means beautiful countryside, yet looking out round the camp there is nothing here but squalor and one-room shacks built from discarded wooden doors, plastic and metal, like old olive tins.
Residents are distrustful of outsiders and few are willing to talk when we visit.
A Senegalese man washes some meat with his bare hands in a large pot filled with dirty water as he prepares lunch, another man butchers a sheep and a third man feeds lambs with milk from a plastic water bottle.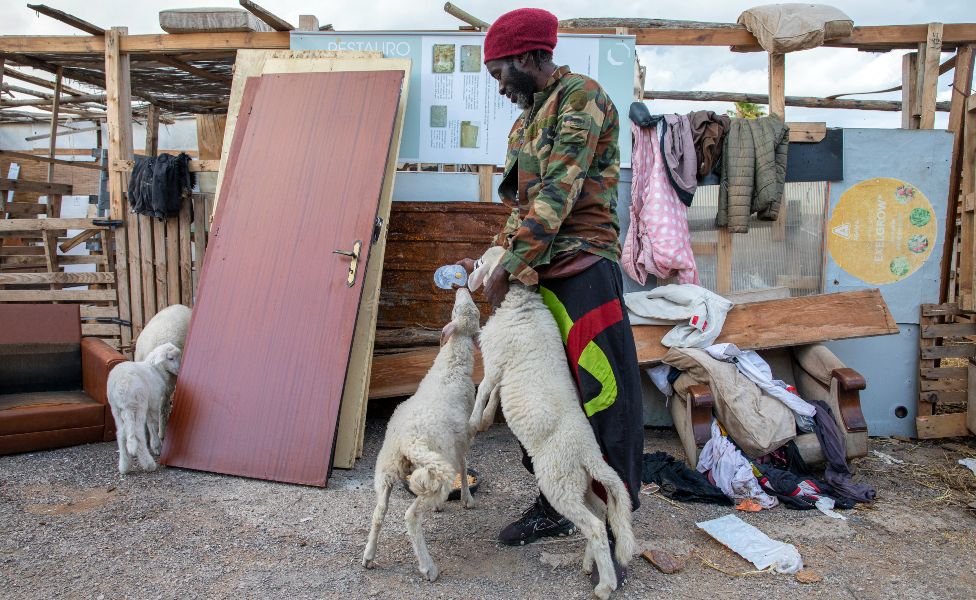 At the back of the camp is a large open area filled with piles of rubbish and a makeshift shower room which can be hired for $1 (£0.85) and a bucketful of water bought for $1.
The building was constructed by Boja, a Gambian migrant who would only give his first name and moved here in 2017. He initially came to work in the olive fields but since then has used his carpentry skills to become the camp builder.
He erects the shacks which are rented out to workers for $100 a month.
But the shack dwellers live in grim conditions: there is no running water, no sewage system and no electricity. Fires are lit to cook and keep away the night chill, says Boja.
Heatwave labour
Still every year up to more than 1,000 migrants – without official papers – fill this informal camp to work for black-market gangmasters to harvest olives from September to November.
Farmers here grow the Nocellara del Belice olive, considered one of the finest table olives in the world. They need to employ many people to pick them by hand to get them to the expensive delis and supermarkets worldwide.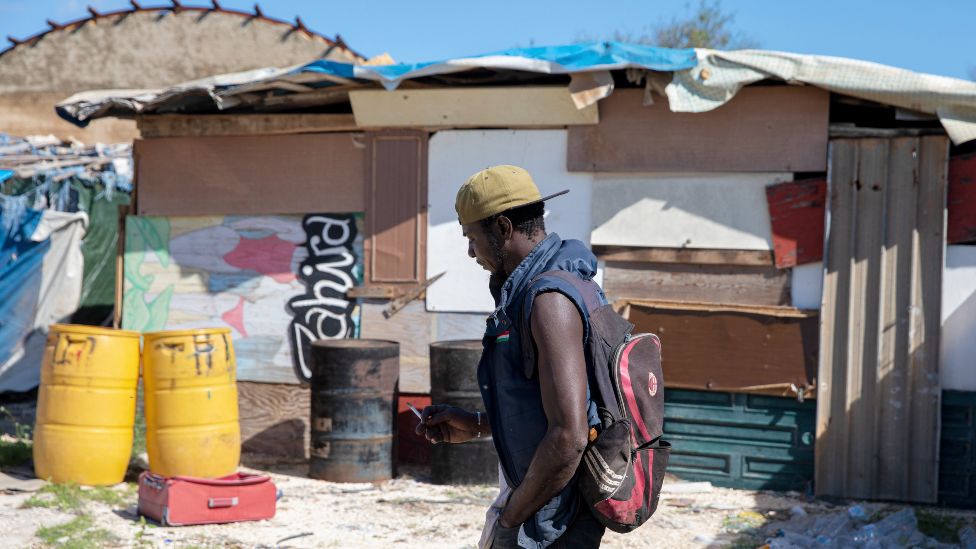 The gangmaster system, known as "caporalato", means the migrants do not work directly for the farmers – and their illegal status means they are incredibly cheap for businesses, which pay them as little as $2 an hour.
Boja says the ghetto can be a dangerous place – drug dealing and sex workers are in evidence – and even the police do not venture into the camp, which partly burnt down last year, killing a young migrant called Omar Baldeh and leaving hundreds of others homeless.
Yet the nearby town of Campobello di Mazara is eerily empty of residents, its streets lined with boarded-up homes. Sicily has long been a place of emigration – its people leaving to find work opportunities in northern Italy and the rest of Europe.
At night the town whimpers to life with a couple of takeaway pizza places and cafés where Tunisian and Senegalese migrants sit outside smoking cigarettes and drinking coffee.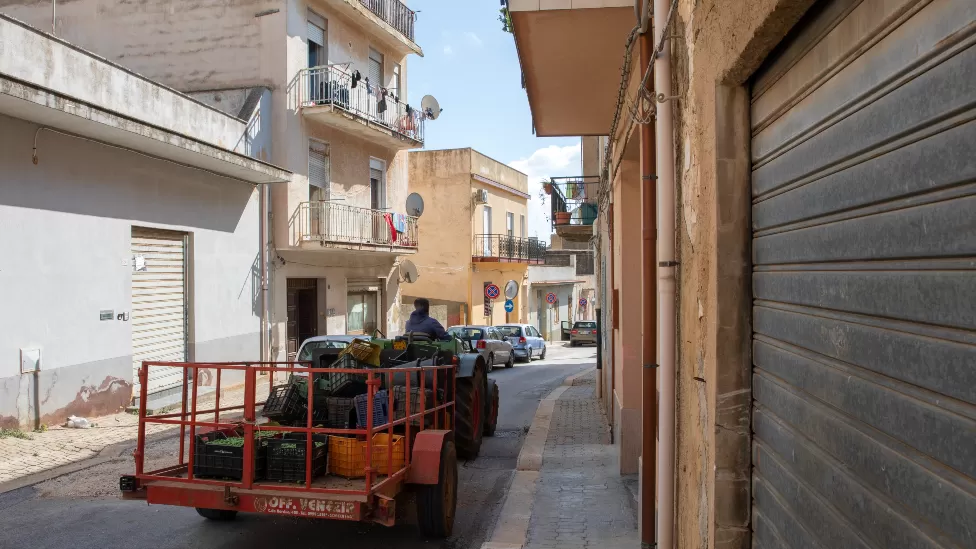 People do whatever it takes to survive in the ghetto, says Boja, who finds it too difficult to talk about the losses from the fire.
To commemorate the first anniversary of the fire, African migrants marched through Campobello di Mazara last month with Italian activists to call for better conditions for camp residents.
One of those who joined the protest was Issa, a Gambian migrant who also did not want to give his full name. He lives in Puglia, where he spent two years in the large Foggia ghetto, home to more than 1,500 migrants.
He also complained about how African migrants are treated by gangmasters – forced to work long hours in excessive heat.
In June 2021, Camara Fantamadi, a 27-year-old Malian farm worker, died after picking tomatoes in the scorching sun in Puglia.
"However hot it is, when you go to Puglia you will see Africans working on farms," says Issa.
Even on the hottest of days when it easily reaches 40C and migrants would rather not go into the fields, the gangmaster would not relent, calling to say: "Issa, where are you, why don't you come to work?"
He adds: "You have to wake up and go to work, no matter how hot it is."
It reflects how the African migrants are bearing the brunt of the escalating climate crisis Italy is experiencing. Sicily is the epicentre of Europe's heatwaves, where the hottest ever recorded temperatures on the continent were registered at 48C in 2021.
Mustapha Jarjou, the 24-year-old spokesperson for the Gambian Community Association in Sicily's capital, Palermo, says the irony is that many of those who make the dangerous Mediterranean crossing to Europe do so to escape the lack of opportunities created by climate change in Africa.
'They cannot survive without us'
Before the pandemic, a UN expert spoke out about the exploitation of agricultural workers "by the sophisticated Italian food system" and condemned how undocumented migrants were "left in limbo".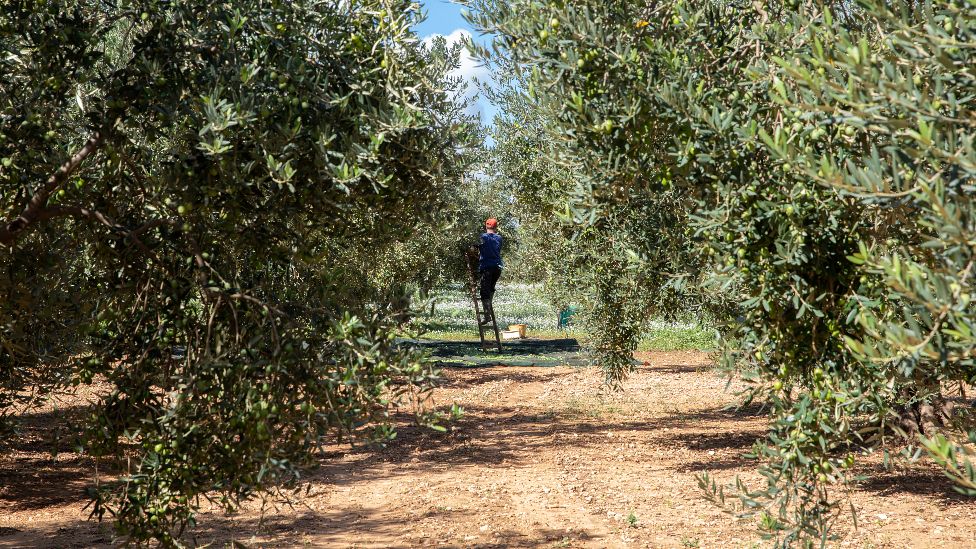 The Italian authorities say attempts have been made to curb gangmasters in recent years.
The system was made illegal in 2011 and in 2016 it became a jailable offence for farmers to rely on a gangmaster, though the law does not seem to stretch to undocumented migrants.
During the pandemic, the government did issue work permits to thousands of irregular migrants to help farmers cope with a labour shortfall.
But with a new far-right government taking office last month, there are worries further amnesties for undocumented migrants will not be considered.
An undocumented Senegalese worker, who asked not to be named and who has worked for many years as a seasonal agricultural worker across Tuscany, came to Sicily this year when he heard he could make about $60 a day.
Labour shortages and the impact of Covid have led to a small rise in wages.
His 12-hour shift begins at 06:00 and he expects to earn $5 per crate of olives he picks. He aims to fill at least 10 a day.
The work is hard, hot and unforgiving, but it is the only job available to immigrants like him, he says.
He feels Italians do not realise how essential migrants are to the gastronomic-loving country: "They cannot survive without us – we grow their food."
DISCLAIMER: The Views, Comments, Opinions, Contributions and Statements made by Readers and Contributors on this platform do not necessarily represent the views or policy of Multimedia Group Limited.