A group of landowners in Sokode Lokoe in the Ho Municipality of the Volta Region are alleging the encroachment on their properties by some military officers and members of the Veterans Association of Ghana (VAG).
According to the aggrieved persons, the military and members of VAG are attempting to forcefully claim ownership of their lands purchased from the rightful owners and duly registered at Lands Commission. 
Per the documents provided, the parcels of land in contention were registered in the 1970s and 80s after they were acquired from the original owners.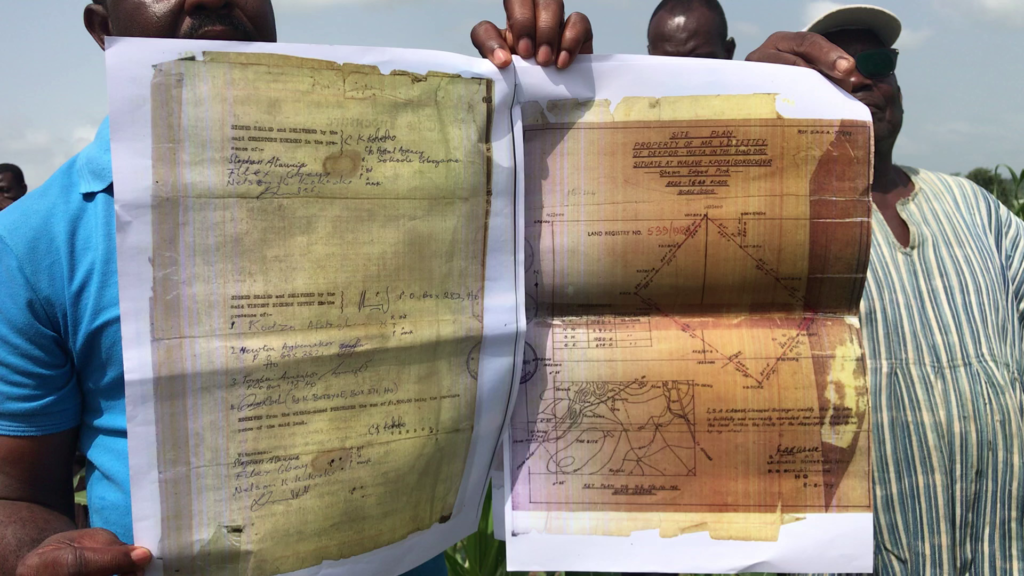 The lands sandwiched between the Veterans Association of Ghana Hall and the University of Health and Allied Sciences were thereafter sold to the individuals. 
The landowners lamented that a few years after purchasing and duly registering the properties with the Lands Commission, members of VAG are claiming ownership of the lands. 
"On the 27th of October, I was on my farm weeding when I heard voices, I raised my head and I saw some people, they were 14 in number. Some of them were carrying guns, 6 of them were soldiers, they were in military uniform."
"I heard the voice of a known person, Wisdom Defeamekpor. I called and asked him what he was doing on the land. He explained some people were encroaching on VAG lands, so he has come to remove the pillars. Actually, he was breaking some and removing some," narrated Maxwell Ashie, one of the landowners.
Another landowner, Frank Agbeve who was astonished by the development, explain that he had done the requisite investigations and went as far as to the Lands Commission prior to purchasing the land.
"According to my investigations, my landlords purchased the lands from one Kokoroko family in Sokode and registered it in 1977. So I don't know why anybody will enter here and say these lands belong to them," he lamented.
"When I went to [the] barracks to inquire about the visit of the military officers to our lands, the Adjutant explained the officers were sent because of activities of people calling for the independence of Transvolta Togoland. So I asked myself what has our lands got to do with Transvolta Togoland issues and left," narrated another aggrieved landowner.
The landowners fear the development might lead to the loss of lives if authorities fail to intervene. They are therefore calling on the Chief of Defense Staff and the Interior Ministry to call the officers concerned in order to avoid any unfortunate incidents and the upsurge of land guards in the Volta Regional capital.