The last time Hearts won at Medeama, Kenichi Yatsuhashi was at the helm of the Accra giants. That was in 2016, and since then, Medeama have made it a mission to beat the Phobians black and blue.
On Sunday, Hearts suffered another routine defeat in Tarkwa. And based on this game, it is possible to draw a five-step guide to how to beat the Phobians, following what is their second loss of the new campaign.
The score finished 3-0 at the Akoon Park, with the Mauves and Yellows better by some distance. Victor Atsu Tamakloe was in the Western Region to see the game, and presents his thoughts on why Hearts failed.
SUICIDAL PRESSING
Hearts started the game playing like their very lives depended on it. For a team that was listless in last week's defeat to Berekum Chelsea, it was refreshing to see. They pressed high up the pitch as they tried to assert themselves on their opponents. But it only took minutes for Medeama to beat that press and begin what was a systematic dismembering.
It failed because the pressing was not coordinated. Normally when teams press, they do so while maintaining a specific shape that allows them to recover should the opponent beat the press. It allows them to have players in close proximity to aid quick and direct build-up when in possession. The Phobians did not have that.
They just had a group of hungry players that were determined to fight for every ball. But they did not know how to do so without leaving themselves susceptible to counter breaks and on occasion, the counter-press. Unsurprisingly, Medeama carved them apart after finding the space in behind Affutu and Agyare. And although they did not score right away, the resultant corner kick brought the penalty that set the tone for the rest of the game.
Another thing about Hearts pressing was who they had identified as the 'press trigger'. Normally when teams press, they identify a player(s) in the opponent's team who is not very comfortable on the ball and put him under pressure. They may close down all other options and leave that player free in space to 'tempt' opponents to pass the ball to him, at which point they press; one to him and everyone else unto their marker like a wolf pack.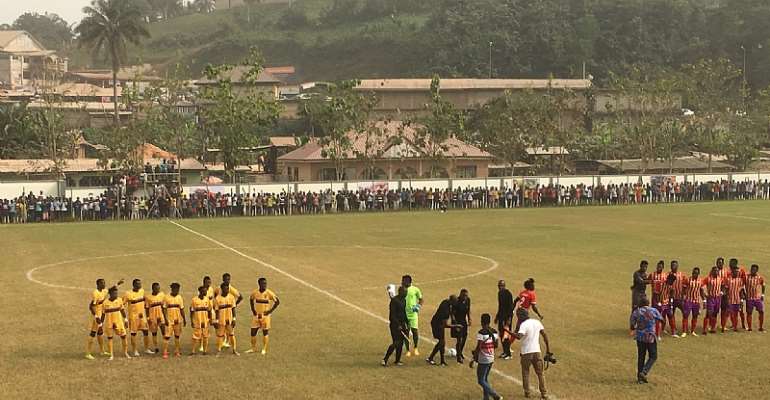 Hearts did not get the memo. They went chasing after players who enjoyed dribbling their way out of the press or could combine with their teammates in tight spaces to beat the press. Once they got out of that crowded space, they could quickly switch play to the other side where they would have a one v one or one v two.
For Medeama, Richard Boadu, Ali Outtara and Agyenim Boateng were the men for the job. They spun the Hearts players for fun all afternoon and in one of such moments, Prince Opoku Agyemang benefitted from a defensive mix up between the otherwise reliable Mohammed Alhassan and goalkeeper Richmond Ayi to score his second of the game.
When Hearts got tired in the second half, things got worse. They no longer had the legs – which was pretty much all they had anyway. Medeama kept knocking the ball around until the gaps appeared for the third goal by Nana Kofi Babel.
In the end, while Samuel Boadu's men put on a clinic on how to beat the press, Hearts looked like patients on life support.
AFUTU-AGYARE MIDFIELD DISASTER
When you think of the two – Benjamin Afutu, a midfielder and Benjamin Agyare, a centre back – you think protective cover. You think solidity. No more, no less.
In the past, that would have been enough to secure at least a point. Not today. Football today is far more sophisticated and requires holding midfielders to do more than just screen, and these two did not have much beyond being combative and workaholic. When they won the ball, their distribution – Agyare especially – was a problem. The pass selection caused more problems than intended. It either was often overhit or found players who were under pressure.
This affected Hearts' build up in the first phase as the passes were too slow, predictable and, in the end, ineffective. Sometimes, it was counter-productive too.
OVERLOADED MANAF UMAR
On a day Hearts went with Afutu and Agyare in holding midfield, the creative responsibility fell to young Manaf Umar (above, pictured). His task was to find Kodji and Esso and whoever was free in an advanced position.
Simple eh? Not that simple.
Though he often received the ball in space, he was ineffective because his options were either closed down or were free in positions they could not do much damage with. The only times he came alive – which was often from deep, mind – was when he had to dribble his way out of trouble.
I'll give that to him. He's good at that. But his job requires far more than that and it was sad seeing him look lost in the middle, in stark contrast to Richard Boadu, Ali Outtara and co who personified everything Manaf was supposed to be for his side.
ESSO – KODJI WAS PAINFUL TO WATCH
Joseph Esso (pictured below) is known for his good work ethic, ability to combine well with teammates, intelligence, move well and can finish every kind of chance. So the prospect of pairing him up with a target man can be tempting. Like the Prince Tagoe-Luis Agyemang partnership.
Tempting, it is.
But for that to work, the two players actually need to be close enough to combine or have synchronized movements for one to create for the other. Sunday proved that these two do not have that. Maybe Medeama set up in a way that isolated the pair. Maybe they short-circuited them by stifling the supporting cast.
Whatever the reasons, this partnership failed to glitter, and it was shocking to see Edward Nii Odoom do nothing to remedy the situation. No surprise Hearts finished the game without a shot on target.
NII ODOOM
Is this the same Hearts gaffer quick to remind anyone who cares to listen that he has coached for thirty years?
Watching his opposite number, Samuel Boadu, humiliate him made that fact hard to swallow. But when you think of it, it may also explain why things played out the way they did.
Maybe a lot has changed since Nii Odoom was actually good.
Maybe the days of Odoom's three at the back with the extra centre back tucking into midfield are long gone. Maybe the days of crazy spacing without recourse to synchronized attacking patterns – if there was anything like that in the past or this was just Odoom's creation – are long gone. Maybe today's game only forgives teams that attempt to execute plans they have players with the skill set for, have drilled for months, have the right physical conditioning to execute and a coach whose in-game management is not suspect.
The Nii Odoom I saw in Tarkwa had sent out his team to execute a task they did not have the right physical condition for, were not well drilled for, probably did not understand, did not have the legs for and when it failed, he was reluctant or just incapable of fixing the mess.
Whatever it was, Hearts coach did not give a good account of himself. Will they keep him? We'll soon see.
Follow our matchday 2 scoreboard here
—
Victor Atsu Tamakloe is a journalist who writes for Skyy Power.