Black Stars midfielder Sulley Muntari is, without doubt, a gifted footballer, and his country has long been a beneficiary of his fine passing range, selfless displays, and sweet left foot.
Regrettably, though, it is the other side of Muntari – ill-mannered and consistently disrespectful of the powers-that-be – that the 29-year-old's countrymen are set to have a more lasting memory of when he finally brings an illustrious spell of service to his nation to an end.
Here's a glance at the most glaring misdemeanors on Muntari's rap sheet: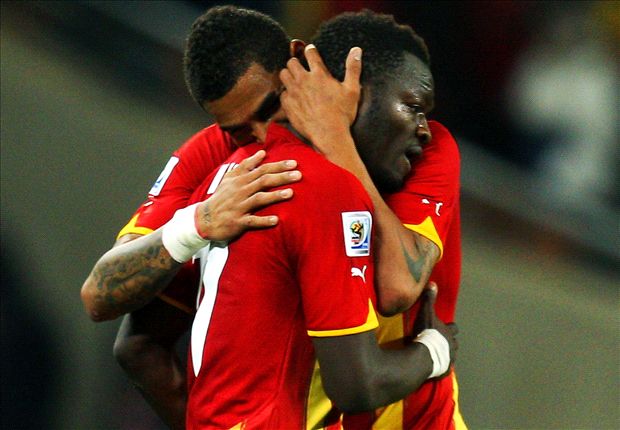 Breaks camp rules, retires in fury
Muntari, even at age 20, was already one of the key figures who, going into the 2004 Olympic Mens' Football tournament, then Ghana head coach Mariano Barreto – who doubled at the helm of the Black Meteors – could count on. That proved true until, at a pre-tournament base in Barreto's Portugal, Muntari allowed his Italian girlfriend into camp and, even after team authorities' insistence, refused to let the lady leave, thus giving Barreto little option than to evict the ex-Udinese star from his Athens-bound side. Muntari, in a stunning knee-jerk reaction, declared perhaps one of the most premature retirement decisions of any player in international football history. It indeed was a rash move, given that, before long, he had 'repented' and re-availed himself for national duty.
Abuses 'Milo': Part I
The story of Muntari's absence from the 2010 Nations Cup – a competition for which Ghana's Serbian coach Milovan Rajevac needed as many of his most experienced players as he could get, with the likes of John Mensah, John Paintsil and, to a slightly lesser extent, Michael Essien, missing – is an intriguing one. First, he failed to turn up for a friendly against Angola in November 2009 and, when 'Milo' requested a meeting between himself and the erring player, Muntari apparently snubbed him. Rajevac, consequently, overlooked him for the Afcon. Ghana went on to reach the finale, while Muntari later apologised and got recalled for that year's World Cup, where more unsavory 'wahala' ensued.
Abuses 'Milo': Part II
Muntari missed much of Ghana's first two group games at the 2010 World Cup – he started none, actually – and apparently didn't take too kindly to his omission, being the prima donna he is. And so he allegedly abused Rajevac verbally, to the extent that the latter was moved to axe him ahead of a crucial final game against mighty Germany. Somewhere between Rajevac's decision and the anticipated official notice from the Ghana Football Association, however, it is believed that Muntari's fellow seniors in that squad – notably former skipper Stephen Appiah – begged for his speedy re-instatement. Rajevac obliged but remained unwavering at least for Ghana's next two games, merely handing Muntari cameos from the bench on those occasions. When he did start against Uruguay, though, brilliant Muntari made it count, scoring a scorching screamer that could easily have secured Ghana a maiden World Cup semi-final berth but for subsequent happenings in that match.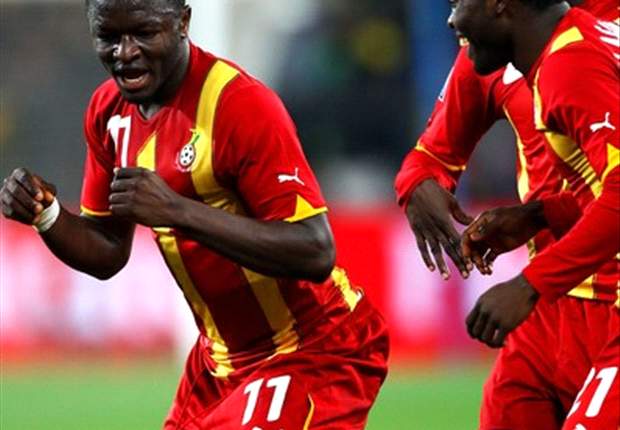 Insults Kwesi Appiah
Exit 'Milo' and – two managerial changes later – enter indigene Kwesi Appiah. In the 54-year-old, Muntari would find a new nemesis, one with whom a first brush occurred when Ghana trekked to honour a 2014 Fifa World Cup qualifier versus Lesotho. In what proved a routine win, Muntari provided the one memorable, albeit infamous, sideshow. Substituted as the match progressed, Muntari seemingly kept his cool, only to release his pent-up indignance at full force in the dressing room [post-match] on Appiah and members of his coaching staff over the wisdom – or lack thereof – that informed the decision to replace him. After allowing Muntari to have his rather aggressive say, Appiah struck back as harshly as he possibly could by shutting the national team's doors to the player until a remorseful Muntari came pleading his way back months later.
Slaps, Sacked
And now the most recent episode of Muntari-mania to hit his international career. At the acme of the cash scandal that prematurely derailed Ghana's dreams of glory at the 2014 Fifa World Cup – which transpired during a late-night emergency meeting between the players and team officials over 'pressing' issues regarding unsettled appearance fees – Muntari was alleged to have physically assaulted one of the leading personalities from the GFA who had accompanied the team to Brazil and, still very much in his notoriously brutal temper, went on to wreak further havoc to some property at the hotel in Brasilia where the Stars were encamped. For his error – the latest in a lengthy record of offences – Muntari, along with fellow delinquent and one-time AC Milan team-mate Kevin-Prince Boateng, received the expulsion for which he had been granted a stay of execution four years prior.