New Executives of the Ghana Association of University Administrators (GAUA) are pledging to protect the interest of their members by fighting against unfair treatment against their members.
According to the Association, it will register a strong presence and serve as a voice for its members to ensure a fair and harmonious working environment for them.
President of the Association, Kwabena Antwi Konadu stressed that his batch of executives will ensure that the Association is treated fairly especially in appointments, promotions, and all matters that may be needed to improve the overall welfare of members.
Mr Antwi Konadu praised GAUA as being the most critical group on every university campus but added, the nature of their work precludes them from publicly expressing their grievances.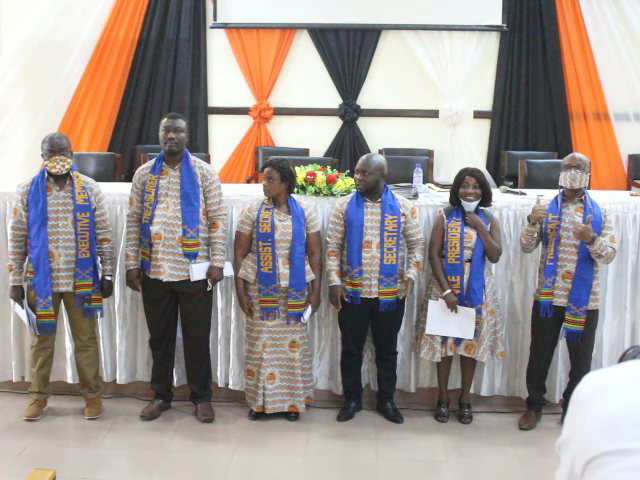 "We manage issues and problems largely so you don't see GAUA making noise and fighting in public like other union because we also managers", he said.
He assured nonetheless; the union wouldn't want any unfair treatment against its members.
Antwi Konadu said the University Administrators will continue to be a force to reckon with, especially, after consistently being quiet and very effective for 40 years.
He added that, a collaboration with other unions in the Universities, the Labour Commission and the government is critical to achieving the goals of the association.
"We will not sit down to be discriminated either by any stakeholder, any political leader, any institutional head whatsoever. I say this because of the recent developments when it comes to remuneration and compensations, GAUA deserves equal better treatment", he stated.
Registrar of the University of Cape Coast (UCC), Jeff Teye Onyame, impressed upon the newly sworn-in national executives to use consultations and dialogues to resolve grievances that crop up.
Mr. Onyame said the confidence reposed in the new executives require sobriety mixed with fairness to execute the task ahead of them.
The immediate past National President of the Association, Mr. Kwame beseeched the association and the National Executives Committee to ensure very good cooperation and support for the new team.
The new officers will run a two-year term. They include Mr. Kwabena Antwi Konadu as President, Mrs. Juliana Audria Dankwa as Vice President, Mr. Felix Adu Poku as Secretary, and Mrs. Charity Abraham as Assistant Secretary.
The rest are Alfred Atom Prah, Treasurer; Sowah Boye, GAUA Editor with Alfred Ghartey as Assistant GAUA editor.