The Kremlin in Moscow has taken a swipe at outgoing UK Prime Minister Boris Johnson, who has overseen consistent British support for Ukraine in its fight against Russia's invasion.
President Putin's spokesman Dmitry Peskov said Mr Johnson "really does not like us – and we (do not like) him either".
He said he hoped "more professional people" who can "make decisions through dialogue" would take over in London.
Meanwhile, Russian foreign ministry spokesman Maria Zakharova told reporters Mr Johnson had been "hit by a boomerang launched by himself", adding that the moral of the story was "do not seek to destroy Russia".
Ukrainian President Volodymyr Zelensky, who has developed a close relationship with Mr Johnson since the start of the war, has yet to comment publicly on the end of his time in office.
But his advisor, Mykhailo Podolyak, took to Twitter to thank him for being "the first to arrive in Kyiv, despite missile attacks" and "always being at the forefront of supporting" Ukraine.
The Russian officials were not the only critics however – Guy Verhofstadt, the European parliament's former Brexit coordinator said Mr Johnson's reign was ending in "disgrace, just like his friend Donald Trump".
"EU – UK relations suffered hugely with Johnson's choice of Brexit," he added.
Michel Barnier, the European Union's former chief negotiator, said Mr Johnson's departure "opens a new page in relations with" the UK – one he hoped would be "more constructive, more respectful of commitments made, in particular regarding peace & stability in Northern Ireland, and more friendly".
However most international leaders haven't yet addressed Mr Johnson's imminent departure – possibly waiting until it is confirmed.
But news outlets around the world have reported the dramatic events as they happened.
Here are our correspondents in the US, Singapore and Europe with the view from where they are.

Boris Johnson has drawn comparisons to Donald Trump through much of his ascent to the heights of British politics.
Now he's taking a page out of the former US president's playbook.
Concede nothing. Brush off the criticism. Press on. Make them tear the power from your hands.
If there's one thing the former president proved in American politics, it is that norms and political traditions only matter if you acknowledge them. And that's something Trump never did.
Even in his darkest days as president – through two impeachments and countless "has he finally gone too far?" controversies – Trump would point to his loyal base and cite, sometimes without evidence, the enormous support he had in surveys of Republicans and the comfortable margin by which he won the electoral (but not popular) vote in 2016.
Johnson had pursued a similar strategy, citing the support of the millions who voted Conservative in the 2019 election, rather than the dissatisfaction of dozens of politicians and party functionaries who have abandoned him in recent days.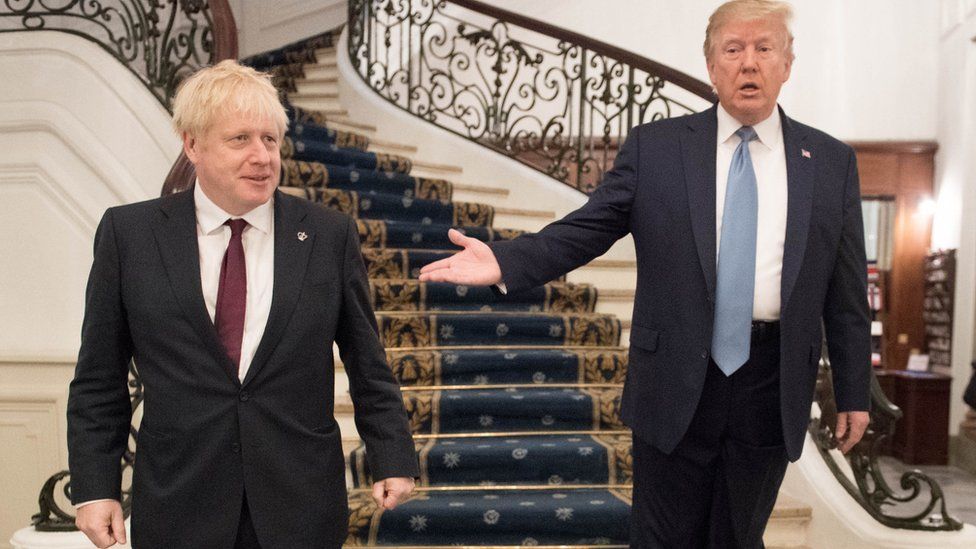 Never mind that the US and British systems of government are decidedly different and that a presidential claim to a popular mandate – when voters checked a box next to their name on the ballot – is considerably stronger than that of a prime minister who governs at the behest of their party.
And set aside that only in Trump's final weeks, after he had lost his re-election and a mob of his supporters attacked the US Capitol, did he see a mass exodus of advisors akin to what Johnson is experiencing.
Trump showed that claiming to be the voice of the people against the elite establishment can be the political equivalent of a bulletproof vest. That's a lesson Johnson seems to have taken to heart.

Is the EU rubbing its hands with glee at Boris Johnson's downfall? Yes – but also no.
Over the last 24 hours I've been getting texts and calls from EU diplomats, filled with multiple question and exclamation marks. European media headlines drip disdain and incredulity at what they view as a political opera buffa (slapstick opera performance) currently unfolding in the UK.
But the EU view has often been one of impatient disappointment that Mr Johnson lasted so long as prime minister.
A number of European countries – particularly those in central and eastern Europe – are exceedingly grateful to Boris Johnson for his hard-line stance on Russia, even before Vladimir Putin's invasion of Ukraine. But they believe that to be a UK position that will hold even after he is no longer prime minister.
Few in mainland Europe will shed a tear when Mr Johnson goes. Politicians blame him for blustering his way through Brexit. They accuse him of failing to be honest with the British people about its true implications.
Wholesale rejection of Mr Johnson's bill currently making its way through parliament, to unilaterally re-write the international post-Brexit treaty on Northern Ireland, has managed to unite the normally bickering EU institutions: the Commission, Parliament and Council.
That said, no one I've spoken to in Brussels sounds particularly hopeful as to who may eventually take over from Mr Johnson as UK prime minister. Most here say they view the plethora of resignations of conservative ministers as self-interested career-saving attempts, rather than evidence they disagree with Mr Johnson's policies.
Not even opposition Labour leader Keir Starmer talks about reversing Brexit, or noticeably softening it.
The main EU hope expressed today is the same I heard immediately after the 2016 Brexit vote: EU politicians wish for a UK leader, they say, who has the political confidence to talk and negotiate with Brussels, rather than constantly playing to, and being distracted by, the political gallery at home.

This is big news in places like Australia, India, Malaysia and here in Singapore as well of course – countries that have had historical links to the UK and inherited their parliamentary system as part of being previous colonies.
And more than one commentator has asked the question – what kind of signal is the UK sending about the state of democracy to the rest of the world, when even after a number of his colleagues have asked for him to step down – ostensibly for the good of the country – the leader initially refused to go?
Is this – many are wondering – the slow demise of the democratic system?
There's also concern about how this might affect geopolitics, given the war in Ukraine, and whether this is a distraction in the West that again could take away from more pressing issues that Asian govts are concerned about – like the cost of living, inflation and the rising influence of China in the region.
DISCLAIMER: The Views, Comments, Opinions, Contributions and Statements made by Readers and Contributors on this platform do not necessarily represent the views or policy of Multimedia Group Limited.