Some time ago, I needed a break away from work, life, and probably from my own thoughts. The obvious resort was music, of course.
But I needed something different. Not the R&B, Soul or Jazz music that I was used to. (PS: If Reynolds the Gentleman or Zayn Malik chance on this piece, I still love you. Xoxo.)
That's beside the point, however, because I'm a progressive music audience – open to all sorts of sounds, genres; language and race not being a hindrance.
Considering this enthusiasm, even I was surprised to have looked closer to home than possibly explore a Cuban, Chinese, or even Russian traditional sound. I chose Afrobeat.
Gracefully, I didn't have to wander as far back as South Africa or Nigeria – the music scene in Ghana is suffused with adroit emcees and heavyweight lyrics.
The Album
After this period of immersion into the right Ghanaian sounds, when asked to point to an afrobeat album worth anyone's time and investment, Kelvyn Boy's 'Blackstar' will definitely be my first choice.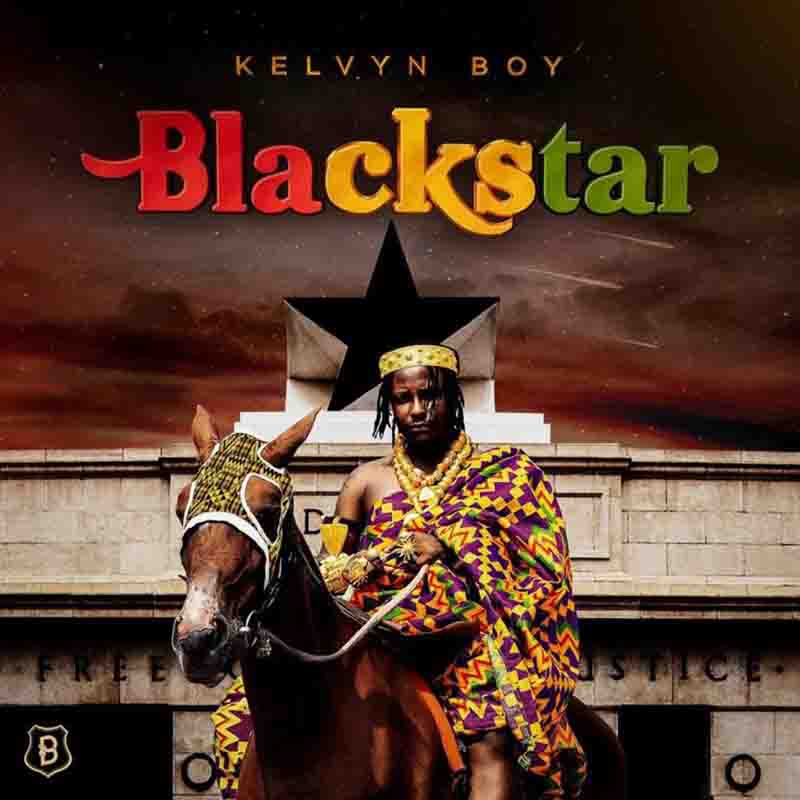 This is because, in an era where Afrobeat has gained a spot amongst the leading genres of world music, it is difficult to find a body of work that sounds concurrently authentic, distinctive and Ghanaian.
There are many Ghanaian artistes who have now realized the importance of incorporating afrobeat into their music. But the 'Lokko' hitmaker's project is one that aficionados can admit focuses solely on highlighting elements that make the genre Ghanaian.
Here's why. Kelvyn Boy, for as long as he has been in the industry, has been passionate about making great music that resonates with Ghanaian music lovers. He even has a track titled Afrobeat to preach the word.
In one interview, he describes his music as one that incorporates highlife, traditional Ghanaian sounds and elements – and that is the trademark of the album, Blackstar.
Blackstar
Consistent with his aim to elevate the Afrobeat sound in Ghana, Kelvyn Boy invites numerous artistes on the album, often finessing their style to match the actual agenda. This made Blackstar a heavily populated album in terms of features.
The featured acts are dynamic and carefully selected to allow as much room for creativity and zest so as to rid the album of unwarranted frustration.
Immaculate vocalist, Efya, who is not often associated with high tempo songs nor afrobeat music, is featured on track 10, 'Search'.
However, when she begins to sing, her melodies and style blend in well with the concept.
Rappers Medikal, Twitch, Kofi Mole and Quamina MP are all featured on one track. They showcase their many influences and different styles in such a manner that represents the Ghanaian music space – a sprawling industry littered with all kinds of unrecognizable sounds – as a unified whole.
The album, in my opinion, is a collection of songs perfect for NPR's Tiny Desk Concert and a Wildaland concert, because of its many attributes and styles that are made somewhat to suit the Afrobeat genre.
Blackstar is a 48-minute and 18 seconds long. For many, that is perhaps too much time to spend on a single 15-track album. However, the moment the play button is activated, time is the last thing one would be concerned about. Take that from me.
"If you listen to the album, I really paid much attention to the beats. I made a soiree, as a lot goes into the instrumentals. A lot of the songs were played live and the mastering and mixing went through a lot of people (with expertise) because I wanted people to hear African when they listen to Blackstar" – Kelvyn Boy's words in a post-album release interview. 
It takes a lot to record music live, especially in a time when everyone is focused on using synthetic sounds and plug-ins in their computers to make the fastest hit.
However, to make a lasting impression on someone, artistes need to take their work a step further. Daddy Lumba, Amakye Dede, Kojo Antwi, Paapa Yankson and many legendary musicians have captured the hearts of Ghanaians with their music such that, in many instances, their albums would be chosen over a relatively new artiste irrespective of the latter's abilities.
For instance, for his show, 'Hot Picks', radio and TV host, Merqury Quaye asked viewers to pick between Daddy Lumba and Akwaboah.
Despite the love the latter's new EP and single 'Obia' is receiving, Daddy Lumba emerged as every caller's first pick. Don't get me wrong. Akwaboah is an awesome and complete musician. However, production-wise, Lumba was miles ahead of his time.
In this regard, it is impressive for Kelvyn Boy to attempt taking his commitment to Afrobeats to that next level, giving his songs an easily recognisable yet brilliant outlook.
He also addresses a wide range of topics from elections and politics, to love, youth struggle, drive and many others.
Tracks like Clean, Never Lose and Government highlight criticisms Ghanaian youths face despite their hard work and perseverance.
They detail everyday struggles that the common people face amid irresponsible political governance structures.
"People are people, If you no get money them say you no dey work hard, 
Taya no be lazy ibi so bad Inna real life ibi so sad, 
But taya no be lazy. 
Pull up in a Benz them say on noy you be so bad 
If I no get them go laugh loud 
People are people you for know that," he says on Clean.
Clean is meant to urge agitated youth to be wary of "politricksters" – a satirical denotation of the inconsistencies and incompetence of Ghanaian politicians – and the 'games' they choose to constantly play with the people's trust.
Promotion
Black Arm Entertainment and the team that manage Kelvyn Boy could have done a lot better in promoting this piece of work.
Many Ghanaians do not know that the talent's hit songs, 'Visa' and 'Momo' are part of a beautiful well-put-together body of work. The recent complaint that Ghana lacks great or quality music is not justifiable.
Ghana's music industry has great artistes with masterful projects. However, their impact is not felt mostly because they fail to invest enough in marketing, and PR to create awareness amongst the larger section of local music enthusiasts and most importantly, the outside world.
Albeit Kelvyn Boy was granted a few interviews, he could have emulated the rollout strategies of some of his colleagues, by hosting a few small/virtual concerts.
The benefit of late advertising is evidenced in the impact of tunes like CKay's 'Love Nwantiti' and Amaarae's 'Sad Girls Love Money' – records that attained international recognition and developed heavy trends on social media years after their respective releases. Blackstar is more than capable.
Conclusion
When Kelvyn Boy was first introduced to the industry, he was known as dancehall artiste Stonebwoy's 'godson'. Unlike several protégés however, the music sensation completely carved his own path.
Stonebwoy is best known for reggae and afro-dancehall, as he calls it, whiles Kelvyn Boy has turned his focus away from the genre into making typical afrobeat sounds.
This decision seems to have served well for him, and he continues to entertain people with his musical dexterity and finesse.
DISCLAIMER: The Views, Comments, Opinions, Contributions and Statements made by Readers and Contributors on this platform do not necessarily represent the views or policy of Multimedia Group Limited.