Agitated youth across the country have, today, defied the injunction by police against a planned protest in an unorthodox fashion.
This time, the police cannot stop the #FixTheCountry protestors from venting their spleen as far as the courts are concerned.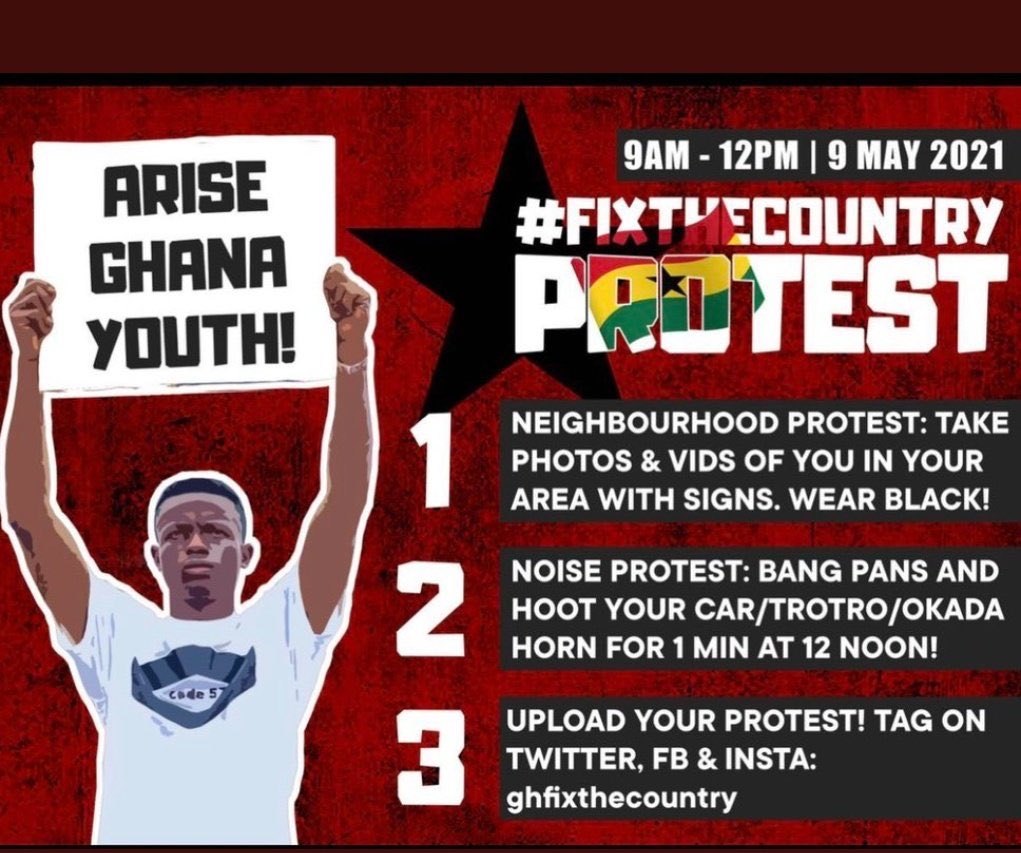 The court order, granted by Justice Ruby Aryeetey on Thursday, prevented the group from proceeding with the protest march on the said day "or any other date until the restriction on public gathering is lifted."
A day after that, a #NameAndShame campaign on social media was triggered which saw constituents sharing videos and images of stalled projects and deteriorating conditions that need government's support while calling out particular MPs and DCEs among other duty bearers.
The demonstration is meant to amplify sentiments such as rising youth unemployment, inefficient health systems, the skyrocketing cost of rent, poor road networks among others, which the youth say are hurting their standard of living.
The police in a letter to the conveners following the restraining order it secured on Thursday said the group is denied the opportunity to do so on the said date "or any other date until the restriction on public gathering is lifted."
Personnel from the Ghana Police Service have secured the Black Star Square to clamp down on anyone who breaches the court order.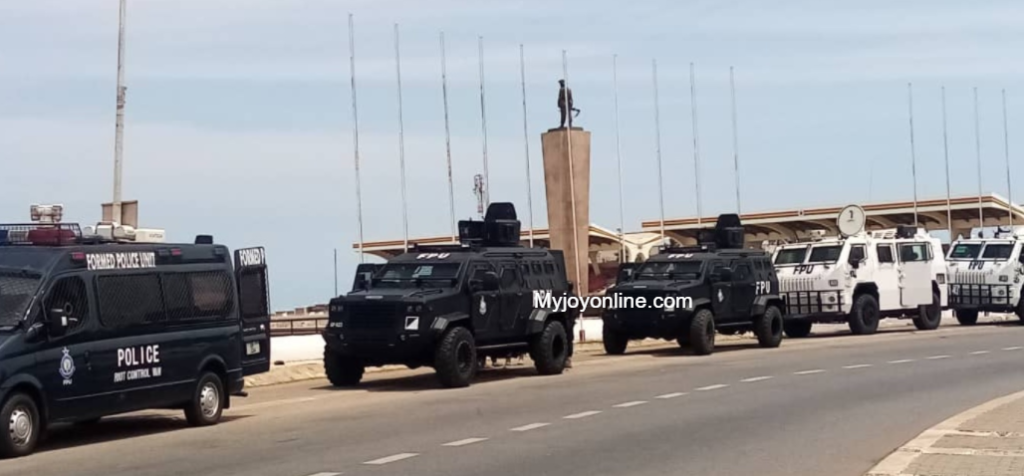 About 15 police vehicles including seven crowd or riot control vehicles, dozens of Police officers were sighted at the venue.
Police on sight in anticipation of protestors this morning… Such an interesting Country!!! #FixMotherGhana #fixitnow #FixIt #FixTheCountryGhana #WeAreAngry #happymothersday2021 pic.twitter.com/DQ5FTBwskS

— John Terry Tresh (@JohnTerryTresh) May 9, 2021
While complying with the court order, the organisers have facilitated a virtual version of the protest dubbed #FixMotherGhana, a play on words referencing the commemoration of mothers on the same day.
#FixMotherGhana is the best hashtag for Mother's Day. #AriseGhanaYouth and demand #FixMotherGhana #FixItNow pic.twitter.com/BwXKqb6z0M

— Akosua Asantewaa RN (@Akosua_Black) May 9, 2021
Timelines on Twitter, Facebook and other social media platforms have been flooded with images and videos of aggrieved articulating their plight and the need for improved management systems by successive governments.
The first ever virtual protest in history #FixMotherGhana

— KALYJAY 👻 (@gyaigyimii) May 9, 2021
Like in traditional protests, these online demonstrators are clad in red and black attire hoisting placards with inscriptions such as #FixTheCountry, #WeAreAngry, 'low wages and salaries, 'Bad roads', 'End corruption,' 'dumsor must stop' among others.
The State must work for the People. Mother Ghana deserves better!

This begins with a #NewConstitution that represents the needs of the Ghanaian People.#WeAreAngry #FixMotherGhana #FixTheCountryGhana@Ghfixthecountry pic.twitter.com/sVt1wseAAn

— Namata SM | #EyesOnUganda #AfricaMustUnite (@madugian) May 9, 2021
The hashtag, #FixMotherGhana has garnered over 71,000 tweets so far.
Unemployment in Ghana is a national security crisis. We have only ONE Ghana. Create an enabling environment for young people to find employment. #FixTheCountry #WeAreAngry#AriseGhanaYouth #FixMotherGhana pic.twitter.com/6qqYerD11T

— 🟣Mac-Jordan (@MacJordaN) May 9, 2021
Ghana deserves better #FixMotherGhana #FixingTheCountryGhana pic.twitter.com/e6zuvssJep

— EFIAODO (@efiaodo1) May 9, 2021
#FixingTheCountryGhana #FixTheCountryGhana :-@gyaigyimii pic.twitter.com/bJmz9TI9tS

— melo sika (@melosika1) May 9, 2021
The government can not stop us from protesting online
All we ask for is change. #FixMotherGhana #FixingTheCountryGhana #fixitnow pic.twitter.com/MUe1BlHQrR

— 🌺Motown Rihanna🌺 (@AkosuaPheana) May 9, 2021
#FixMotherGhana just do it! pic.twitter.com/qXHB1ygax5

— promise Dumevi (@dumevi_promise) May 9, 2021
Are we supposed to still fix ourselves when the economy is so hard for citizens? #FixMotherGhana pic.twitter.com/oUtCrh8XfF

— Ego Over You⚪😹🇬🇭 (@badasspmf) May 9, 2021
I cannot be barking on social media for days and when it's time to show action then i'll go and fold up. This is for the revolution and everyone who believes Ghana must be fixed. #FixMotherGhana #FixGhana #FixTheCountryGhana #FixTheCountry #FixItNow #FixTheCountryNow #FixGhanaNow pic.twitter.com/WT9EJQtxkl

— Gino (@BENJAMINPEREZ7) May 9, 2021
Just do your job! #FixMotherGhana pic.twitter.com/gyGhD7xzkc

— Nana Ama Benyiwa (@TheBENYIWAinMe) May 9, 2021
Girls are been kidnapped and nothing, excavators get missing, high robbery and bribery, illegal mining the police don't see but yeah they woke up at dawn to wait for online protestors #FixMotherGhana

— Gyata_Shoa🇬🇭💉 (@thatEsselguy) May 9, 2021
The hot water tanks are wasting , if you have Gari kindly go for some wai😹😹😹 pic.twitter.com/DEuldgnoSn

— Comedianwaris (@ComedianWaris) May 9, 2021
Ghana needs fixing #FixMotherGhana pic.twitter.com/zo1IWwf16x

— Bentum Bannor (@BannorBentum) May 9, 2021
I'll be posting your #FixTheCountry pictures. Thank you guys for supporting this movement!! Ghana will be fixed! #FixMotherGhana #FixIt #fixitnow #WeAreAngry pic.twitter.com/PYALz58r24

— EFIAODO (@efiaodo1) May 9, 2021
We are not happy, we taya wey we dey beg una #fixitnow #FixMotherGhana pic.twitter.com/p1dQRjtOkD

— SIMPLY ANNE👩🏽‍🦱🖤🇬🇭 (@AbenaMole) May 9, 2021
#WeAreAngry ampa 🔥😂 The Ghana Police are already at the Black Star Square. They are in their black uniforms. From all indications they're doing the #FixMotherGhana demo on our behalf 🚀😂 pic.twitter.com/tAP9SO6e73

— SonOfaMafia👑 (@Sonofamafia) May 9, 2021
DISCLAIMER: The Views, Comments, Opinions, Contributions and Statements made by Readers and Contributors on this platform do not necessarily represent the views or policy of Multimedia Group Limited.