Following weeks of outcry online over years of recurring police brutality, Nigerians took to the streets to demand police reform and an end to the Special Anti Robbery Squad known as SARS.
Roads in major cities across the country have been blocked and cities brought close to a standstill as protesters enter day eight of demonstrations across more than 100 cities across the country.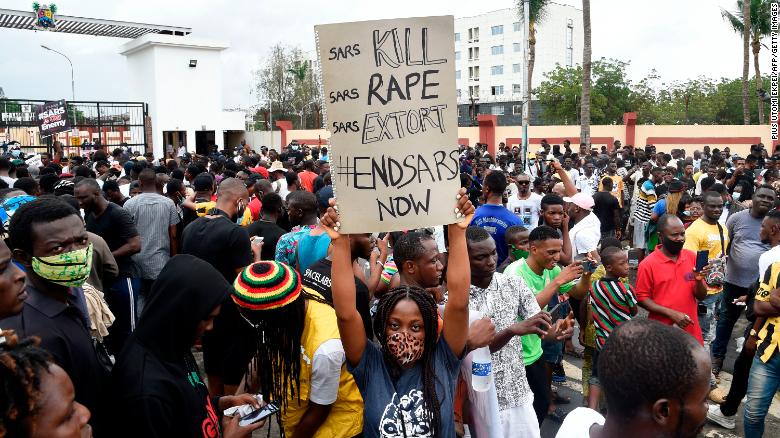 At least 10 people have been killed, according to Amnesty and scores more injured as police in some states fired live ammunition, teargas and used water cannons on protesters.
Solidarity protests have also happened in London, Washington, Toronto and other countries around the world.
The government has responded and said it has disbanded the SARS and replaced with a new tactical team known as Special Weapons and Tactics (SWAT), however it has not ended the heavy handed policing as at least 10 people have been killed by the country's police during protests.
Some are calling for the Inspector General of Police to resign and those protesting say their demands have not been met.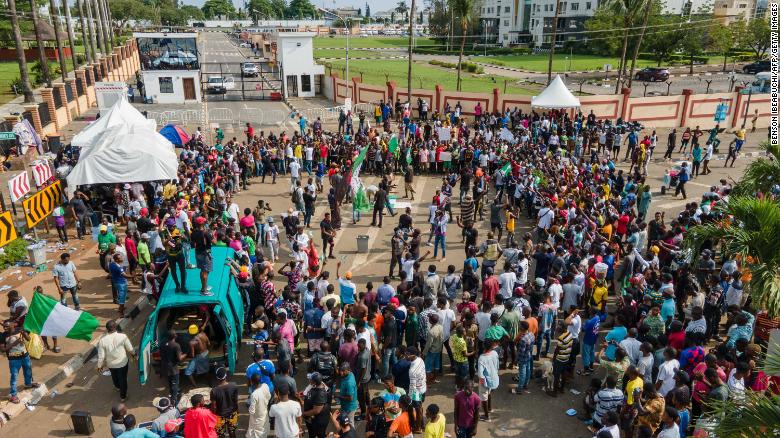 As protests continue, here's how people in the country are coordinating to make the movement work efficiently and how you can help.
Volunteer your time and skills
From the nationwide protests to others hosted by diaspora communities in the UK, Germany, Canada and Germany, the movement has been sustained by many individuals volunteering their time and services while working in unison.
So far, emergency medical teams, pro bono lawyers, and mental health support have been provided on ground to help protesters as needed.
As of Wednesday, the volunteer legal team have assisted in securing the release of more than 80 protesters detained by the police for partaking in the ongoing demonstrations.
Mental health organization, MentallyAware created panic cards to help protesters who might get panic attacks as a result of protests. More medical assistance are also available on ground through emergency ambulances, physiotherapists and mental therapy.
In acknowledging our inability to have representation at every protest ground, or to be of support to as many people as need it, we have produced "Panic Cards" that can either help you deal with an impending panic attack or help you help someone else. #EndSARS pic.twitter.com/FHcIpeceZx

— MentallyAwareNigeria (@MentallyAwareNG) October 14, 2020
Businesses in the catering sector and private individuals have provided full meals, snacks and water to keep protesters at all points in the country sustained as they call on the government to reform the police and end SARS. Private individuals have also donated water and food parcels to the protest sites.
Volunteers in the technology sector set up an auto messaging platform to call the attention of senators to the needs of protesters.
To ensure the safety of the demonstrators, some of whom have been attacked despite the movement being peaceful, a police brutality report form was set up.
Stay informed and speak out.
Through the original #EndSARS hashtag, Nigerians on social media have been able to call the attention of the world to what is going on in the West African country.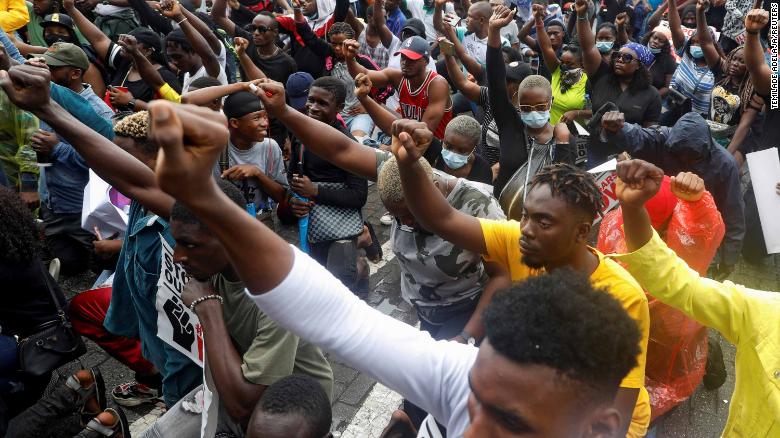 Many hashtag variations of the same message to end police brutality, have trended daily for the past one week, thanks to the people pushing the message nonstop online.
This explainer video detailing everything about the End SARS movement, broadcast templates for easy dissemination on Instant Messaging apps like Whatsapp, and a flyer showing the 5 requests activists want to see met are some ways to get a headstart on sharing what is going on across all social media platforms.
A website was put in place to document accounts of the Nigerian youth's brutal experiences at the hands of the police. Flyers in several local languages have also been created, all in a bid to shine more light on the plight of young Nigerians and get information flowing as freely as possible.
Yoruba, English, Pidgin & Bini. Please spread as wide as you can. We need more languages. Hausa, Fulani, Tiv, Igbo, Uhrobo. #EndSARS #EndPoliceBrutality pic.twitter.com/LeumyZphq7

— Osh said #EndSARS (@oshomah) October 9, 2020
And to keep these online protests alive, free internet data is being provided to keep online protesters connected.
Donate funds
Crowdfunding options have been set up to provide food, health and legal services, security and other assistance to protesters.
At the forefront of this, is the Feminist Coalition who have so far raised nearly 70 million naira (around $180,000) and other currencies including Bitcoin. For accountablitlity, the organizers have been transparent in informing the public about how the funds donated are being used to help demonstrators daily.
Through the crowdfunding support, lawyers have been dispatched to release protesters detained by police, medical bills of those hurt have been covered, food as well as other items of convenience have been provided to protesters. Private security has also been arranged for protesters around the country following spate of attacks by the police and armed youth brandishing machetes and sticks.
On Oct 15th we donated N2,416,700 to 27 protests, paid the hospital bill of 1 protester, and paid for supplies (food, water, Glucose etc)

Total ₦ raised: N69,891,637.15
Total ₦ disbursed: N15,443,280.00

All Balances
NGN 54,448,357.15
USD 11,474.34
CAD 5,595.89

1/2#EndSARS

— feministcoalition (@feminist_co) October 15, 2020
Join prayer walks
People of faith have come together to pray for the nation, the protesters, and leaders in ensuring the aim of the protests come to fruition and the demands of the youth are met.
We remain in fervent prayer for our nation. pic.twitter.com/cLqTyGSX3U

— E (@iaboyeji) October 14, 2020
DISCLAIMER: The Views, Comments, Opinions, Contributions and Statements made by Readers and Contributors on this platform do not necessarily represent the views or policy of Multimedia Group Limited.