On a day the Black Stars needed to win, they pulled off a nerve-racking 3-2 victory over South Korea, a result which hands Ghana a massive boost of qualifying to the knockout round ahead of the final group stage game with Uruguay.
The Black Stars kicked off their 2022 World Cup campaign in bittersweet fashion, narrowly losing out to Portugal in an opening-day five-goal thriller. And after 90 + 11 minutes, many Ghanaians criticised head coach, Otto Addo for his substitutions, and Ghana's approach to the game.
Versus South Korea, it seemed the technical team had responded to the wishes of Ghanaians, as he adopted a system many hoped they would have seen on opening day.
To be fair, Addo before Ghana kicked off her tournament indicated: "I adapt to the opponent, I take a close look at the strengths and weaknesses of the opponent, and based on that I play a system so it's flexible. I have many styles," and this is what Ghanaians have seen from the Black Stars in the last two World Cup games.
But, South Korea play similarly to Portugal, with extensive focus on the wide areas. Nonetheless, the Black Stars refused to employ the approach versus Portugal and suffered in the wide areas – conceding two quickfire goals.
So what did the Koreans do to exploit Ghana's wide areas?
Ghana's approach
The Black Stars set up in a 4-2-3-1; with Jordan Ayew taking Alexander Djiku's spot in the starting lineup. Gideon Mensah and Tariq Lamptey replaced Alidu Seidu and Baba Rahman in defence.
Meanwhile, Salis Samed and Thomas Partey played behind Andre Ayew in midfield with Mohammed Kudus playing on the right flank – an area the Koreans exploited to great use after half-time.
In buildup, Salis Samed operated as Ghana's deepest midfielder, and on occasions slotted in between the central defenders, as Ghana resorted to their traditional 3-1-4-2. Partey played as a sole pivot with a line of Kudus and Dede flanked by fullbacks; Mensah and Lamptey.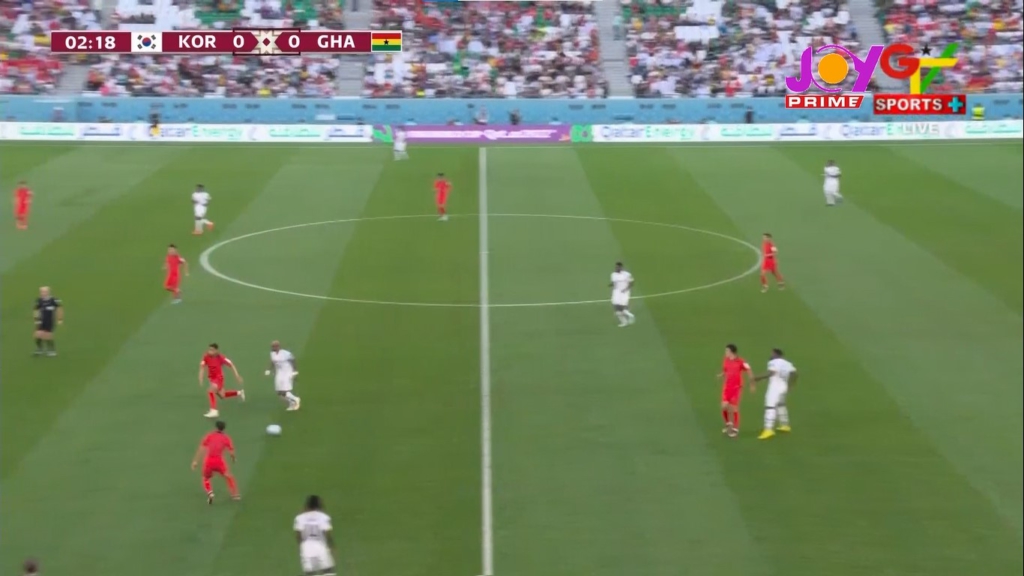 But sometimes, Ghana built up with Partey playing a quarterback role and Salis a single pivot. In those moments, Dede pushed up alongside Inaki, while Kudus and Jordan played from the half-spaces with Lamptey and Mensah providing width on either side.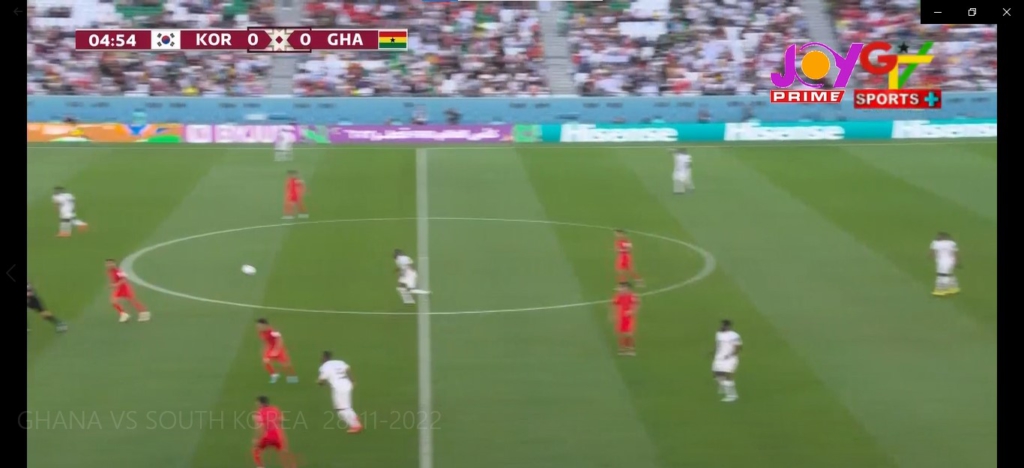 The South Koreans looked to counter by pressing in a 4-4-2 but had little joy in that since they were outnumbered as Ghana had six (including Ati-Zigi) to play around the first line of pressure.
Whiles the Koreans looked to always press, Ghana, on the other hand, chose their moments to press, with triggers as a loose pass or a defender facing his own goal as indicators. Overly though, Ghana looked to sit in a mid-block of a 4-4-2 in an attempt to mitigate South Korea's style of play.
South Korea's style
While breaking down the Korean's 5-1 loss to Brazil in a pre-World Cup friendly, Korea's expansive approach had them focused more on looking for advantages in the wide areas, and after Kwon Chang-hoon; a defender indicated: "Ghana tends to give a lot of space in the side defence. We have the ability to penetrate, and there are players who can pass, so you have to attack the opponent's weaknesses", it was evident how the Koreans were going to approach the play.
Their opener with Uruguay, which ended goalless, also provided a hint as to how the Asians were going to play. They made 42 final third entries, with 34 of them coming from the right and left flank in the Uruguay encounter.
Despite presenting a 4-2-3-1 versus Ghana, whenever the South Koreans had possession, they looked to advance in a 2-2-1-5. Their pivot of W. Jung, and I. Hwang served as deep-lying playmakers and also anchors, as the Asians pushed their full-backs high.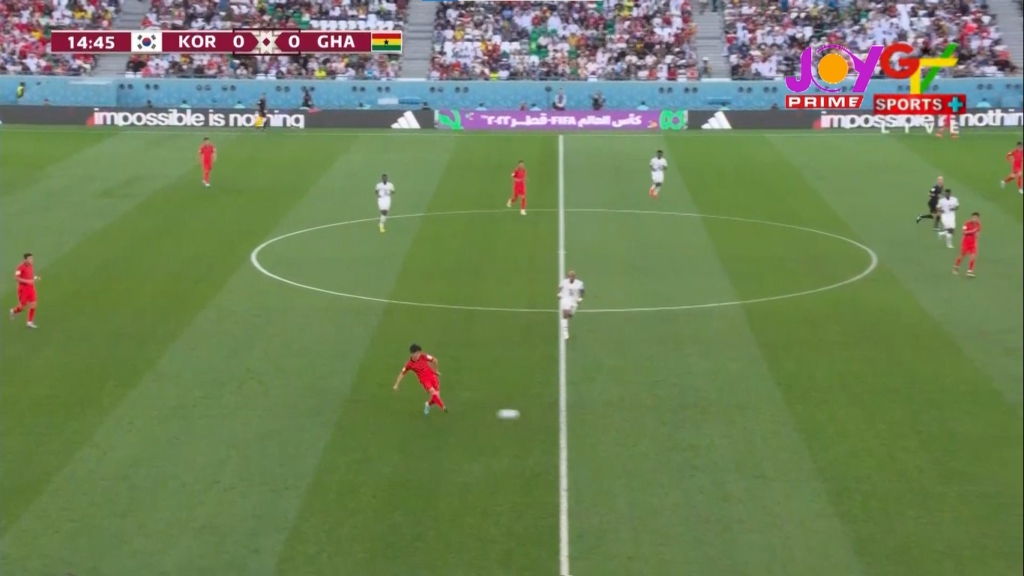 Meanwhile, their wingers in Son and Kwon, played narrowly and close to striker, Cho, with Jeong also in the mix. With their proximity, they could have numerous combinations amongst themselves centrally with the idea of playing themselves into Ghana's 18-yard box.
But the basic idea of their approach was targeted at finding spaces in the wide areas – especially the left – as an inwardly moving Son always meant Kim (the left back) was always free on that flank.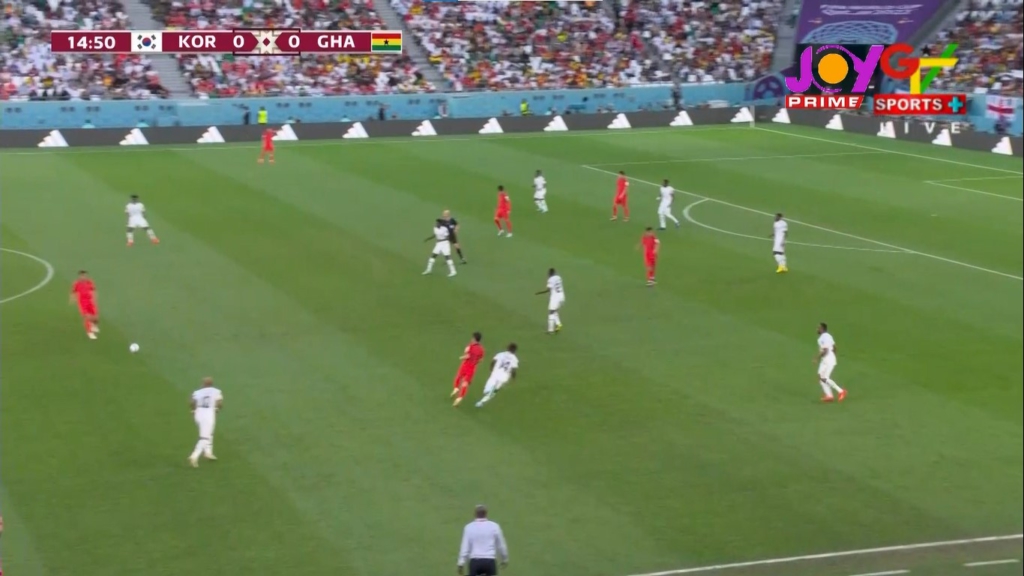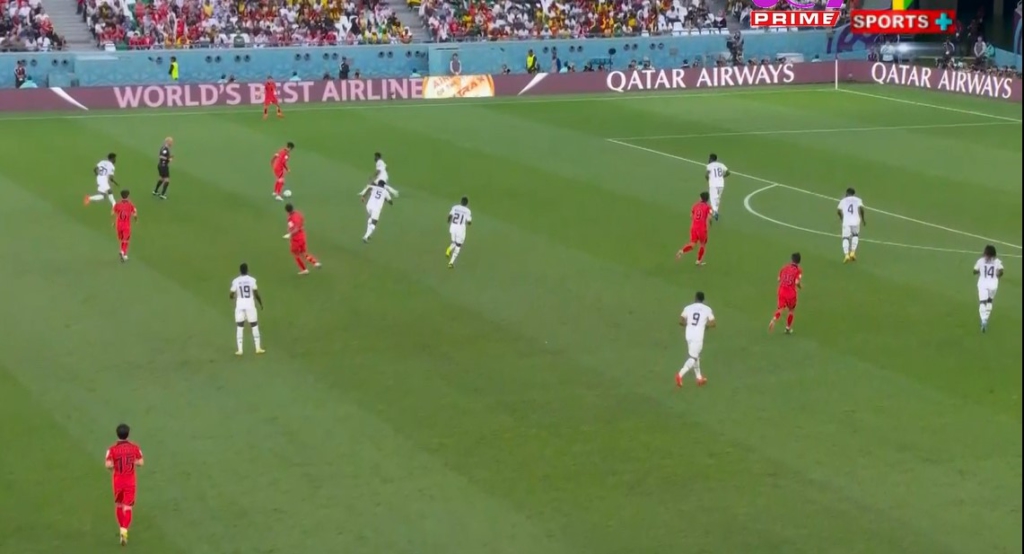 On other occasions, the Koreans shaped up in a 2-3-1-4 during build-up, with Kim [the right back] playing deeper – probably against a Black Stars counter – as Kwon kept width on the right.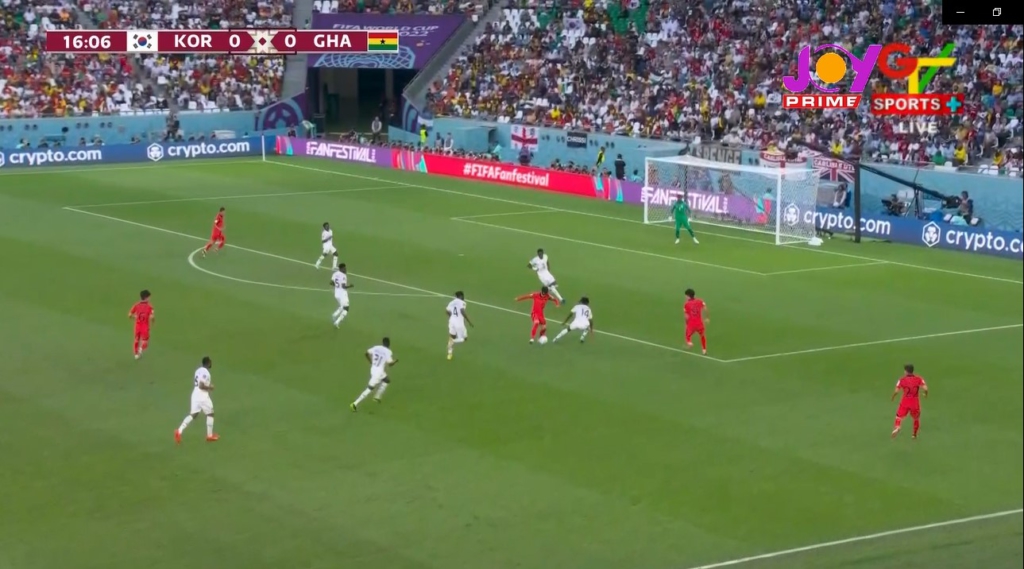 Ghana in defence
In earlier games under Addo, the Black Stars defended in a 4-1-4-1 and a 4-2-3-1 but approached the encounter with their Asian counterparts in a 4-4-2.
While Dede partnered Inaki Williams upfront with the backline of Lamptey in right back, Mensah at left back and a central defensive pair of Salisu and Amartey, the midfield four was made up of a pivot of Partey and Samed. Jordan Ayew was deployed on the left, while Kudus played on the right.
This shape was close to perfect for the Black Stars offensively, as Kudus as a left-sided midfielder was only going to have him play more centrally, with Lamptey providing offensive width. Lamptey attempted the second most crosses for the Black Stars (3), after Jordan (6), who was on set piece duty.
But defensively, Ghana suffered in the shape as it demanded Kudus to track back in support of Lamptey. And although Kudus had dutiful moments, the Ajax star suffered in the role, leaving Lamptey exposed to 1-vs-1s and sometimes 2-vs-1s. But the defender however held his own, winning 4 of his 9 duels, making 5 recoveries and 2 clearances.
In other situations, Partey had to track inside-right runs made by Son and Korea's midfielders.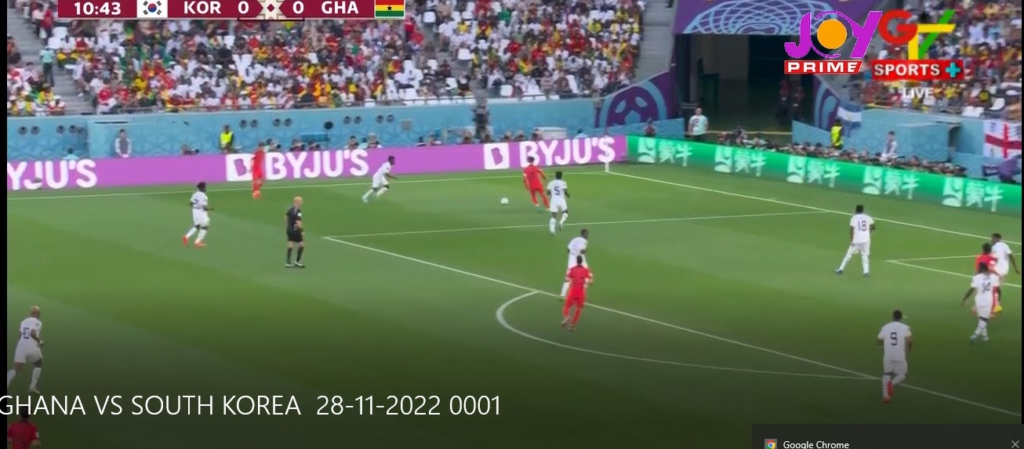 But generally, Ghana struggled to control Korea in those areas with Lamptey being outnumbered from time to time. But the Koreans were unable to make anything out of it – till the second half.
South Korea's goals
South Korea scored two quickfire goals in three minutes; all created from the left, where they had their most joy. But prior to their first goal, Ati-Zigi had to pull off a stop from point-blank range as hit the target with a header.
Meanwhile, the buildup to that chance revealed a slight adaptation in Korea's approach. Instead of having their left-back high and wide, Kim now started out slightly deeper. And with Kudus' struggles with the defensive role, it meant Lamptey had to step out to cover shadow.
Lamptey's movement meant there was space on the right for Son to move into. As a result, Amartey shifted to cover the Tottenham forward – with his movement also creating space in central defence.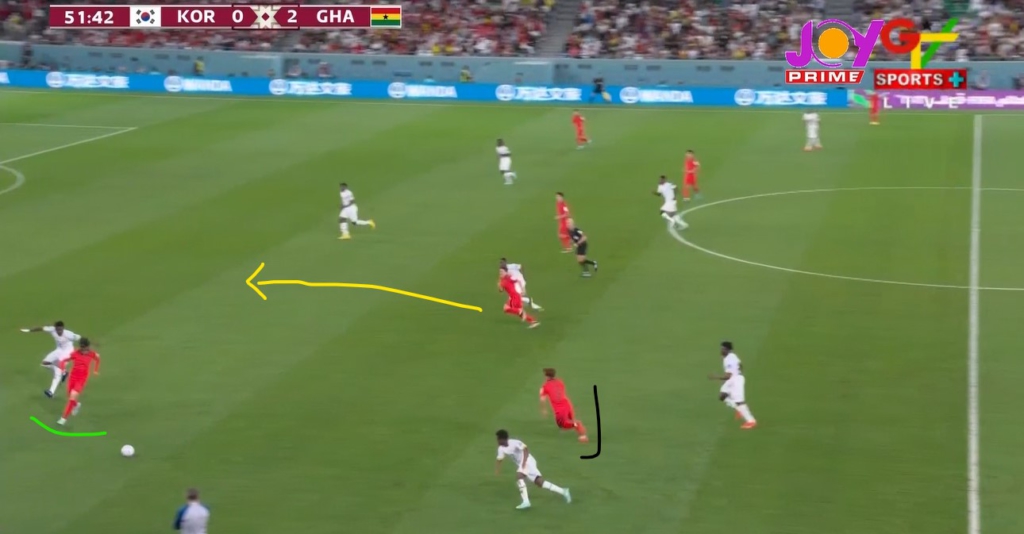 However, Samed covered the run of Jeong, while Amartey blocked the attempted pass to the deep-running midfielder. But Ghana conceded a throw-in and it's from that Korea created the first of three consecutive heading opportunities for Cho.
In the 57th minute, K. Lee, a left-footed left-winger was brought in for Kwon. Lee was deployed on the right, and it was Lee who provided both assists for Cho's goals.
In the first goal, Lamptey – after stealing possession – lost it to Lee as he tried to dribble out. As a result, the winger had acres of space to work in before finding Cho.
Their second goal was similar to the first, with Son left in a 1-vs-1 with Lamptey. Son found Lee, who made an underlapping run before planting a cross in Ghana's 18-yard box. Cho finished it brilliantly.
The problem?
Obviously, the Black Stars struggled in the wide areas – the right especially, due to their application in defence. While Jordan did a job on the left flank, helping out Mensah defensively, Kudus struggled to consistently replicate similar on the right.
In the opening parts of the game, Kudus covered Lamptey in moments the right-back was drawn out of position.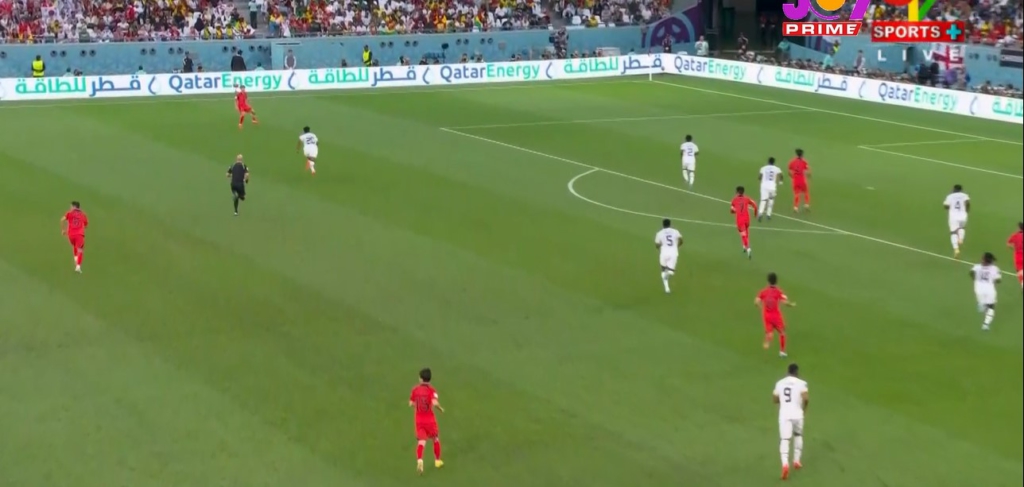 Apart from Korea's first, Kudus himself was consistently sucked infield, as he was drawn to the ball and unable to hold his position defensively in the second half.
In the buildup to the Asian's second goal, for instance, Kudus was drawn inward as South Korea transitioned through midfield. Meaning Lamptey was exposed and could not do enough to halt the underlapping run.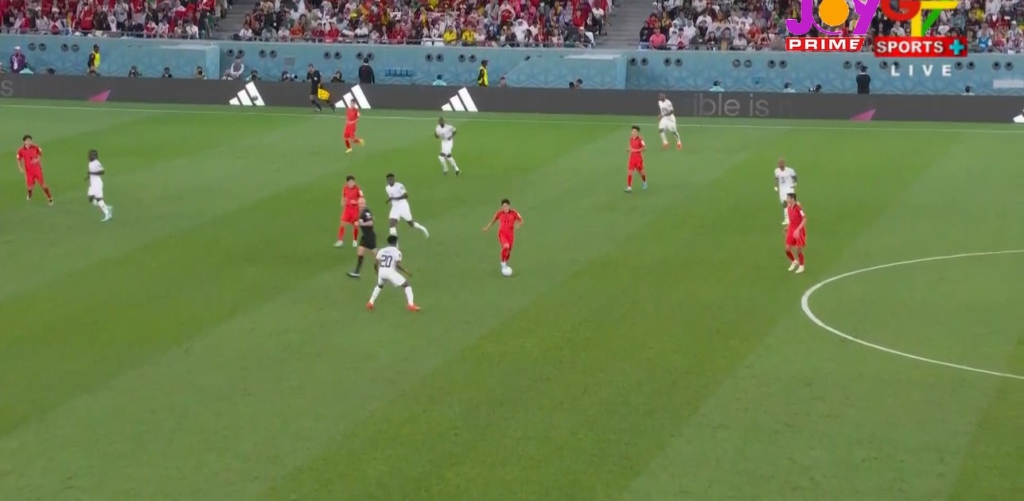 But this trend was not entirely Kudus' fault, as there were moments Korea's left back intentionally positioned infield before making an 'out' run to the wide areas. In those moments Kim stepped infield, Kudus was lured to do likewise.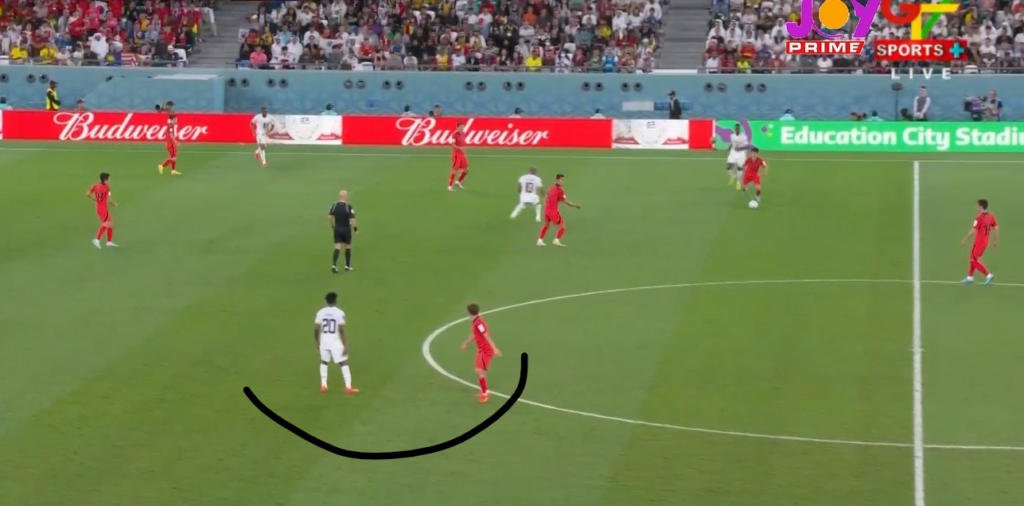 Basically, while Jordan and Mensah had a little less dynamics to deal with, Kudus and Lamptey were caught in the web of Korea's positioning and movements on the left flank.
Conclusion
To deal with the dynamism, Addo introduced Djiku to replace Kudus, with Ghana switching to a 3-5-2. This enabled Ghana deal slightly better with Korea's attempts to exploit the wide areas.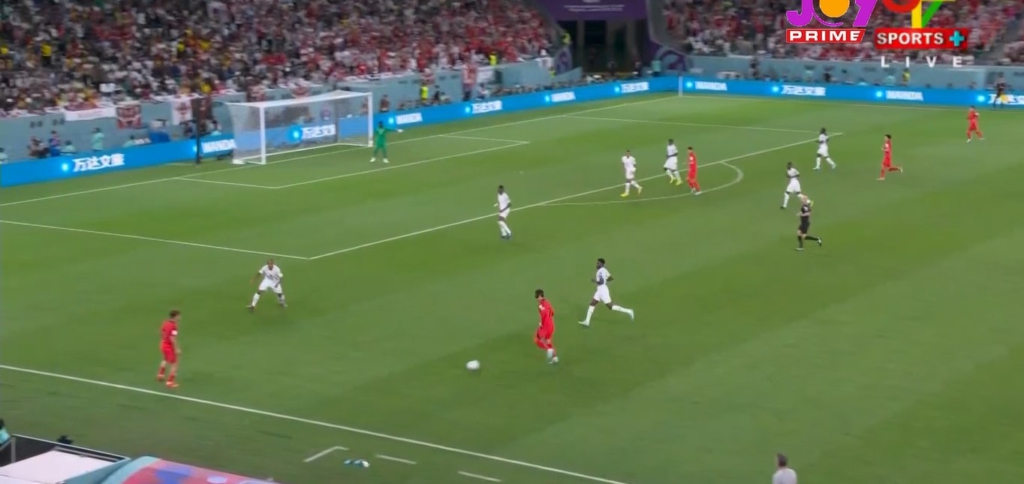 DISCLAIMER: The Views, Comments, Opinions, Contributions and Statements made by Readers and Contributors on this platform do not necessarily represent the views or policy of Multimedia Group Limited.