Twenty-one of the schoolgirls kidnapped in 2014 by Boko Haram in Chibok, Nigeria, have been freed, the president's spokesman has confirmed.
Garba Shehu said the release was "the outcome of negotiations between the administration and Islamist militants".
The freed students are currently with the security forces.
Boko Haram kidnapped more than 270 students from a school in Chibok, north-east Nigeria – an act that provoked international condemnation.
It also sparked one of the biggest global social media campaigns, with tweeters using the hashtag #BringBackOurGirls.
President Muhammadu Buhari's spokesman said on Twitter that the International Committee of the Red Cross and the Swiss government had acted as mediators in the talks with Boko Haram.
Mr Shehu added that negotiations were continuing.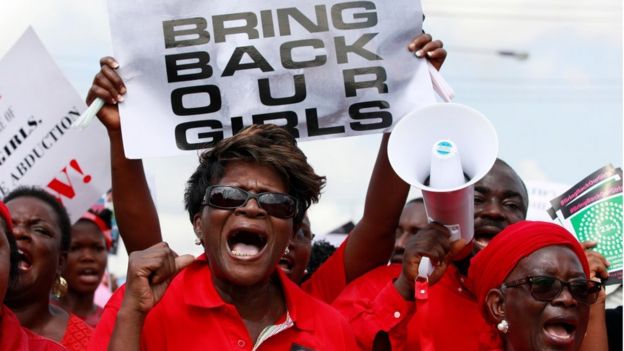 The kidnap of the Chibok girls sparked a global campaign
"I can only weep, right now. You know that kind of cry that is a mix of multiple emotions," Obiageli Ezekwesili, one of the leaders of the #BringBackOurGirls movement, has tweeted in response to the news.
Up to now there had only been one confirmed release of a student kidnapped from Chibok.
In May, a 19-year-old woman was found by an army-backed vigilante group.
After that it was believed that 218 students were still missing. More than 50 managed to escape on the day they were captured.
Boko Haram has also kidnapped thousands of other people during its seven-year insurgency in north-east Nigeria.
More than 30,000 others have been killed, the government says, and hundreds of thousands have been forced to flee from their homes.