Telecommunications giant, MTN Ghana, has presented 35 hampers to babies born on Christmas day and their mothers in six Oti and Volta Region hospitals.
The team visited the Volta Regional Teaching Hospital, Ho Municipal Hospital, Royal Hospital, Adidome Hospital and Jasikan hospital.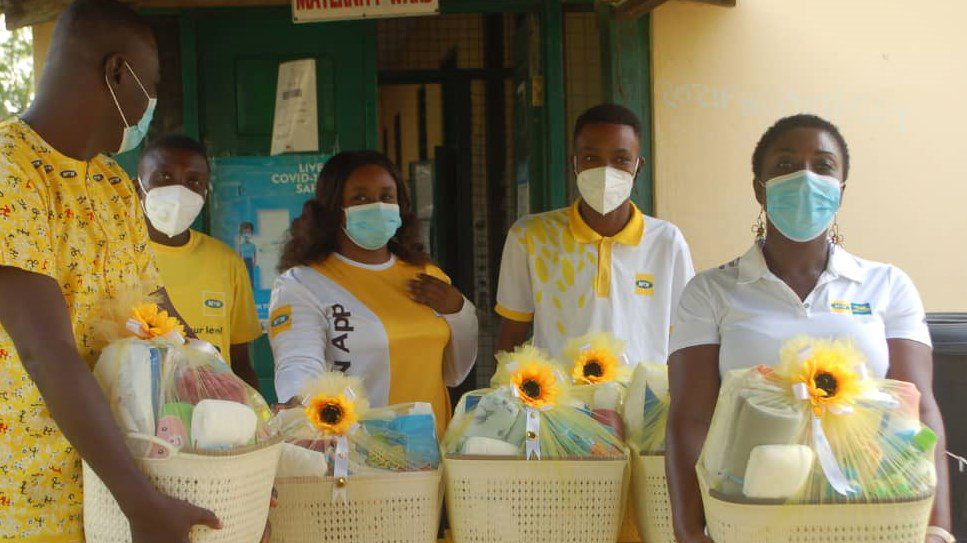 The Telco says the presentation aimed to support and encourage mothers who had to go through labour pains as Christians celebrate the birth of Christ.
The Senior Corporate Executive, Georgina Fiagbenu, who presented the items to the mothers of the 'Christmas babies' at the Adidome Hospital, noted that mothers are unique and should always be appreciated for their love for humanity.
"As we speak, MTN Ghana, through its employee volunteers is distributing baby hampers in all 16 regions of Ghana. This year, we are distributing a total of 500 hampers at a cost of ¢150,000 across at the cost of" Mrs Fiagbenu, who is also the wife of the Adidome Chief noted.
The Volta and Oti lead, Mawuli Katahena, presenting the items in the hospitals in Ho, noted that donation is one of the many ways the MTN Ghana Foundation has catered for the health needs of several individuals and medical institutions across Ghana.
He noted the project started with a few regions; however, by 2020, all the then 10 regions have been included.
"We see the occasion as a season of giving and also of love, and amid Covid-19, MTN believes it is very important to still reach out to our dear mothers and lovely babies born on Christmas Day to show them the MTN kind of love,"Mr Mawuli Katahena said.
On receiving the gifts, the Midwife at the Municipal Hospital, Josephine Owusu, thanked MTN for the kind gesture.
"We are grateful to MTN for always putting smiles on the faces of our mothers and babies on special days like this, and we say God bless you mightily."
One of the mothers at the Royal hospital, Harriete Sobour Amposah, who was grateful for the Christmas gifts, pledged that her daughter will one day become an ambassador of MTN.
"I have been a customer with MTN since 2000, and I least expected to have them present a hamper to my daughter. I promise to make sure that my daughter becomes an ambassador for MTN when she grows up," she assured.