In my opinion, dating is subjective, and therefore if it is DATING, then the answer is No or Yes, depending on the circumstances.
If you are talking about COURTSHIP in the real sense of the next phase that immediately follows Dating, then YOU CANNOT COURT MORE THAN ONE PERSON AT ANYTIME.
Generally, "dating" is an appointment to meet socially, whose origin is rooted in American culture.
Therefore, in the loose sense, "making a date" with someone simply implies an appointment to meet or go out with someone to have some fun or enjoyment (typically to eat or engage in a specified social, enjoyable, or friendly activity). In that sense, a husband or wife, for example, can "have a date" with the other spouse for an evening outing, even several years after they are married.
A parent can have a date with a son or daughter, and a colleague on the job, in school, in a group, in a church, or a friend in the community, a new person you just met etc., can have a date to discuss important matters, plan something, have some fun, know each other better, and foster a bond of friendship etc.
In another sense (especially in the American sense where most people borrowed this particular definition from), "dating" is a social appointment specifically with the opposite sex.
Real dating, in the romantic sense, is a deliberate and purposeful plan to get very close to someone with the intentions of finding out IF the two of you can start a romantic relationship, which could possibly lead to marriage. It should not be done with one person hiding his or her intentions, and luring the other into his or tentacles.
If it is "a simple reconnaissance flight" for casual browsing or scanning for some preliminary information, with no intentions declared for any form of close association for possible romantic friendship, then it is rather what we call "Seeing". You can initially "See" many people at any time (even in the same group), and then choose one to "Date".
Some people interchange the words Dating and Courtship, but in the strict or technical sense, Dating is supposed to come before Courtship, for any serious marriage plans. Courtship is expected to be with someone you can start calling "your lover", and must begin after serious proposal (or declaration of serious intentions) has occurred for a romantic and love relationship that could lead to marriage.
Courtship is designed for the two people (one man and one woman as God originally intended) to cement the relationship, and FINALLY DECIDE, if they really want to join their lives together in a permanent bond of marriage.
In the strict sense, you can date more than one person at a time IF it is only CASUAL exploratory investigations to obtain vital information. This is how I understand it. It is "reconnaissance flights without dropping of any bombs". There should be no barriers that prevent you from to exploring another person at the same time, if it involves casual simple investigations.
If it is SERIOUS dating with strong interest, then it is appropriate to DATE ONLY ONE PERSON AT A TIME; otherwise you will be attempting to look critically into two or more bottles with one eye simultaneously. You will have too many factors on your plate to deal with, and you will expose yourself to undue comparisons and conflicting messages that will feed your brains in a way that will cause your mind and heart to become confused and very indecisive.
To court more than one person at a time should never be done by any sane person who has real understanding of marriage as God created it to be! It means you are actually making plans to marry more than one person, and trying to divide your heart into two or three or more portions, and forcibly give each of your mates a fraction of your heart for a relationship which can never be viable or become materialized. This is one of the reasons why you should never casually, lustfully, impulsively, insincerely, or deceitfully promise marriage to anyone, and then walk across to another person to make the same promise.
Infatuation, opportunism, carnality, lust, greed, weak personal will, deceitful spirit, frustrations, poor commitment to duty, misunderstanding of the real needs of males or females, wrong influence and bad marital examples from our own homes and families, and demonic forces, can often mislead us to become so dangerously and thoughtlessly irresponsible in our attempts to marry and have a family. The final damages we inflict on people's hearts and minds, and wrecking of people's lives, can be very nefarious and incalculable.
If you call it dating, but you actually mean (and openly engage in) courtship that involves very strong interest and good feelings for the person, then you cannot engage in such a relationship with more than one lover at a time. That will be what people call "Double Dating" (or even Triple Dating), which does not have a good image or reputation because it is considered a form of deception, capricious character, or unfaithfulness.
Some people also use the term "Courtship" to generally refer to any plans and moves to get someone into a romantic relationship with possible future marriage intentions and purposes. They simply bundle everything together and say "we are courting". In reality, to court someone means you are actually trying to win the favor and affection of the person, in order to marry the person.
Several male animals court their female counterparts for sexual attraction or sexual activity.
In summary, your personal definition, maturity, age, understanding, interactions, extent of involvement, motives, cultural practices, and the resulting moves that you make, will ultimately determine if you are simply dating in a friendly way, casually dating, seriously dating, or courting someone. This will determine how you must go about the entire relationship, and how long to date the person, for the best results in accordance with accepted principles and your original objectives.
In all cases, please ensure that you apply the principles of godliness, purity, good motives, clean conscience, decency, maturity, self-control, and purpose, for your dating or courtship. Plan and determine to take every step prayerfully, consciously, humbly, and wisely. Make every effort to lay a solid foundation for an enduring, lasting, and very fruitful future marriage and family life.
****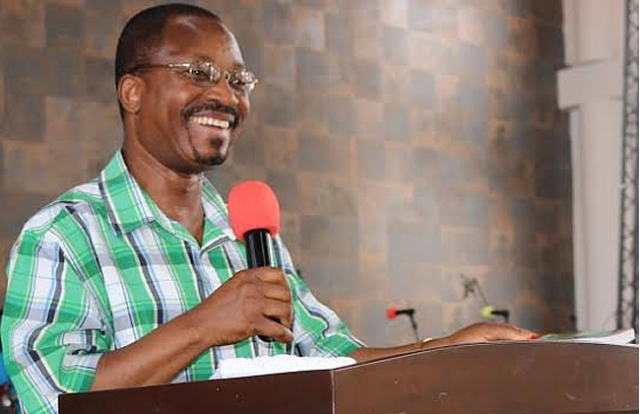 The writer is a professor of Biology, an international evangelist as well as a relationship, marriage, and family counsellor. He can be reached for free counselling and prayer on 1-757-7289330. Cell & WhatsApp 1-917-7410643.   His e-mail contact is kisseadoo@msn.com and his website is  www.fruitfulministriesint.com.                                                                             
Tune in to Joy 99.7FM in Accra every Saturday at 5:30 am - 6 am, Ghana Time, to enjoy Dr Kisseadoo's Weekly Broadcast "Hope For Your Family". Access anywhere in the world using MYJOYONLINE.COM/Live Radio.
Obtain additional rich information from Dr. Kisseadoos's latest book: "COUNSELING FOR SUCCESSFUL RELATIONSHIPS AND MARRIAGE; plus other books at Challenge Bookstores in Ghana, Calvary Bookstore at Adabraka, UG Legon Bookstore, or Baptist Bookstore at Amakom in Kumasi (opposite Anglican High School), or call 020-8126533 in Accra or 0275353802 in Kumasi.
FOR DAILY INSPIRATIONAL MESSAGES
1) TEXT --- In Ghana Call *920*40*8# and follow the prompts for Educational and Inspirational Test Messages of Dr. Kissiedu. Across All Networks.                                                                    
2) AUDIO (English or Twi) --- In Ghana, call Tigo-Airtel 545 and follow the prompts.                                                                                                                                           
DISCLAIMER: The Views, Comments, Opinions, Contributions and Statements made by Readers and Contributors on this platform do not necessarily represent the views or policy of Multimedia Group Limited.