Drummer Frank Kissi and the Electric Band rule the stage at the +233 Jazz Bar & Grill at North Ridge in Accra on Tuesday nights and it's no exaggeration to say they always turn in a presentation that earns them top marks from the audience.
Tuesday, January 31 was no exception. Pushed on by the joy of creation, they combined the best of composition and improvisation to thrill patrons to an entirely instrumental set that demonstrated the superb control they have over their various instruments.
In addition to Kissi on drums, the group currently comprises Gadiel Amoah (bass), Victor Dey (piano), Oko Amarteifio (percussion) and Bernard Ayisa (saxophone).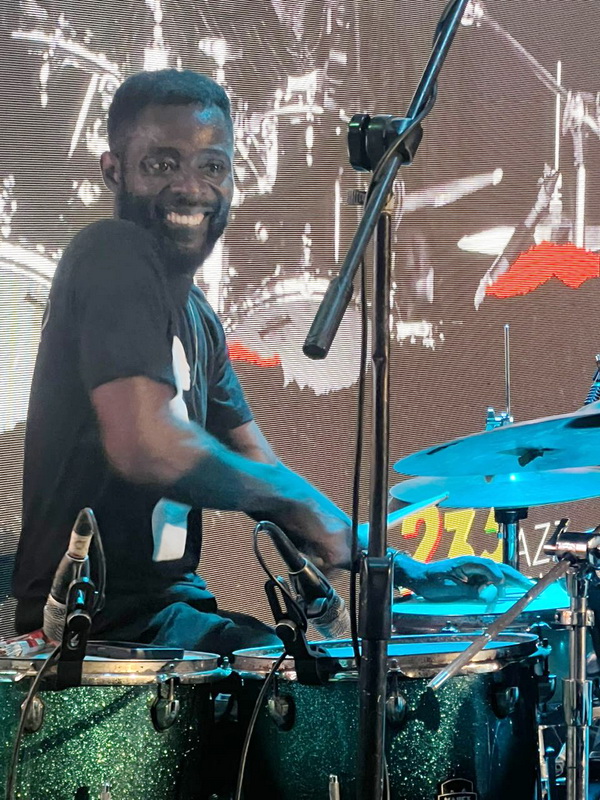 They ran through a repertoire of Jazz standards, Victor Dey compositions and some Highlife classics. They also dished out some funky, bluesy material and items by the Native Vibe duo.
The unique thing about the Electric Band is they usually treat Jazz standards as skeletons to be clothed in the individual virtuosity and style of the band's members. Thus a familiar song by Chick Corea or Herbie Hancock or Roy Hargrove could be given a completely different, fascinating bounce.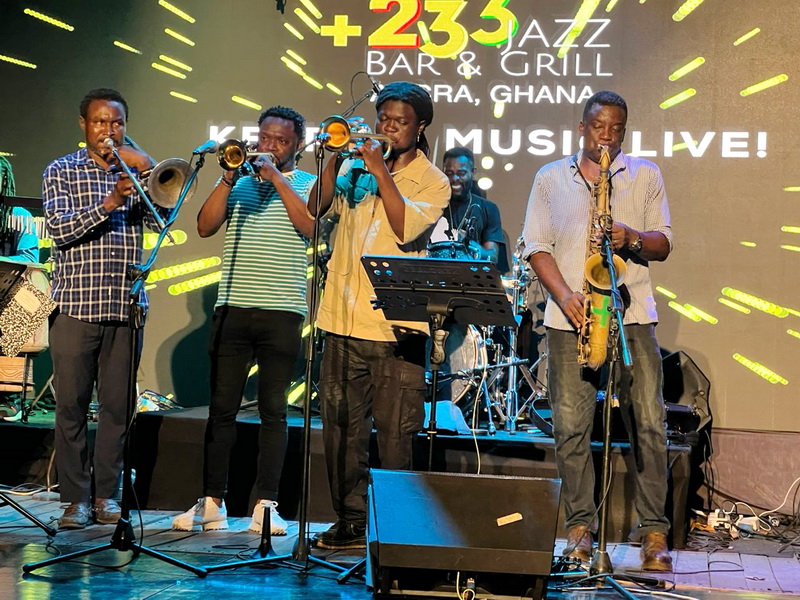 Pianist Victor Dey was highly intense, as usual. Oko Amarteifio's percussive interjections were on point. Gadiel Amoah, the latest to join the group, fitted in well with the rest. Bernard Ayisa was in tip-top form. Frank Kissi, like always, treated the drums more as a musical instrument than simply a time-keeping apparatus.
"It was a great session and we all, including our guests on the night, had a wonderful time. We truly enjoyed ourselves," said band leader, Frank Kissi.
Those with a bit of knowledge of the live music scene in Ghana know Kissi is a thorough-bred professional who has occupied the drum chair for nearly every artiste that matters in this country. They include Kojo Antwi, Daddy Lumba, Efya, Becca, Rex Omar, Sandra Huson, Ofori Amponsah, Abiana, Gyedu Blay Ambolley and Amakye Dede.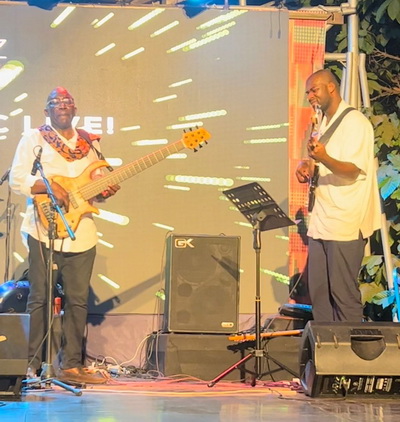 The guests he referred to were trumpeters Peter Somuah and Paul Bilson, based in the Netherlands and England respectively but in town on holiday. Others were bassists Nee Sackey and Conrad Oddoye who were visiting from the United States and Canada respectively. Trombonist Eli Amewode was also in the house.
They are all players with distinctive approaches to their instruments and their participation in the gig gave it a special lift.
According to Frank Kissi, many musicians, both Ghanaians and foreigners, pass through +233 on Tuesdays to either just listen to his guys or get on stage to play a song or two with them.
"We don't really mind who wants to jam with us but we have to be sure they know their stuff and understand the kind of music we play. We've shared the stage at different times with traditional instrumentalists as well as poets and rappers. It's all about the guests having a good grasp of what they do and being able to fit in with what we also do as a band," Kissi stated.
The Electric Band, on any good day, is capable of stretching out and getting into exciting, feel-good grooves. It appears their unison ensemble passages and striking individual solo spots will continue to pull in audiences to +233 on many more Tuesdays to come.
DISCLAIMER: The Views, Comments, Opinions, Contributions and Statements made by Readers and Contributors on this platform do not necessarily represent the views or policy of Multimedia Group Limited.