I do not know the Special Prosecutor, Mr. Kissi Agyebeng from Adam. I don't think he knows me either.
But we have something in common. Our mums used to be traders in and around the Central Business District of Accra, at about the same time.
Mine sold 'provisions' at the Makola Market while his, sold eggs at the Railway station. Another thing. We both helped our mums in their trades, occasionally. I only got to know this during an interview he had with Kwami Sefa Kayi recently.
Nevertheless, the hullabaloo that greeted his nomination for the position of Special Prosecutor made me pay attention to him.
I followed the discussion through his vetting, out of which I wrote an article titled, '6 things we learnt from Kissi Agyebeng's vetting'. Subsequently, I wrote a piece headlined, 'Have a friend, Kissi Agyebeng has one'. I wonder if he even saw and read them.
As a journalist, my eyes have been on the lookout for him since then. That's because I consider him the real protector of the public purse. Yes. The one who has the locus standi to retrieve for us, any looted booty in accordance with Section 2 of the Office of the Special Prosecutor Act, 2017 (Act 959).
For the avoidance of doubt, Section 2 of the Act states inter alia, (b) recover the proceeds of corruption and corruption-related offences, and (c) take steps to prevent corruption.
So, I read the story about Mr. Agyebeng's meeting with Godfred Yeboah Dame, his friend, classmate and benefactor for the position he currently occupies. This is where he started the complaints. "You can't fight corruption with poorly paid staff", he contended, justifiably.
I also watched the interview he had with Nana Aba Anamoah on GHOne TV and listened to the one with Kwami Sefa Kayi (KSK) on Peace FM.
The key message I took from both interviews is the fact that he has been trying to operationalise the office, which was "established but not set up."
Thus far, he has a place he can wake up and go to every morning, and call an office. He currently has 9 staff, whereas 275 would be needed to operate effectively.
He justified this number of personnel with the scope of work of the office as mandated by Act 959.
The coming of a 'heavy' budget, am I God?
A statement by Mr. Agyebeng during the interview with KSK, which prompted this article, which he made in Twi, to which I attempt a translation, is this, "we are coming up with a very 'heavy' (ɛmu yɛ dru) budget. You can't give me a job and not give me the required logistics. I hear some say, Ghanaians don't care whether you have resources, what we want is results.
If you say this, how do you think? Are you okay? If you can't give me the resources, how do you expect me to get the results? Am I God? If we can't resource the office, then let's forget everything and scrap the office, because we don't need it."
Mr. Agyebeng mentioned some of the items that would be captured in the 'ɛmu yɛ dru' budget as a Holding Cell, Call Centre, Forensic Laboratory, Specialized vehicles and Specialised communications gadgets.
He explained that the main reason why he wants to set up, "my own" forensic laboratory is that, "I don't like delays and bureaucracy, if I have a forensic lab at the Office of the Special Prosecutor, I am the boss, and I can handle investigations expeditiously."
'Big dreams, sometimes I try, to make them true' by music duo, Wutah came to mind upon hearing my 'best friend' talk.
Yes my 'best friend'. Because, "Friends buy you food. Best friends eat your food"- Jesmundo.
Mr. Godfred Dame, his friend, has bought Mr. Agyebeng food (Given him a job). As his 'best friend', I will eat his food (Talk about his job). In Twi, his native language, they say 'mɛka nasɛm'.
Therefore, I wish to address him directly.
Kissi, from the way you spoke during the interview with KSK, I am wondering if, besides orientation into your role as a Special Prosecutor, which you spoke so eloquently about, you have been duly oriented on how the entire Public Service operates.
With the over thirteen years practical experience I have in the Public Sector, in addition to my academic knowledge in the field, I have a piece of advice. If you do not change your notion of, "If you won't give me resources, then let's forget everything and scrap the office", you may leave the position faster than your predecessor, Mr. Martin Amidu did.
And ooh, I surmised from the two interviews, that the Citizen Vigilante's name evokes deep emotions in you because "onnim me nsu oyiyɛ me"- he insulted me, when he does not even know me.
Another thing. As for saying, you did say. Maybe, I did not understand you correctly. But did you mean if we don't give you resources to obtain "a Holding Cell, Call Centre, Forensic Laboratory, Specialized vehicles and Specialised communications gadgets and 275 staff", we should take our job? If so, then 'ɛbɛnya aba so enim-enim yiaa'- it will happen very soon.
When Kwami remarked that "you must have a lot of money in your account, and you responded, "because the office had not been operationalised prior to my assumption of office, all budgetary allocations to the office were returned to government chest", I was happy because I got the indication that you understand the system.
However, subsequent statements got me confused with regard to your appreciation of the workings of the Public Sector. Therefore, I want you to note this. Public Service money is kept in what is called the Consolidated Fund. From what I have come to know, and what my lecturers told me, this is a bottomless pit. Money does not sit there waiting to be spent.
Municipal, Metropolitan and District Assemblies (MMDAs) as well as Ministries, Departments and Agencies (MDAs) including yours, contribute, through Internally Generated Funds (Obtained from fees and charges, levies, tolls and rates) to the Consolidated Fund. This is what is appropriated for use in implementing all government policies and programmes.
Just in case you don't know, having read the 2022 Budget and christened it 'Agyenkwa' budget does not mean the GHC100.5billion indicated as estimated revenue, is sitting in the Consolidated Fund waiting to be dished out by Mr. Ofori-Atta when the clock hits 12:01 on 1st January, 2022.
If that were the case, previous allocations to your office would have been kept in an account waiting for you to come and spend. Actually, there is a deficit of GHC37billion considering the fact that estimated expenditure is GHC137.5billion. Which explains why Mr. Ofori-Atta is lobbying members of the Minority left, right and centre, for approval of the e-levy at 1.75%.
As a Public Service organisation, your Act has empowered you under Section 22 (b) (Funds of the Office) to generate funds internally. After you have done that, you will be required to apply to the Ministry of Finance to either retain 100% of what you generate or less.
In other words, it is you and your team who would have to work hard, with the resources you have now, to generate the resources required to realise that big dream. You can propose to government that your outfit be given a particular percentage of all monies retrieved. Your justification could be that it would motivate you to work harder to bring in more of the otherwise lost funds.
Of course you will receive something from Parliament in accordance with Section 22 (a) of your Act. However, if you heard that infamous remark by Mr. Ofori-Atta that government's pay roll is choked, then you cannot sit on radio and TV and expect the salaries of the 275 personnel you want to employ to operate those 'specialised communication gadgets and specialized vehicles' to be paid with manna from heaven.
You have to make use of the powers vested in you by Act 959 to raise the resources to build the holding cell and establish the call centre. 'Enyɛ bɛtɛɛ saa'- it is not as simple as that. It is hard work.
So please shed that multinational job mentality of being employed and given a juicy package in addition to a swivel chair and a shiny vehicle. This is service- Public Service.
The organisation has been created and your job is to serve the interest of the public, using your knowledge and skills, not for you to present a 'heavy' budget and wait for approval to spend. 'Na sika no ɛwo hi? Where do you think the money will come from?
The gold-plated letterhead
The other day, we were in the office when I saw a letter from your office. I could not help but notice the shiny nature of the logo and the contact information.
While I admired its simplicity, the gold-plated look of the aforementioned features did not stop pricking my conscience.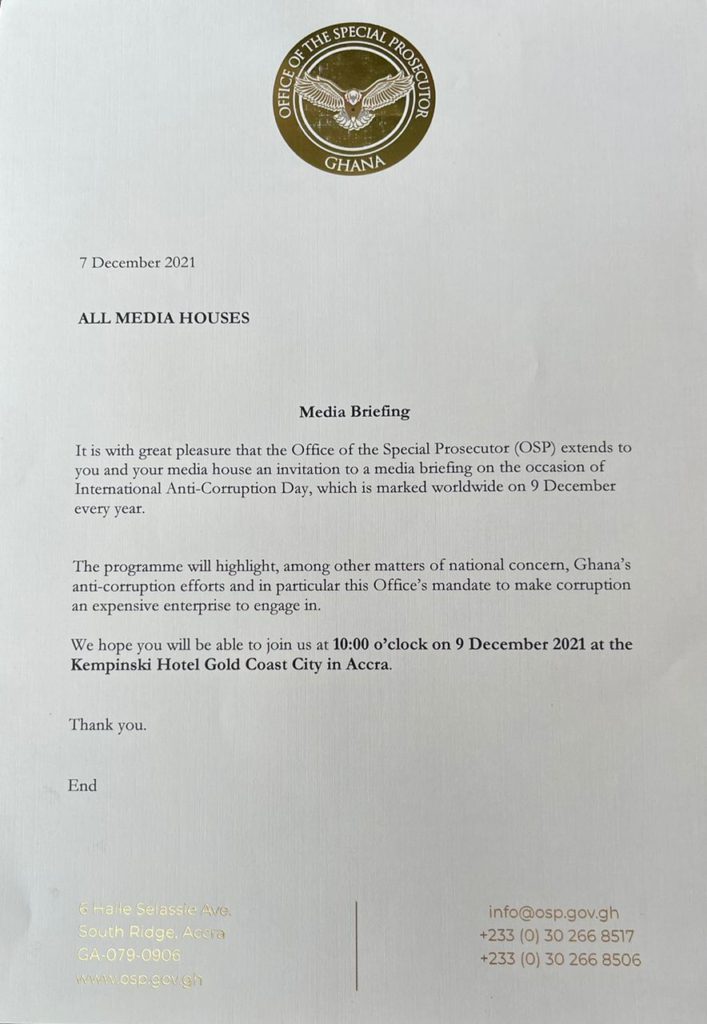 'This is a clear case of change of the logo from the traditional Coat of Arms that all Public Service organisations use. Is this not the same thing Mrs. Charlotte Osei did with the logo of the Electoral Commission for which we condemned her? Plus, this letterhead looks expensive. What happened to the old stock of the letterheads used by Martin Amidu?' I soliloquised.
Why? Because I am aware that Public Servants are required to avoid waste in the use of human, financial and material resources.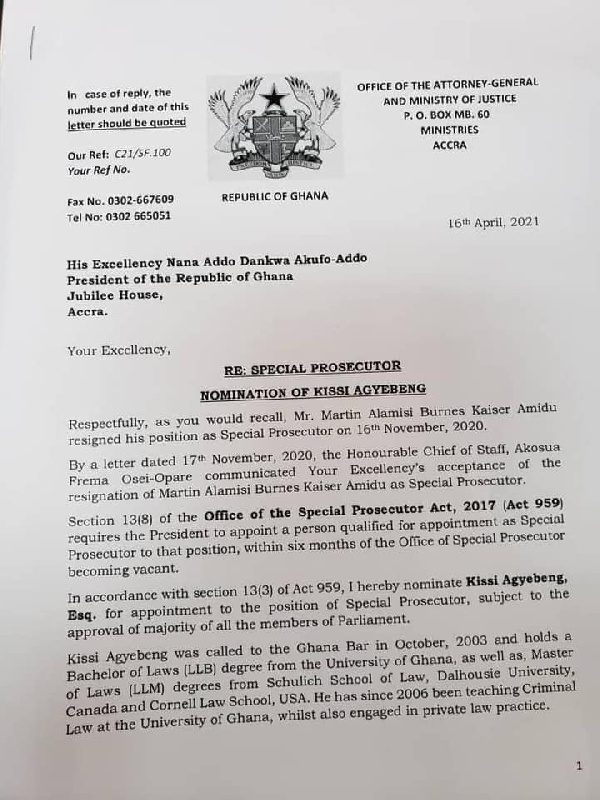 I have no doubt that this letterhead is much more expensive than the ordinary A4 white sheet kind. So why would a Public Service organisation waste scarce public funds on such aesthetics? I quizzed myself.
Such frivolity, when some of your counterpart organisations have adopted digital letterheads (predesigned in soft copy and printed with ordinary A4 sheets as and when necessary), raises eyebrows.
As mentioned earlier, I consider you as the real protector of the public purse. Thus, if you begin to lose sight of how to use the little resources given to you efficiently, how can we trust you with a 'heavy' budget?
Just so I don't forget, in Management class, I was taught that, the best manager is the one who is efficient – achieves maximum productivity at minimum expense. Not the one who is effective- successful in producing a desired or intended result. I was therefore charged to ensure that whatever I do as a manager is effective and efficient.
Some of my colleague journalists and PR practitioners, on our school's WhatsApp platform, agree with me that your letterhead is wasteful.
They also side with me that the decision to use Kempinski for a press conference is imprudent. Some are willing to let it slide, but one maintained that, "even if subsidized like a sponsorship self… adabraka!… the optics ain't cool .. it is an office that must guard against certain behaviours."
That's a word, to the wise, from the Communications Manager of an international commercial bank, where profits flow, 'waa, waa'.
The Kempinski rendezvous
'Kempinski Hotel Gold Coast City Accra, is the only five-star luxury hotel in the city', is how managers of the hotel have described it on their website.
Luxury is their claim to fame- 'Luxury business and Lifestyle destination in the heart of Accra' is the first statement that greets any visitor to their website.
When Kempinski launched a few years ago, the rumour was rife that they sell a bowl of 'fufu' and soup at GHC100.00. They did not deny it, they rationalised it.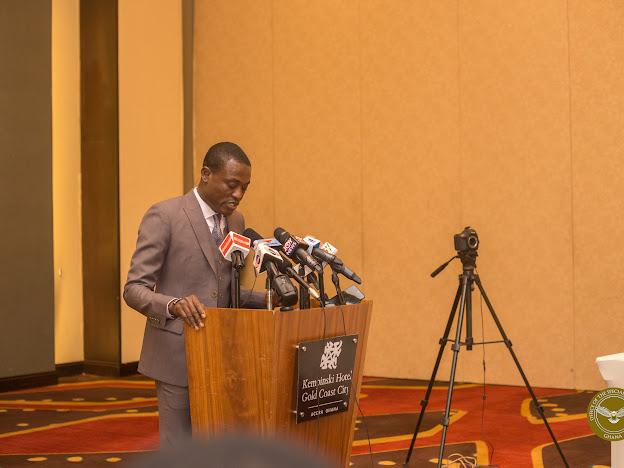 Personally, through the magnanimity of some clients I worked for in my previous life, I got to witness the luxury that Kempinski offers, first hand.
I know how serene the environment is, how sumptuous their meals are, how delectable the deserts are as well as how spacious and comfortable the conference halls/rooms with Dubai-themed names, like Palm Jumeirah, are.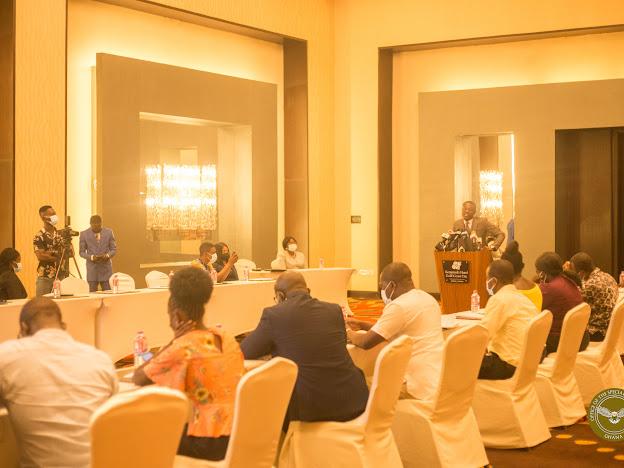 So, when I read from the aforementioned letterhead that you had decided to commemorate International Anti-corruption Day at this 5-star hotel, my eyebrows were raised involuntarily.
Hence, I wrote this on the WhatsApp platform referred to earlier, "This is the man who is complaining about not having vehicles. The little money he has received for the last quarter, he is going to donate it. SMH.
It is as clear as day light that everything is wrong with the SP using public funds to host any form of event at Kempinski. I am not convinced that SP should pay huge sums of public funds to an expensive foreign-owned hotel."
What I did not get the chance to write on the platform is this, "oohk, now I understand. The year is about to end. And he is aware that if he does not spend the money in the bank account, it will go back to chest."
How do you hire a conference room at a 5-star hotel to host a press conference to lament over inadequate allocation in the 2022 Budget thus, "without money, we can't do anything. We will be reduced to writing long letters. Because we need money for everything, especially our operations. And the question as to whether what was allotted to the OSP is sufficient, I will say generally in Ghana nothing is sufficient
And what was put there I have seen. It doesn't match up to my expectations, but I cannot give up. I see things written on paper, but I will keep asking and I will keep pushing so that we can get what we require to establish and operationalise this office to work."
Your office was allocated GHC170, 504, 000.00 and you say it is not enough?
Next time, use Alisa Hotel- a Ghanaian-owned hotel, which could have given a package that is half of the Kempinski deal. What happened to the Ministry of Information Conference Hall or the Ghana International Press Centre or Cleaver House, located near the AirtelTigo office? Why?
It's time to go
Well, keep pushing. Perhaps Mr. Dame, your buddy-buddy, will put in a word for you to get more.
However, the truth is what I have told you. No Public Service organisation has adequate funding. And you alluded to it as cited above.  Be reminded that as far as the Public Service is concerned, your Act is your trump card.
Use what you have to get what you want, is the mantra. So go on, prosecute the 31 cases currently before you and retrieve what has been lost to the state. Then you can use some to actualize your lofty dream for the office.
Remember, don't misuse the little resources you retrieve on unnecessary luxury. Using a 'gold-plated' letterhead and holding a press conference at Kempinski Hotel, at a time the President is alleged to be traveling in luxurious chartered aircraft, smacks of you taking a leaf from your appointer.
Undoubtedly, I speak for many Ghanaians when I say that, we have high hopes in you. Please don't disappoint us.
And get someone from the GIMPA School of Public Service and Governance to school you more about the Public Service. You need it.
Lastly, get someone to train you on how to engage the media, you gave too many negative news angles, especially in the interview with Kwami. No wonder he is the Chairman General of media interviews in Ghana. Even President Akufo-Addo got the opportunity to say, "ɛniɛ onkoyɛ ɛ" – Then he should go and do it.
For instance, that assurance to Kwami that, "I know why I chose you and Nana Aba Anamoah for my interviews, I will tell you later", on air, was very, very needless.
I have a lot to say. But that would be at the risk of you saying, 'mennim wo, enso me yiyɛ wo' – I am insulting you when I don't even know you. 'Medi esi ha'- I end here.
Finally, make sure you don't fall on your own sword- Causing financial loss to the state on my mind.
Antio sas- That's goodbye in Greek.
Let God lead. Follow Him directly, not through any human.
The writer works with MyJoyOnline.com. Email- eric.mensah-ayettey@gmail.com