Private legal practitioner Samson Lardy Anyenini has said that the option left for Jubilee House is to sue Al Jazeera following the media establishment's refusal to retract and apologise for claims about President Akufo-Addo in their Gold Mafia documentary.
The presidency had issued a seven-day ultimatum to Al Jazeera to retract and apologise for alleged misrepresentation of the President in the documentary which exposes corruption, gold smuggling and money laundering on the continent of Africa.
Al Jazeera has responded it is unable to grant the wishes of the presidency, because it has done no wrong.
Speaking on Top Story on Joy FM, Samson Lardy Anyenini explained that because the president did not question the ethics of Al Jazeera but rather called them out for intending to malign the President's name, a commission will not be the forum to go to.
Mr Anyenini said that the court becomes the place to prove the media house intended to slander the president "once you couch the complaint in the manner of defamation. In this case, they actually say it's malicious defamation, which means there was clear intent and malice, to do what they did. They knew it was wrong and untrue but proceeded to publish."
Mr Anyenini added that "Now the judicial authorities are very clear that when it comes to the online or the cyberspace, the law is that where the publication takes place and for the purposes of a defamation claim, where the relevant words are heard or read, so it doesn't matter if you're in Ghana or not once your publication was read in Ghana, a party that is affected has a right at law to take you on."
A letter signed by Secretary to the President, Nana Bediatuo Asante on April 25, stated; "I am instructed by the President of the Republic, Nana Addo Dankwa Akufo-Addo, to demand formally that Al Jazeera Media Network (Al Jazeera") retract immediately and apologise for airing an inaccurate and unfair documentary that contained spurious and unsubstantiated allegations against the President and the Government of Ghana."
However, Al Jazeera, in its reply on Thursday, May 4 to JoyNews' Kwaku Asante's email requesting a response to the demands by the presidency, said it does not owe the president nor his office any apology since it did not allege the issues raised in the letter from Jubilee House demanding the retraction and apology.
Meanwhile, Mr Anyenini noted that although there is a law in Ghana hindering people from suing the President while he is in power, there may not be any that stops him from taking the legal route, especially in this defamation case.
"The President can take up the suit in any part of the world but more conveniently in Ghana and when he wins, the question remains how do you enforce the judgment? We have a way of enforcing a foreign judgement, as long as there is what we call the reciprocity kind of agreement," Mr Anyenini said.
He explained that "You are allowed to register that judgment and enforce it. I suppose that where Al Jazeera is physically located, it will be the case that the same rules will be invoked and applicable to enforce a judgment against them."
Background: How Ghana appeared in Al Jazeera's 'Gold Mafia' documentary
Early on in April, Ghana popped up in a damning investigative documentary conducted into some of Zimbabwe's gold smuggling and money laundering syndicates.
In the concluding episode, undercover journalists posing as Chinese gangsters interact with one of the key players, Alistair Mathias to help clean a supposed dirty money.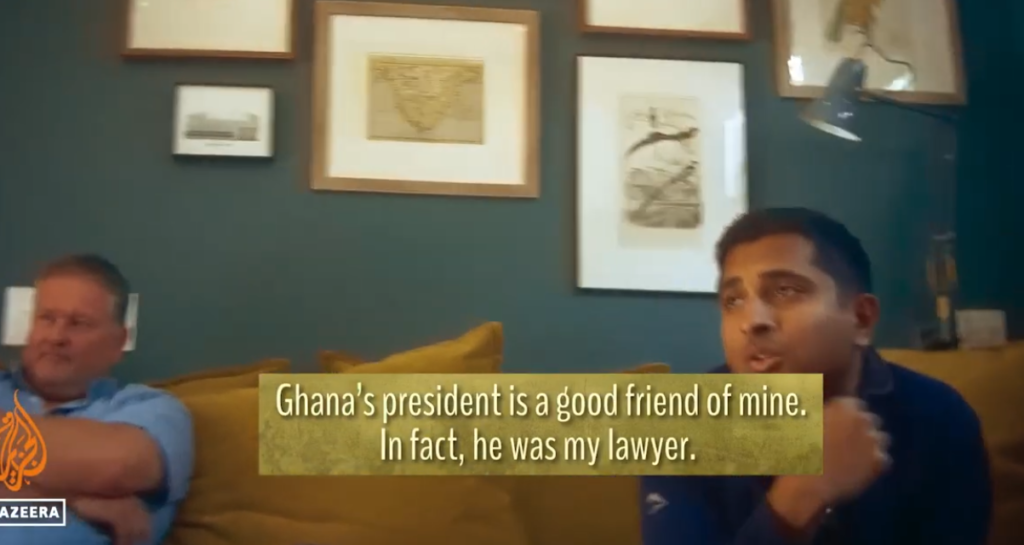 Mr Alistair who is described in the piece as a Financial Architect told the reporters posing as criminals that he had a track record of successfully orchestrating such syndicates.
Essentially, he is said to be instrumental in designing money laundering schemes for many corrupt politicians in Africa.
Alistair named Ghana as one of the countries where he had executed similar schemes, alleging associations also with the President.
Mr Mathias added that he used to be the biggest smuggler in Ghana at one point, raking out about $40 million to $60 million worth of gold a month from the West African country.
During the documentary, Alistair outlined his modus operandi to the undercover journalists suggesting that the most important credential of his operations in Africa comes from the trust that some dubious politicians have in him to keep their siphoned resources safely tucked away.
He revealed that in doing this, the politicians involved do not keep assets in their own names, but rely on proxies.
Citing government infrastructure as an example, he indicated that he is able to take huge contracts on behalf of Ghanaian politicians, inflate the cost and subsequently split the profit afterwards.
"In Ghana, I take tenders, road construction, procurement, supplying different things, oil, this that. There, all the politicians get taken care of, indirectly because it allows me to do all my other stuff freely."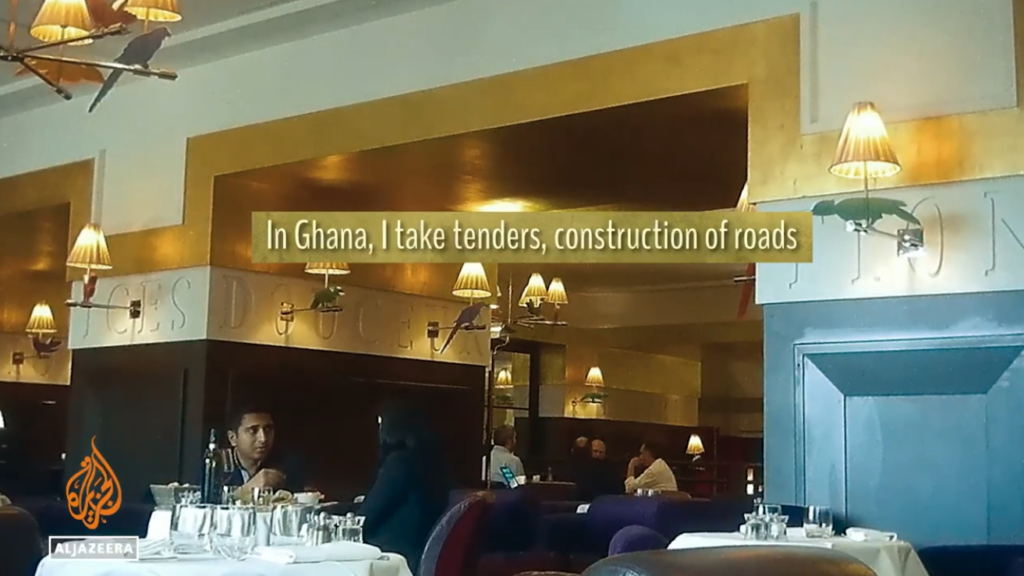 He explains further in the documentary;
"For example, Ghana government, Mathias Holdings, I get the contract. I subcontract it to you, $100 million contract. Ghana government pays me $100 million. I give it to you and you say it's $80 million" he told the investigative reporters who secretly recorded the interaction.
In this scenario, the outstanding $20 million out of the inflated $100 million is shared per an arrangement reached between Alistair and the said politician.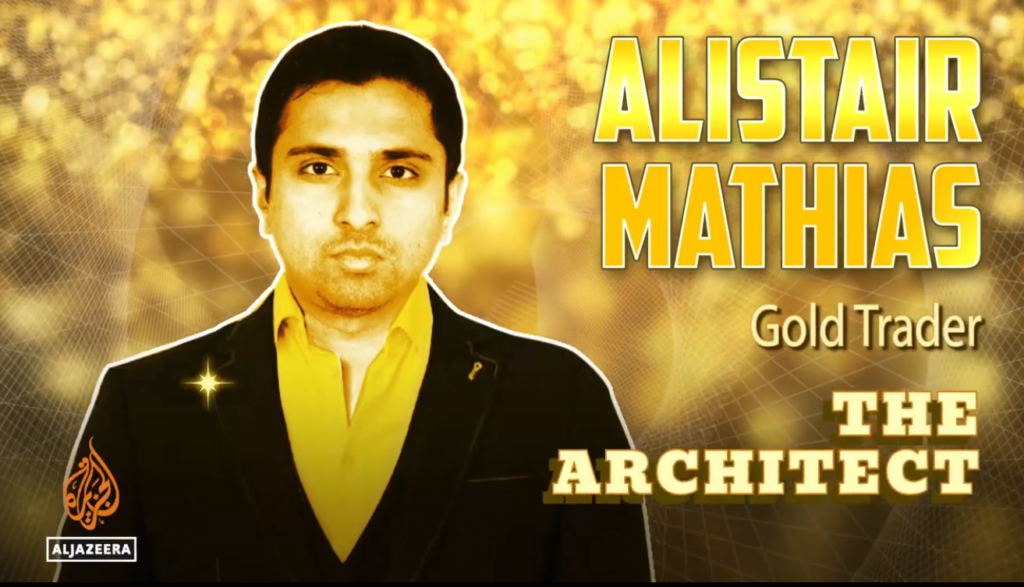 "I'll have an arrangement with them and they get 15… I'll probably get 5 million," he added.
"I keep all of it in Dubai. Whenever they want it, they just tell me and I send it."
DISCLAIMER: The Views, Comments, Opinions, Contributions and Statements made by Readers and Contributors on this platform do not necessarily represent the views or policy of Multimedia Group Limited.