Small and medium scale organisations venturing into tree plantation would soon benefit from a $7million World Bank facility.
Each organization will receive a maximum 100 thousand dollars over a period to plant more trees in degraded forest reserves during a pilot program.
Technical Director in Charge of Forestry at the Ministry of Lands and Natural Resources, Musah Abu Juam, tells JoyNews the support is to encourage more private sector participation in plantation development.
"We are moving from big companies like  Form Ghana who is sufficient and can have big plantations to small and medium scale plantations," Mr. Juam said.
"The government would soon be piloting this through a $7 million grant from the World Bank to small and medium scale plantation developers; given them about $100,000 each at a time to begin to establish plantations over the period," he added.
One of the objectives of the 2012 Forest and Wildlife Policy is to promote private sector investments in the forestry sector, especially in plantation development.
Officials at the Ministry of Lands say the private sector is more efficient in the management of plantations.
But despite the potentials, the sector is faced with funding and land security issues.
The challenges are being addressed with the promulgation of the 2012 Forest and Wildlife Policy, under which more degraded forest reserves are being released by the Forestry Commission for plantations.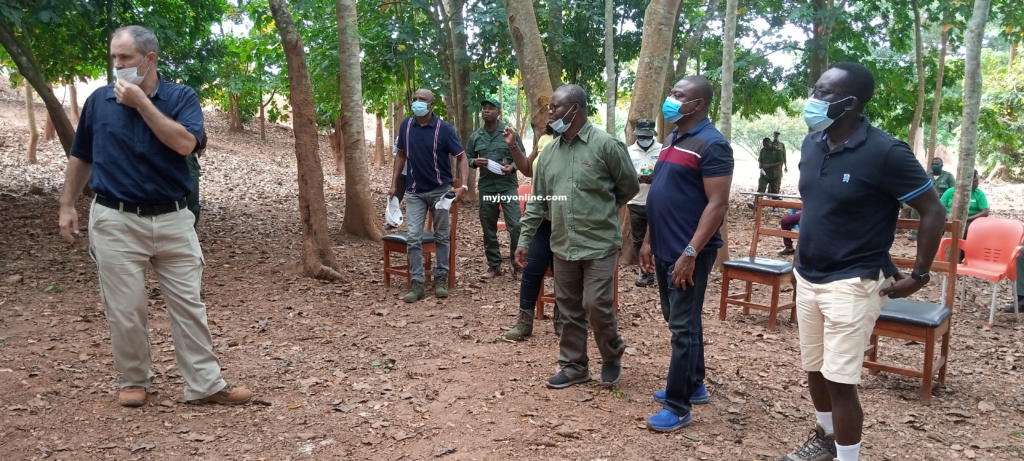 The Ministry supports Form Ghana, a private firm involved in plantation, to access a 10 million dollar facility from the African Development Bank.
"We hope that fund would increase and then we have more of such beautiful plantations coming from the private sector," Mr. Juam added.
Officials of the Ministry of Lands and Forestry Commission have been touring plantation sites of Samartex and Form Ghana in the Bono region over the weekend.
Form Ghana has been working in the degraded Tain II Forest at Kotaa in the Bono Region.
The firm currently employs about 500 locals to plant trees on over 12,237 hectares of land.
Speaking to JoyNews, the Managing Director of Form Ghana, William Forrie said the company is motivated by the impact it makes on the environment.
"It's a business so there is a financial motivation so that we can make money out of it but also use that to continue to grow the organization.
"Our first motivation is to have a real impact on the environment; not just locally  but also globally with climate change emissions going on but in all that, it is the finance that will keep it growing."