GIZ Ghana says 'Invest for Jobs' initiative will play a critical role in the country's attempt to increase technical and vocational training to help reduce youth unemployment.
'Invest for Jobs' is an initiative of the German Federal Ministry for Economic Cooperation and Development (BMZ) which is being implemented by GIZ.
The initiative is supporting Don Bosco Technical Institute with 1 million euros to train youth in bridging the industry-education skill gap between 2020 and 2024.
Team Leader for 'Invest for Jobs' at GIZ, John Duti, was speaking to Joy Business at a job fair on the theme, "Youth Unemployment: Bridging the Industry-Education Skills Gap" at Don Bosco Technical Institute at Ashaiman.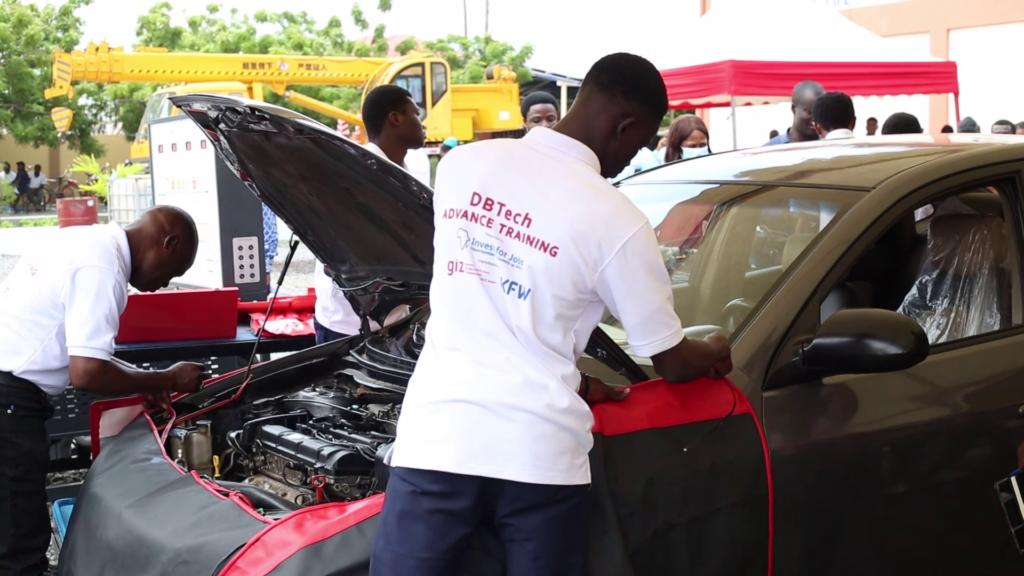 "This will empower Ghana's hopeful and determined youth with employable skills. The objective is to train 2000 individuals and connect 70% of them with local industries by end of 2022".
"Despite COVID-19 pandemic, we have successfully trained 454 young men and women with 178 placed in companies for internship. We're also encouraging students to venture into self-employment," he added.
The country's youth unemployment rate at 12% and underemployment rate at 50%, are both higher than the overall unemployment rates in Sub-Saharan African countries (World Bank, 2021).
Development partners including GIZ Ghana assert that skill up scaling using Technical and Vocational Educational and Training (TVET) can help deal with unemployment and commended government for making it free.
Principal of Don Bosco Technical Institute, Rev. Father Mark Eshun said his outfit will continue to equip the youth with skill needs of industries.
According to him, the training focuses on the integral formation of the individual acquiring both hard and soft skills.
"Don Bosco has a role to this transformation agenda with a responsibility as a training institution to find out what the industry needs. In this way, the school can better equip the youth with skills that meet such requirements," he explained.
The collaboration between the school and BMZ through the special initiative focuses on promoting employment which is in line with the school's position of training everyone especially local underprivileged youth for the job market.
The programme ensures beneficiaries are given hands-on training for three months and three months of internship to put to use skills acquired.
Guest speaker, Mrs. Gifty Addo who is the Deputy Director in charge of Human Resource at Driver and Vehicle Licensing Authority (DVLA) called for close collaboration between educational institutions and industries.
"This will promote job skill alignment combining labour market data with industry input to define the skill relevant for now and those likely to be needed for tomorrow's job," she added.
However, she fears this will not be achieved if stakeholders worked in isolation.
For her, knowing what industry wants, differentiating yourself through continuous learning and obtaining work experience wherever possible are some cardinal principles to make one a fit for the job market.
Vice Chair of Association Ghana Industries (AGI), Accra Chapter, Maureen Erekua Odoi stated that industry plays a key role in employing and AGI including SMEs are ready to offer opportunity to the trainees.
"Industry needs skilled students and the job fair provides you the opportunity to meet some of our members who are here to share with you their requirements"
The Vice Chair who is also the Co-founder of African Aurora Business Network presented copies of her book; "The 12 Golden Secrets For Entrepreneur" to Don Bosco.
The book according to her is made up her over two decades of experience including entrepreneurship experience, competences and soft skills.