Joe Jonas and Sophie Turner are no strangers to fame.
The couple stand in the top tier of their respective fields – Jonas gaining hype in a boy band alongside his brothers and Turner becoming an international superstar thanks to her leading role in Game Of Thrones.
Whether it be through the popularity of his songwriting or her embodiment of all things fantasy, the pair are masters of creativity.
That extends to style too.
Each outing presents a fresh new take on couple dressing, like a game of how many sartorial genres they can hit. Each time is different and each time it works.
Today, Jonas is celebrating his 31st birthday, so we've taken a trip down memory lane and sourced their standout style moments.
Searching for some fun inspiration with your other half? You're bound to find an answer here…
You can always count on essentials
When: 30 July 2019

Why it works: Summer style is simple – just look at Turner and Jonas for proof.
Stepping out in New York last summer, both stuck to the same seasonal essentials: jet black shades, a crew neck T-shirt and black shorts. Easy, right? Yes, but still very effective.
Keep the accessories to a minimum – Turner went for dainty gold jewellery while Jonas made a nice statement through his watch.
And as for that all important T-shirt? Take your pick from our favourites.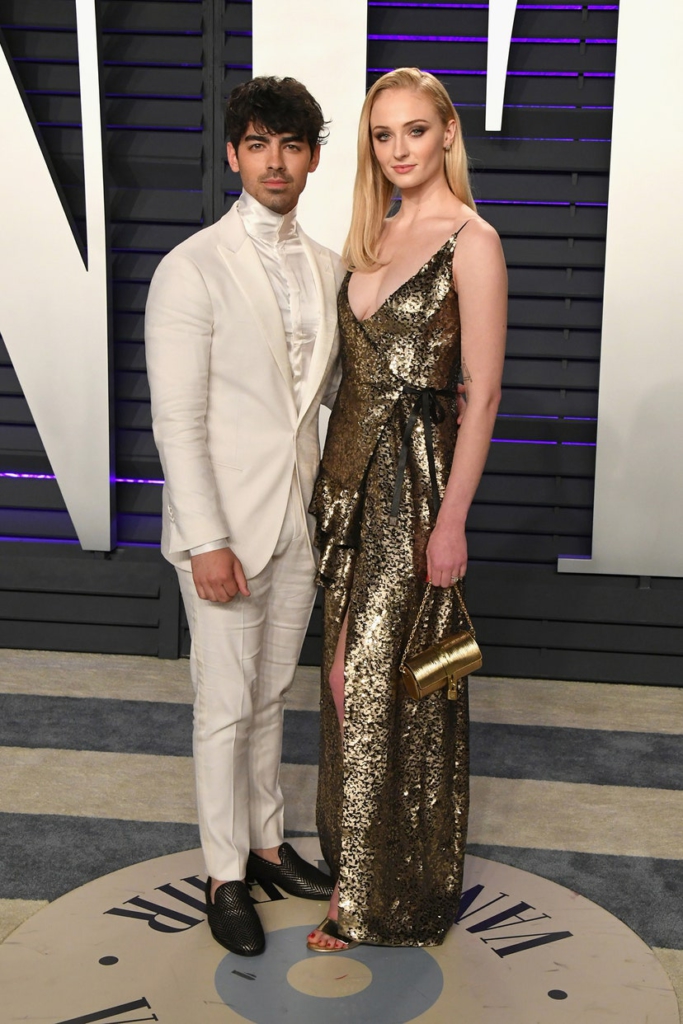 Keep it ethereal by night
When: 24 February 2019

Why it works: Jonas and Turner know how to bring something evanescent to the Oscar party, whether it be through his head-to-toe cream suit (top points for that silk shirt, FYI) or her gold embossed gown.
This was a charming arrival and a masterclass from Jonas.
Emulate by embracing the purest of hues, but ground it with a pair of leather loafers. As for the ladies, go for gold (literally).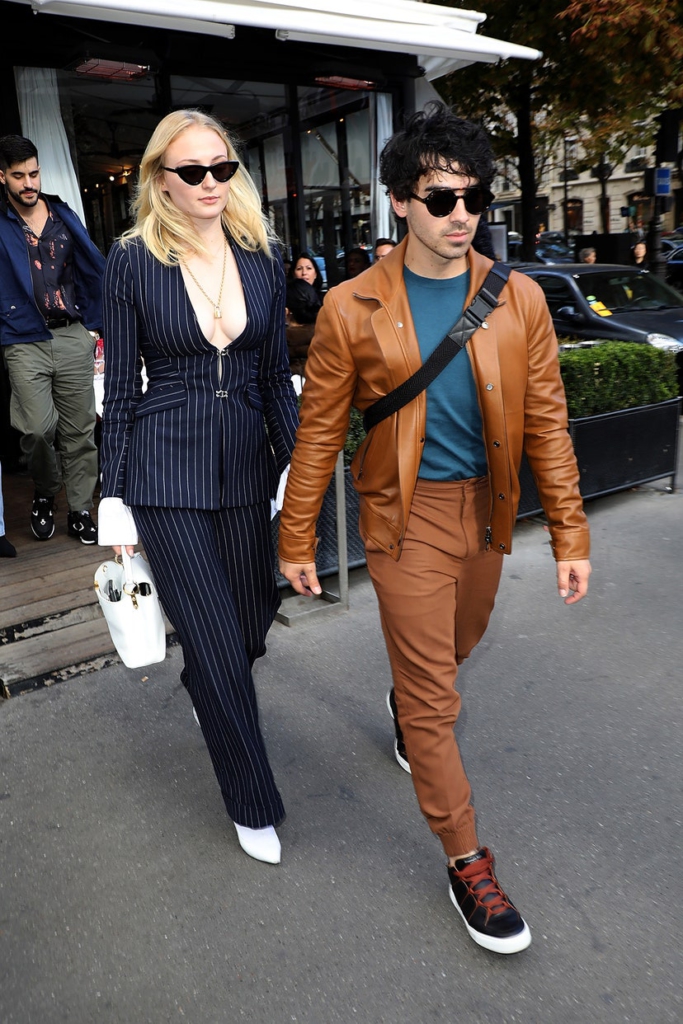 Tonal dressing works wonders
When: 1 October 2018

Why it works: Here's a lesson in how to complement each other's clothing: tonal dressing. Opting for the same hue is a tad risky, so each embrace a single colour – just make sure they blend well together.
Caramel and navy are a stylish combination here and the pieces are seasonless, allowing this to work at any point of the year.
Pinstripe suits, leather jackets and sheer black sunglasses? You can't go wrong.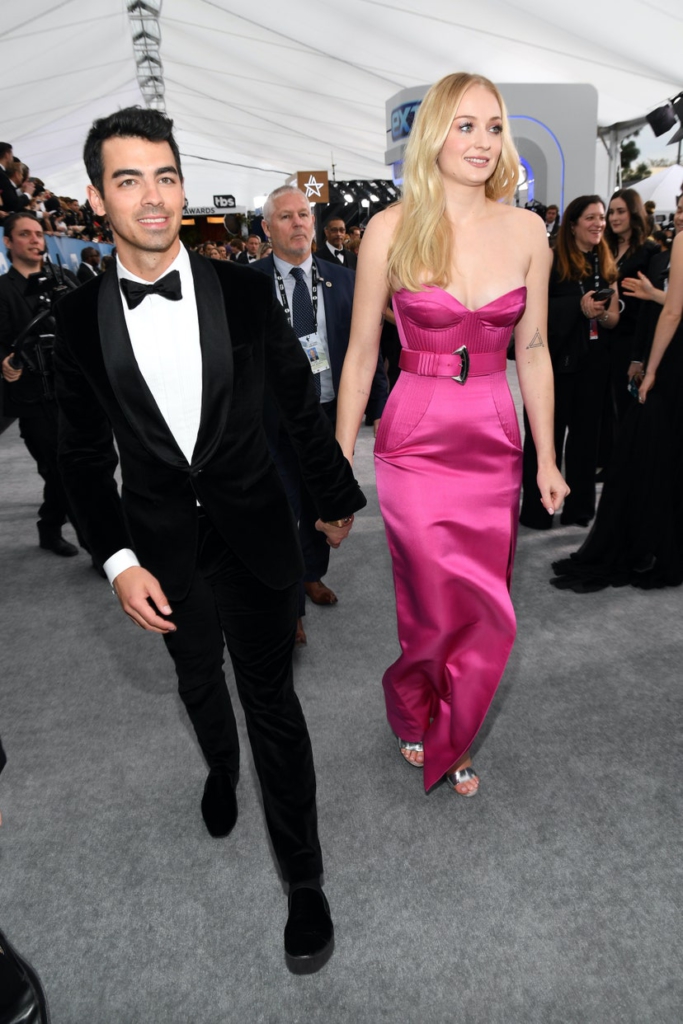 Elegant materials for the win
When: 19 January 2020

Why it works: Sure, colour schemes are important, but it's the texture of your outfits which can really make or break elegant style
. Case in point for success: Jonas and Turner's arrival to the 26th Annual Screen Actors Guild Awards earlier this year, for which satin and velvet were out in force.
Turner took on the satin side through her fitted fuchsia gown (very glamorous) while Jonas opted for a single-breasted velvet tux (the ultimate point of call for black tie).
Extra points to both for those slim-lined structures.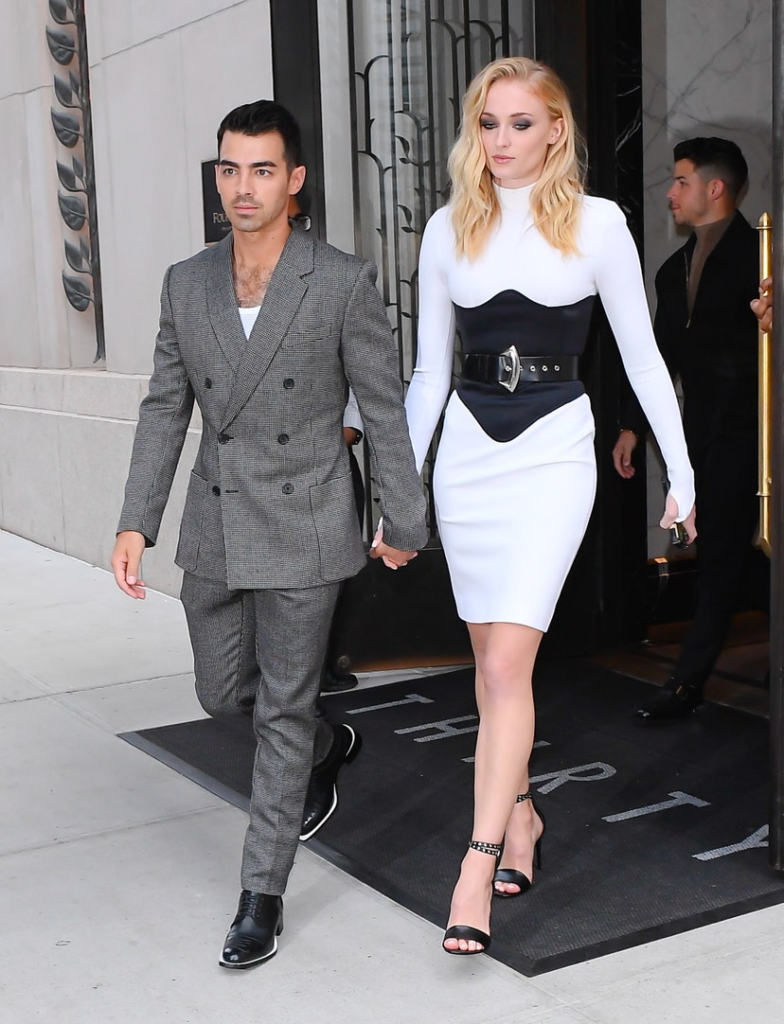 It's all in the waist
When: 26 August 2019

Why it works: A key section of your silhouette to style? The waist, as it pulls the top and lower halves of your outfit together.
Jonas and Turner have given us several lessons on how to get it right, and our favourite has got to be this summer outing in New York last year.
Corset details and a leather buckle belt for Turner, double-breasted (and a perfectly tailored) blazer for Jonas – both outfits were sharp, well-structured and just plain brilliant (the monochrome colour palette certainly helped too).
Double denim? It's a yes
When: 3 May 2017

Why it works: Who said double denim was a fashion faux pas? Not these two, who both embraced it when out in New York.
This is a practical look to share in the season ahead (if you're confident enough to style pretty similar outfits.) Similarity is a testament to your relationship…
just don't go too extreme on the twinning.
Double denim is cool, but bring a bit of balance like Jonas and Turner through light and dark shades.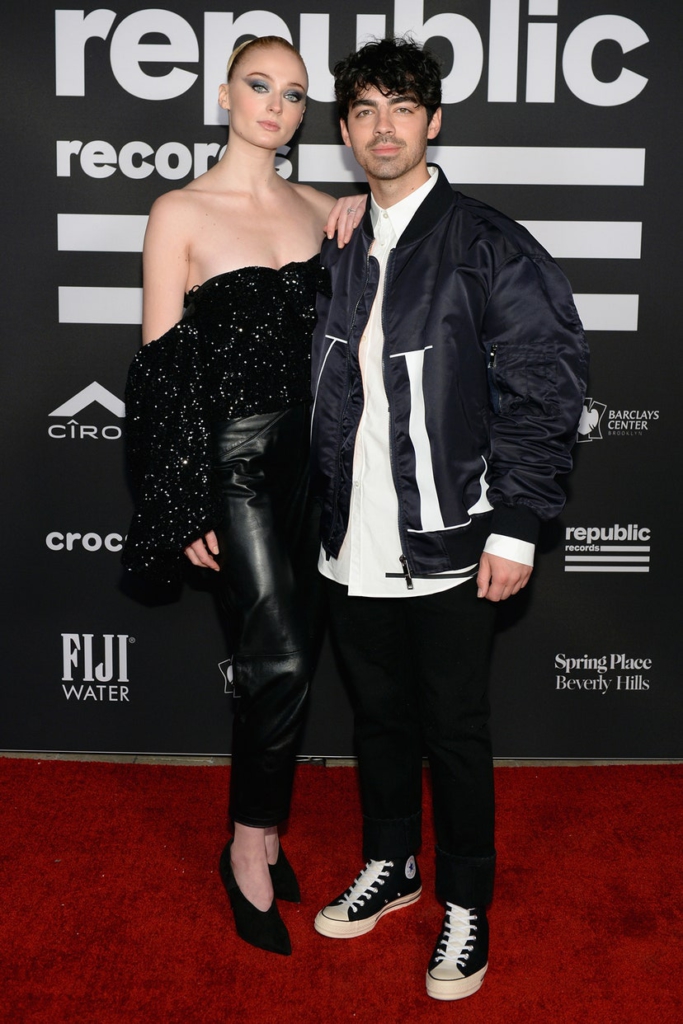 Bravo for billowing structures
When: 10 February 2019

Why it works: How to make an entrance? With billowing sleeves.
Jonas and Turner clearly got the memo and so came with a couple of voluminous tops.
For her, a sleeveless, embellished blouse; for him, a puffy Valentino bomber jacket.
This was a contemporary couple look and perfect for the Grammys last year.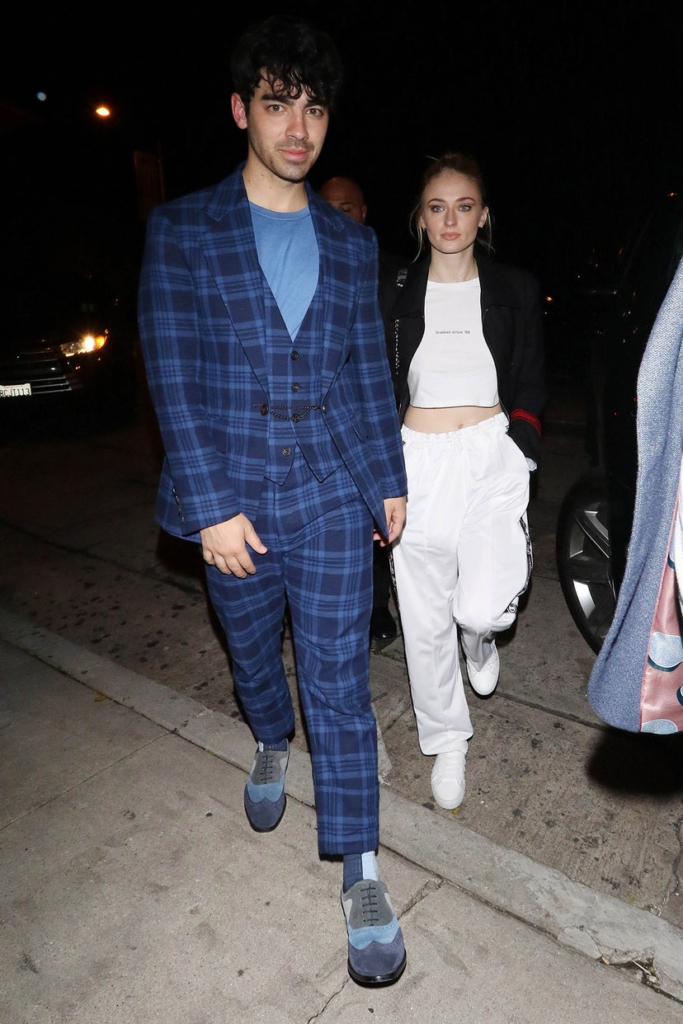 Mix up your levels of formality
When: 7 March 2019

Why it works: While most of the time you'll probably want to dress for the same occasion, here Jonas and Turner smash it while modelling two ends of a style spectrum: suited and relaxed.
Maybe that's because three of their pieces are categorically the same: trousers, T-shirts, sharp jackets. Comfort is key.
Dark romanticism is a sharp theme
When: 3 April 2019

Why it works: What to wear for the final premiere of a fantastic(al) series? The darkest hues only.
Jonas and Turner embraced black, grey and white with force – bringing a power status via the finishing touches on their looks.
For her, starry details; for him, leather fastenings on his checked blazer. Semi-Gothic, semi-classic, it almost distracted us from our hype for the show.
Keep it classic
When: 9 February 2019

Why it works: When you each bring a personal take on a two-piece, yet make sure they match in minimal hues, you have a couple-dressing winner. Jonas and Turner unveiled perfect brunch attire here; her cream shirt and tailored trousers combo was the feminine answer to his classic black suit. How to share a sartorial throne? Keep it classic: it's the one code that never goes out of style.