Road accidents in the country have gradually been on the rise in recent times – and its impacts have been unimaginable.
For some, they are robbed of a long life whilst others survive albeit sustaining some damage to one body part or another that could be permanent. Survivors are also not spared of the trauma that could possibly last for a lifetime.
That is the story of two of Joy FM's renowned presenters – Samson Anyenini and Doreen Andoh – who were involved in near-fatal car crushes.
The date, April 5, 2017 will go forever be remembered by Mr Anyenini as the day where his life flashed before his eyes.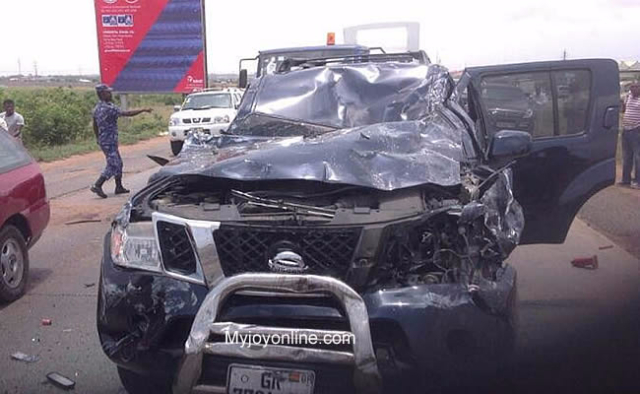 Samson Lardy Anyenini and an intern were returning to Accra after a court session in Tema when the accident occurred on the Accra- Tema Motorway.
Recounting the incident, Mr Anyenini said a Tema bound vehicle on the other side of the motorway burst a tyre after it hit a pothole, it subsequently flew up and upon touching down landed on his car before somersaulting into the bush close by.
"I always remember the power with which it came, and when it eventually landed. And all of them happened within split seconds.
"When I saw it [the car flying] I remember telling myself, 'that was it' and I just shouted the name of Jesus," he told hosts Winston Amoah and Kojo Yankson.
The legal practitioner who was at the time driving a Nissan Pathfinder believed that the four wheel vehicle played a role his survival due to its durability.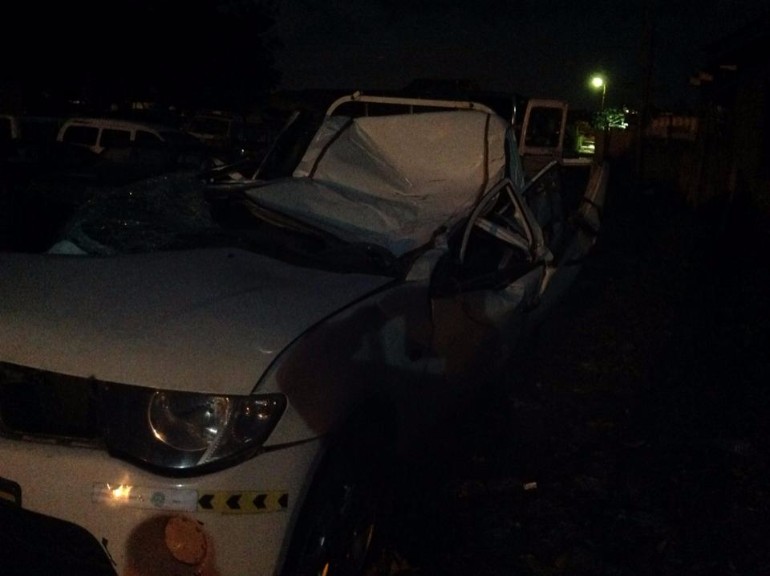 "Our heads went down because the roof of the car had mangled. We were forced down beneath the steering wheel because that is the only way we could find ourselves in the car.
"How that happened that we do not have problems with our necks and our heads were not split [it is a miracle]."
Similarly, host of Joy FM's Cosmopolitan Mix, Doreen Andoh who was then a student said she was enroute to a weekend class when the commercial vehicle she had bordered had a head on collision with another vehicle.
She the incident which occurred on Tema beach road in 1993 cost her both legs.
"I was sitting right behind the driver so a truck overtook a vehicle and run straight into us. I saw it happen and the car I was in fell on its side. Unfortunately the guy who was sitting right beside me died and I went away with two broken legs," she recalled.
The renowned presenter said although she survived, she was hospitalized for three months, lost a year of school following a femur fracture surgery.
"My whole life changed. I can't run but I can jog. And fortunately when I go through a metal detector it doesn't beep but if it should of course, I will tell you that I am highly bionic.
Following the dreadful experience, the lives of the two have never being the same.
Traumatized by their incidents, both survivors admitted that they have for a while, avoided the venue of their accident, indicating that it brings back unpleasant memories.
"There are many people who went to where my vehicle was later packed and they kept asking 'so somebody actually survived this?' That is why I consider this as a miracle for a second chance at life. [Since the accident] I consider everyday as an opportunity of a second life that God has given me," Mr Anyenini said.
Due to the rampant accident's being recorded across the country, JoyNews together with the National Road Safety Authority is embarking on a road safety sensitization programme to drum home the need to drive safe on our roads.
DISCLAIMER: The Views, Comments, Opinions, Contributions and Statements made by Readers and Contributors on this platform do not necessarily represent the views or policy of Multimedia Group Limited.