It was January 13, 2019. A day, in the end, that was beyond the reality of Asante Kotoko players.
As football commentator, Peter Drury put it in that unforgettable night in Rome when Serie A side Roma overturned a 4-1 first-leg deficit in the UEFA Champions League quarter-final to win the tie against Spanish giants Barcelona, this was 'disbelieving'.
It was disbelieving because one needed to take a step back 11 years to be reminded of what was witnessed.
By minute 50, the record Ghana league champions were already 3-1 up courtesy of Emmanuel Gyamfi, Maxwell Baakoh and Abdul Fatawu Safiu goals. They would concede again in 70th-minute but saw off the game despite a late fightback from Coton Sport, one of Cameroon's top teams.
A week later, the Porcupine faithfuls would be treated to an end of a long period of thirst. Then skipper, Amos Frimpong, and Maxwell Baakoh would step up to send the nearly 40,000 fans at the Ashanti regional football cathedral into ecstasy.
The first, via the penalty spot. For the second goal, if there was a roof, it would have completely been torn off. Baakoh received an overhead pass from Abdul Ganiu, and run down the left flank before delivering a belter. The finish was made more special by the nature of the angle, an acute angle, but he wired the ball into the net with angular precision.
After 11 years of tortuous journey in CAF inter-club competitions – Champions League and Confederation Cup combined – after 11 years of consistent bottling of opportunities to compete against the best teams in the continent, the Porcupines booked a group stage ticket.
They would be housed in the same group with Zambia teams, Zesco United and Nkana FC, and Al Hilal of Sudan.
Zesco and Nkana were dispatched with aplomb from Akonnor's boys with a 2-1 and 3-0 wins respectively at Baba Yara. A qualification to the next stage beckoned, but it was only achievable with a win over Al Hilal of Sudan, a team from North Africa, a team that had beaten Kotoko 1-0 in their first group game in Omdurman.
History had to guide expectations, but it never did. Over 40,000 football fans wanted to witness Asante Kotoko's progress beyond the group stages of Confederation Cup. Three times the stadium announcer said the venue was full, but thousands still found their way to the stands to watch.
'It would end in tears' just as it has always seemed to be against teams from that side of the continent. 1-1 it finished. It took 85 minutes for Kotoko to equalise through striker Songne Yacouba, but their hopes of making a semi-final berth were beyond their control, as it hinged on a win over Zesco United in Zambia.
A win never became a reality as Kotoko lost 2-1. Hindsight blamed the Porcupines failure on the supposed mental block against North African teams.
Those who believed so were not far from right. Al Ahly, Etoile du Sahel, Al Hilal, Ittihad Khemiset, Al Merreikh, JS Kabylie, and a host of other North African teams have persistently been Kotoko's nemesis in CAF's competitions.
To put this into context: since 2008, Asante Kotoko has played North African teams 17 times and won just four of those matches, the most recent being a 2-0 win over Etoile du Sahel, an old foe. But even then, Krobea lost the reverse fixture.
Within the same period, Kotoko have failed to progress to the next round of any CAF competition when drawn against North African sides.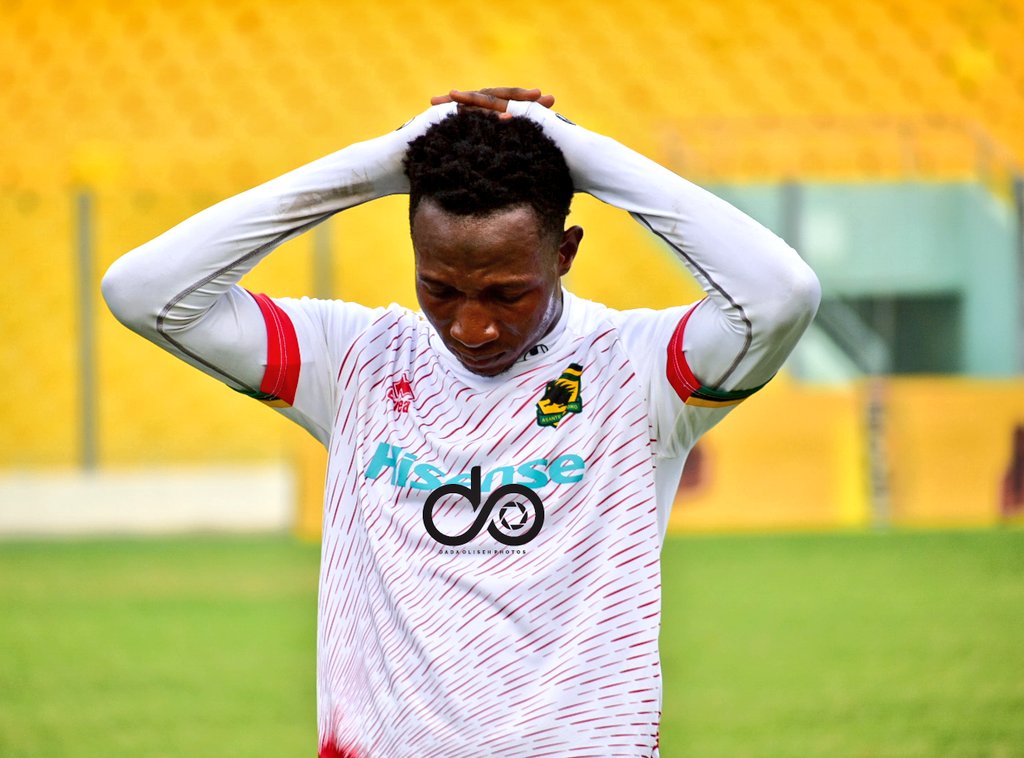 Outside of North Africa, 18 times have Kotoko engaged teams from other parts of the continent: 9 times they have won, lost eight and drawn once.
The tearful ones, from a Porcupine perspective being that of 2010, 2014 and 2018, when they played ASC Linguere of Senegal, Barrack Young Controllers of Liberia and Carra Brazzaville of the Republic of Congo.
They were tearful in varied ways – near misses, and a humiliation. ASC Linguere annihilated Kotoko with a thumping 4-2 win at the Baba Yara stadium after winning the first leg 2-0.
Then, there was Barrack Young Controllers, an opposition many a faithful of the Porcupines believed would be taken to the sword. However, the Liberians overturned a 2-1 deficit to win the second leg 1-0 at home.
For Carra Brazzaville, how that happened remains unimaginable. Kotoko had an incredible four penalties and could bury only one. In the end, the Reds were knocked out of the competition after losing the second leg 1-0, too. A penalty shoot-out would see the then FA Cup champions lose 7-6 to exit the competition.
Stories can be told of the recent 2-0 loss to San Pedro, but that just, maybe, is part of history against teams outside North Africa. And yet, that can never be compared to the number of times North Africa teams have left fans wondering if it is worth competing for continental glory.
It's been a little over 10 years of emotional distress being an Asante Kotoko aficionado on the continent. The teams mentioned a few paragraphs ago tell the story. Who would forget how Al Ahly hammered Kotoko in August 2006?
Who would get that famous 3-1 win over Ittihad Khemiset at the Essipong Stadium, in March 2009, only for the Porcupines to end up losing the reverse fixture 2-0.
And that famous MC Eulma 2-1 victory that got then coach David Duncan stuck to the turf. That was not the story, the story was how the players needed police armoured cars to leave the stadium as fans could not, and would not, accept their consistent failure.
History has shown that emotions must be managed when
Kotoko lines up against ES Setif. For this could just be one of those things never imagined before kick-off after two legs.
Kotoko matches against North Africa teams since 2008
Etoile du Sahel 2-0 Asante Kotoko – August 17, 2008
Asante Kotoko 1-0 Al Merreikh – August 31, 2008
Asante Kotoko 3-1 JS Kabylie – September 13, 2008
JS Kabylie – 2-0 Asante Kotoko – September 21, 2008
Asante Kotoko 2-2 Etoile du Sahel – October 4, 2008
Al Merreikh 2-1 Asante Kotoko – October 18, 2008
Asante Kotoko 3-1 Ittihad Khemiset – March 14, 2009
Ittiahad Khemiset 2-0 Asante Kotoko – April 4, 2009
JSM Bajaia 0-0 Asante Kotoko – March 15, 2013
Asante Kotoko 1-1 JSM Bejaia – April 7, 2015
MC Eulma 0-0 Asante Kotoko – March 14, 2015
Asante Kotoko 1-2 MC Eulma – April 15, 2015
Al Hilal 1-0 Asante Kotoko – February 3, 2019
Asante Kotoko 1-1 Al Hilal March 9, 2019
Asante Kotoko 2-0 Etoile du Sahel – September 15, 2019
Etoile du Sahel 3-0 Asante Kotoko – September 29, 2019
Asante Kotoko 0-1 Al Hilal – December 23, 2020
Al Hilal v Asante Kotoko – January 6, 2021 (match called-off due to covid-19 cases)
Kotoko matches against teams outside North Africa.
ASC Linguere 2-0 Asante Kotoko – February 13, 2010
Asante Kotoko 2-4 ASC Linguere – February 28, 2010
Asante Kotoko 2-1 Barrack Young Controllers – February 9, 2014
Barrack Young Controllers 1-0 Asante Kotoko – February 15, 2014
Asante Kotoko v East End Lions (opponents withdrew)
Asante Kotoko 1-0 CARRA Brazzaville – February 11, 2018
CARRA Brazzaville 1-0 Asante Kotoko – February 21, 2018
Kariobangi Sharks 0-0 Asante Kotoko – December 15, 2018
Asante Kotoko 2-1 Kariobangi Sharks – December 22, 2018
Coton Sport 2-3 Asante Kotoko – January 13, 2019
Asante Kotoko 2-1 Coton Sport – January 20, 2019
Asante Kotoko 2-1 Zesco United – February 13, 2019
Zesco United 2-1 Asante Kotoko – March 17, 2019
Nkana FC 3-1 Asante Kotoko – February 24, 2019
Asante Kotoko 3-0 Nkana FC – March 3, 2019
Kano Pillars 3-2 Asante Kotoko – August 10, 2019
Asante Kotoko 2-0 Kano Pillars – August 25, 2019
Asante Kotoko 1-0 San Pedro – October 27, 2019
San Pedro 2-0 Asante Kotoko – November 3, 2019.
DISCLAIMER: The Views, Comments, Opinions, Contributions and Statements made by Readers and Contributors on this platform do not necessarily represent the views or policy of Multimedia Group Limited.