St. Mary's Boys SHS has qualified to the one-eighth stage of the National Science and Maths Quiz (NSMQ) preliminary contest with 27points.
The boys competed against Sefwi Bekwai SHS and St Augustine's SHS, Bogoso to join St Johns SHS and Takoradi SHS at the one- eighth stage of the NSMQ.
The Western Region preliminary contest took place Thursday October 28, 2021 with twelve (12) schools competing.
Contest one included St. Johns SHS, Ahantaman SHS and Fijai SHS. St. Johns beat the two other schools to secure its spot at the one- eighth stage.
The second contest of the day was between Archbishop Porter Girls Senior High School, Takoradi Senior High and Bompeh SHTS; Takoradi SHS floored Bompeh and Porters and emerged winners, thus qualifying for the one- eighth stage.
The third contest was conquered by Fiaseman SHS who left Tarkwa SHS and Bibiani SHS behind.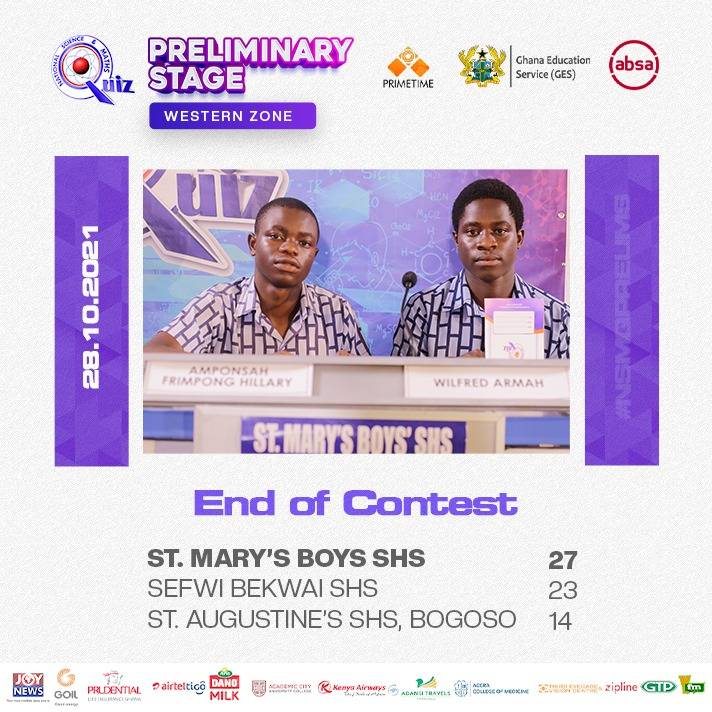 Thus, St. Mary's Boys SHS, St. Johns SHS, Fiaseman and Takoradi SHS will compete with other schools at the one-eighth stage and battle it out for the prestigious NSMQ award.
The NSMQ championship takes place in Kumasi this year and participating schools and alumni await earnestly, the anxiety and excitement that characterises the road to the finals.