It can be tough to stand your ground when you're being confronted by an utterly entitled person. It might be tempting to just give them what they want to defuse the situation, but that's not always the best option, especially when their demands are unreasonable or unfair.
In the case of one woman who took to Reddit's, found herself in an awkward confrontation on a tram during a commute. Unsure of how to feel about the outcome, she asked the lovely people of Reddit to see if she was in the right for standing up for herself — or in her case, sitting.
An 'exhausted' pregnant woman refused to give up her tram seat to an elderly woman, who then became belligerent.
The woman who made the post was five and a half months pregnant and apparently didn't "look very pregnant." She described herself as a relatively "active" person who has been struggling with fatigue from pregnancy. "After a full day of work (I'm a uni lecturer) on my feet, I'm exhausted," she explained.
On the way home from work, the woman sat in a seat reserved for disabled, elderly, and pregnant people. Soon after, an elderly woman approached her and demanded her seat.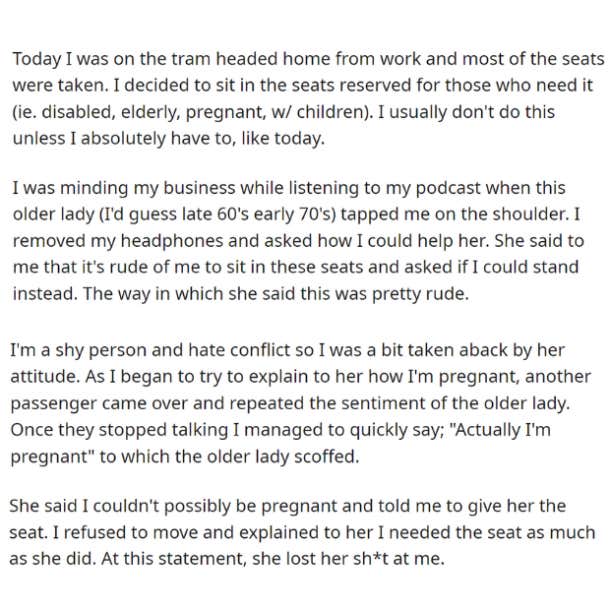 Photo: Reddit
Despite the first woman explaining that she was pregnant, the elderly lady and another male passenger both told her that she should give up her seat for the older woman, telling her that it was "rude" to sit in the reserved seat. The older woman even accused her of lying about being pregnant.
The conductor of the tram eventually intervened, telling the older woman that there was a free seat at the front that she could take. The male passenger had the audacity to tell the first woman that "even if she was pregnant," she should have given up her seat as the elderly "actually need it more."
The woman described feeling guilty after the interaction and went to Reddit to see if other people thought her actions were justified. She was overwhelmingly vindicated by members of the subreddit, who assured her that she had done the right thing.
Reddit users voted that the woman was 'not the a–hole,' asserting that the older woman was in the wrong.
Commenters were quick to point out that just because someone doesn't appear to be disabled, pregnant, or otherwise in need of seating, it doesn't mean that they aren't. Many people have invisible disabilities, and others aren't entitled to an explanation of their symptoms.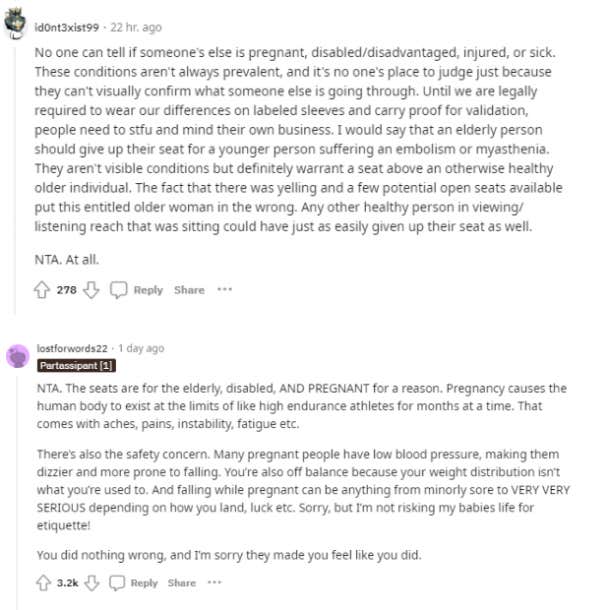 Photo: Reddit
Commenters also pointed out that other passengers could have offered to give up their seats, and the older woman also could have asked them to. However, seeing as there were already other seats available, that clearly wasn't the point of the argument. The elderly woman went out of her way to cause a scene since she felt that she deserved the seat more than the other woman did.
As one Reddit comment pointed out, pregnancy is different for everyone and can be extremely debilitating. There are plenty of other conditions that aren't visually obvious but could cause someone to need a seat on public transportation. Asking for a seat that you need is one thing, but harassing someone because you think you're more entitled to the seat than they are is entirely inappropriate.
DISCLAIMER: The Views, Comments, Opinions, Contributions and Statements made by Readers and Contributors on this platform do not necessarily represent the views or policy of Multimedia Group Limited.