The Sea Cadet Foundation, an NGO, is embarking on a sensitization and education program on swimming and drowning for children along the country's coastal regions.
The Foundation is implementing a policy of "no life jacket, no swimming," to make the wearing of life jackets a permanent feature in the lives of children who would want to swim.
The move follows the drowning of 13 children at Apam early this year. The Foundation says, the measure is a proactive one aimed at equipping the school children with the required knowledge about swimming and what could lead to drowning.
Director of the Sea Cadet Foundation, Captain J.B Aubyn says there is the need to instill, in the children, the need to use safety aids whenever they approach the sea to either fish or swim.
He stated, "Apam has become a scar on our conscience because 13 children lost their lives here because we have not taken the issues of safety at sea. I am sure our fishermen go to sea without equipment to aid them should something befall them while at sea. "
He indicated, once some of the children were growing to become big fishermen, there was the need work with them to see the need to use safety aids while they go to sea or fishing.
"We are using Apam as a case study and will zoom in on other schools in the various coastal regions," he stated.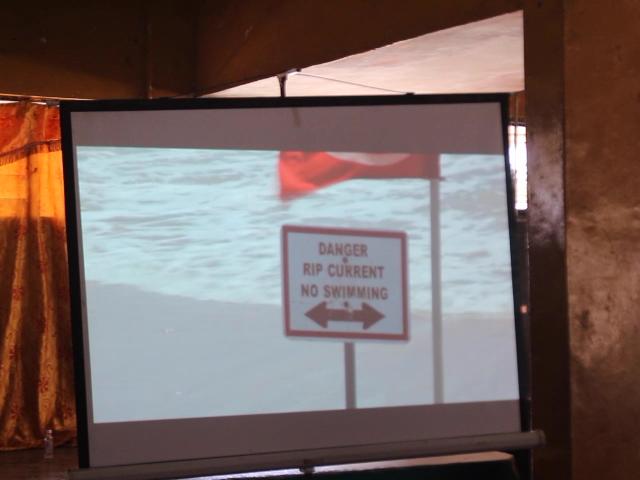 According to the World Health Organization's 2019 report, drowning is the third leading cause of unintentional injury deaths, accounting for 7% of all injury-related deaths.
In 2018, the WHO's data on Ghana's drowning death stood at 1206 while in 2019, an estimated two hundred and thirty-six thousand people died globally from drowning making drowning a major public health problem worldwide.
The Foundation wants the school children to buy into their "no life jacket, no swimming" crusade to make swimming and fishing a safety venture for all.
Operations Manager of the Foundation, Patrick Jonathan Mallet, wants young boys and girls to take their safety serious at sea and when they want to swim so what befell the 13 children that went swimming at Apam would not recur.
Students at the Apam Senior High School, where the advocacy was done, were excited about the education and promised to heed stick to what they were taught.
The Sea Cadet Foundation says, they would be moving from one school to the other to continue their sensitization drive.