The National Security Ministry has asked persons making prank calls to the 'See Something, Say Something campaign' call line to stop immediately.
The Ministry in a press statement issued on Thursday, May 26, said it has received over 10,000 calls in the first 30 hours after the campaign was launched.
From preliminary checks, it was realised that most of the calls were prank calls and others were to check the operationality of the line.
According to the Ministry, this led to "long call queues and delayed response to calls."
It is thus asking persons fond of doing that to desist because it will undermine the efforts of the security agencies to deal with the situation.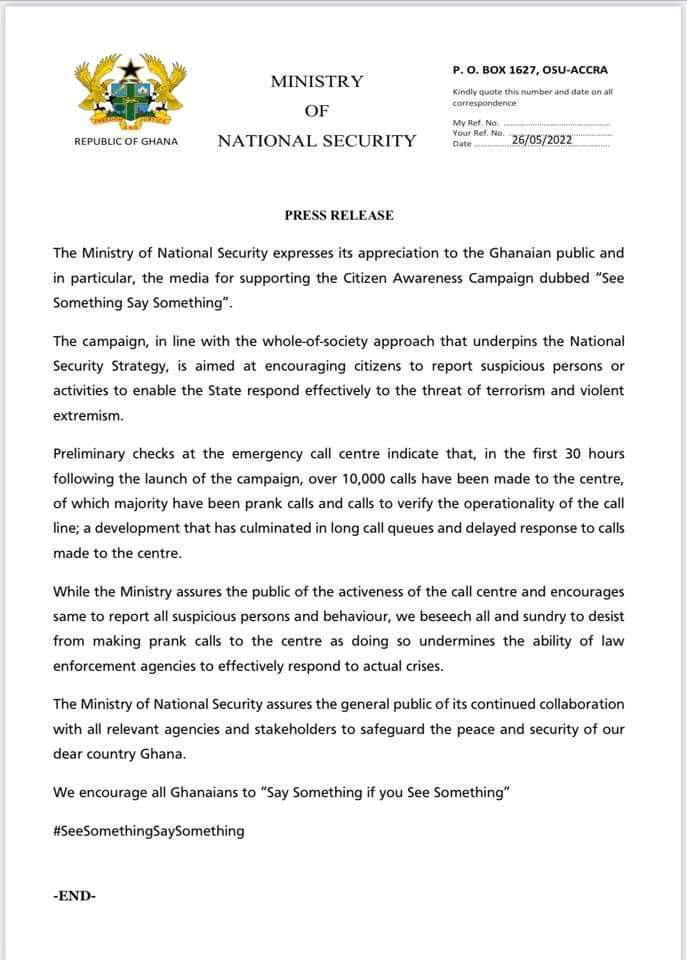 "While the Ministry assures the public of the activeness of the call centre and encourages same to report all suspicious persons and behaviours, we beseech all and sundry to desist from making prank calls to the centre as doing so undermines the ability of the law enforcement agencies to effectively respond to actual crises."
It also assured the public of its 'continued collaboration with all relevant agencies and stakeholders to safeguard the peace and security of our dear country, Ghana."
See Something, Say Something Campaign
The "See Something, Say Something" campaign is part of efforts to help deal with the terrorist threat in the West African sub-region.
It was launched on Tuesday, May 24.
This means, any person who notices anything unusual about the security situation, should inform the various agencies by dialing 999 (toll-free) or use any of the security agencies' phone numbers or social media handles.
For those who don't want to be identified for fear of being labelled snitchers, the complaints can be lodged anonymously too, the security agencies have announced.
One can as well report to assembly members, District Chief Executives, chiefs, opinion leaders, presiding members and community leaders.
Recent terrorist attacks in the sub-region
On May 11, 2022, terrorists were reported to have killed 10 soldiers in neighbouring Togo.
About 15 assailants were killed during the "terrorist" attack last week in the north of Togo.
Togo's troops have been deployed to the north of the country to contain a security threat pushing south from Mali, Burkina Faso and Niger where groups linked to al-Qaeda and ISIL (ISIS) operate.