A fire has engulfed large parts of a prison in Russia's Siberia region following a riot by inmates who accused guards of mistreating them.
Authorities say inmates at the high-security Penal Colony No 15 attacked a guard who had tried to help a prisoner bleeding from a self-inflicted wound.
Several prisoners slashed their own arms in protest at being beaten by a guard as punishment, activists said.
Some Russian human rights websites were down on Saturday.
Activists say the lack of scrutiny by outsiders gives guards a free rein to use violence.
Officials said the unrest in the city of Angarsk, which broke out on Thursday, was now under control and an investigation had been launched.
Russian jails have been in lockdown since the end of last month to prevent the spread of coronavirus.
Russian jails have been in lockdown since the end of last month to prevent the spread of coronavirus.
Russia's penal service said in a statement: "One of the inmates did not comply with the orders of the guards and started swearing. At the same time several other inmates caused themselves bodily harm."
It added that a guard had been injured and taken to hospital.
However, human rights groups said rioting had broken out after an inmate was beaten by a prison officer.
Svyatoslav Khromenkov, an activist at the Society Verdict human rights group, said it had received information that one inmate had been beaten by a top guard.
"Following this, several other inmates cut their veins in protest, around 13-17 people, including the man who was originally beaten. He was beaten again. This caused the riot to start," he told BBC News Russian.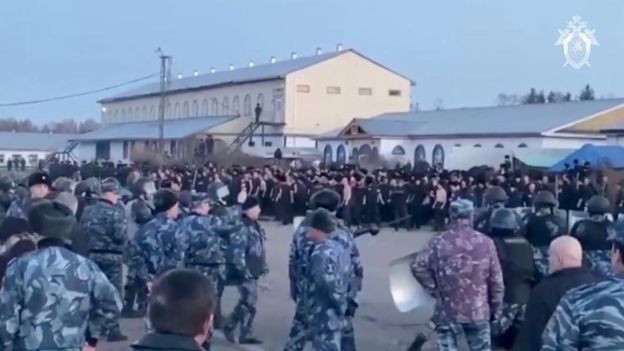 One group published a link to a video of an inmate with bloody bandages around his arm who said he had been choked and beaten by guards and had then cut his wrists in protest.
A spokesperson for the group Siberia Without Torture told AFP news agency that riot police had surrounded the prison.
A fire was reportedly raging on the grounds. Three buildings razed by the blaze included a woodwork factory, state-owned news agency Tass says.
The prison, 2,500 miles (4,000km) east of Moscow, holds about 1,200 inmates.
DISCLAIMER: The Views, Comments, Opinions, Contributions and Statements made by Readers and Contributors on this platform do not necessarily represent the views or policy of Multimedia Group Limited.