Drivers of ride-hailing service companies in the Ashanti region have suspended their services over what they say are life-threatening incidents.
The angry members of the Online Drivers Association say some of their members have been killed and others maimed while carrying out their duties. This, they say, is because the apps through which their services are requested do not guarantee their safety.
In protest, the drivers parked their cars and converged at Ahodwo Roundabout in Kumasi on Tuesday, May 11 to register their displeasure on the matter. The drivers who demonstrated include those working for Uber, Bolt and Yango.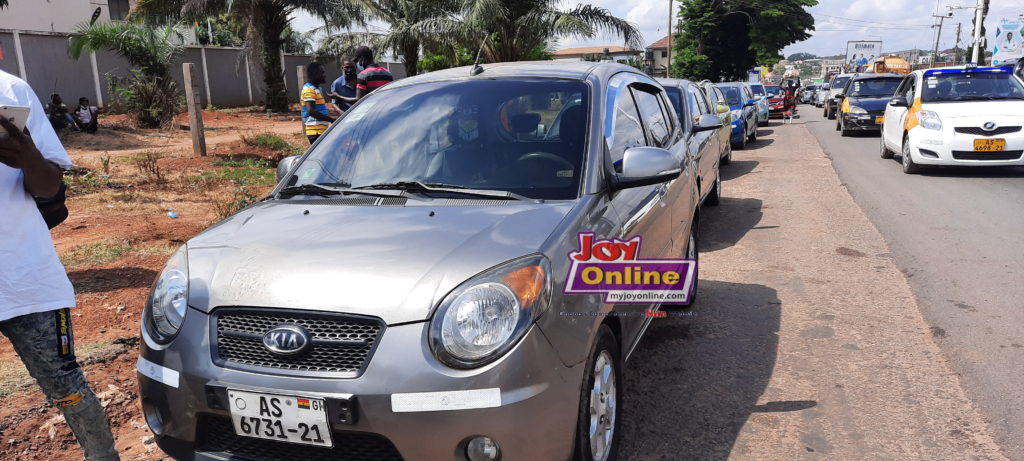 "Whenever you put in a request, the driver's car, the license, the car colour, the car type and the driver's picture does appear on your phone.
"But on the other [hand] when it comes to the rider or the passenger, it isn't the same.
"The criminals have found their way onto our platform. They will request, they will take you to a remote area at gun-point or knife-point [and say] bring your phone, bring your money.
"Most often, they take off with your car. They go away with it," Ashanti Regional PRO of the Group, Isaac Boateng told JoyNews.
The drivers say managers of these ride-hailing companies have failed to address their concerns despite several appeals, hence the need to demonstrate and suspend their services until Sunday, May 16.
According to him, the security and safety of members of the association have become a major concern to the leadership of the association.
"Some of our drivers are being killed. Emphasis is the incident that happened last week at Kasoa. An Uber driver was taken to a remote part of Kasoa, was killed, dumped and the car taken away.
"This has become a major concern to the online driver fraternity in Ghana."
They are therefore requesting that the managers of their service create "a feature in their system where these riders or passengers can be tracked and brought to book".
They also accused the companies of paying them low rates in the face of the increasing cost of living and recent fuel price hikes.
According to Mr. Isaac Boateng, over 5,000 members of the association in Ashanti region alone will not report for work until their grievances are addressed.
JoyNews checks reveal that the action of the drivers have pushed transport fares of the companies high.