The Defence Minister-designate, Dominic Ntiwul, has debunked claims that his tenure has seen persistent military visibility in and around mining communities.
He told Parliament's Appointments Committee Thursday, that during his tenure as sector Minister, he withdrew all military personnel from 22 mining companies, thereby reducing their visibility in such areas.
"I disagree with the view that the military is too visible…I have actually tried to reduce the military to make sure that they are stationed in the Barracks and we have been giving them more training, and you will continue to see that this is the norm going forward."
He explained to the Committee that, before taking office, the military had signed a memorandum of understanding with 22 different mining companies all demanding the services of the military.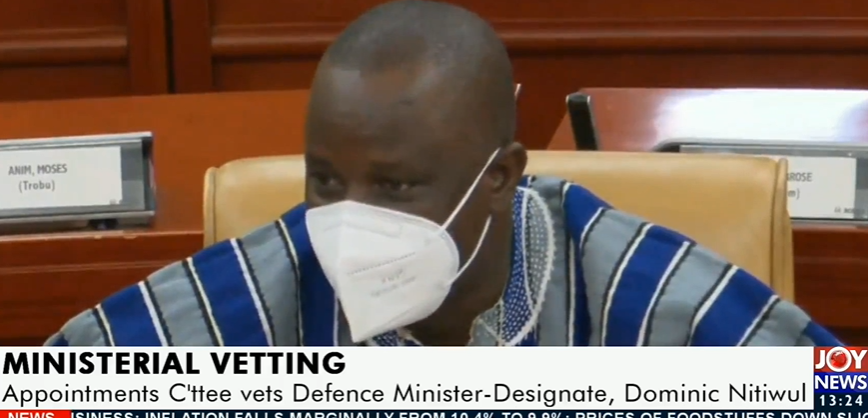 "I withdrew all of them, so if you talk about military signing MoUs and helping illegitimate mining companies, I can say that is was a practice before, but we have stopped it," he said.
"Since January last year, I issued a statement to the Military that no military personnel is expected to be seen in any mining community except two, AGC in Obuasi and Azuma mines in the Upper west region.
"Otherwise, if you see anything like that, it is not lawful and we will investigate it and anyone found guilty will be dealt with," he added.
Regarding whether or not, it was lawful to deploy the military to protect persons of authority besides the president and his vice, Mr Ntiwul stated that although it is not a norm for the military to protect such persons, the decision is always made based on security advise.
"The issue of the protection of VIPs, it is not a new practice and there are members of this house who know that it is not a new practice.
"If a security assessment is made on a particular VIP, and we believe that we should use military persons temporarily, we will do that.
"Because every country does that, you may not know, but it happens all across the globe, some may be in plain clothes some may be in uniform, but all depends on the message that is supposed to be put across," he stressed.
DISCLAIMER: The Views, Comments, Opinions, Contributions and Statements made by Readers and Contributors on this platform do not necessarily represent the views or policy of Multimedia Group Limited.