The month of October is dedicated to breast cancer awareness, and Rotary Clubs around the world have been very active in their efforts to increase awareness and stem the growth of the disease in diverse ways across the world.
It is in the same spirit that members of the Rotary Club of Accra-East organized a free Breast Cancer Screening and Awareness programme at the Dome Park, in the Ga East Municipality of the Greater Accra Region.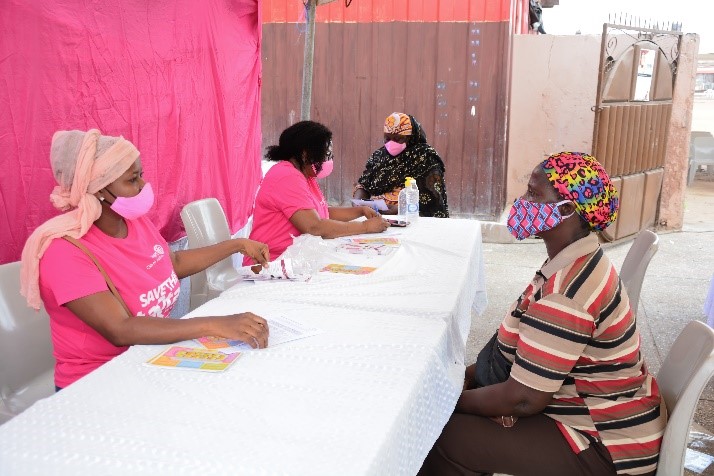 The project was implemented in collaboration with the NGO Run for A Cure Ghana. One hundred face masks from Azellevogue were distributed to the heath seekers/beneficiaries.
With the blessing of the Chief of the community and Opinion Leaders, the programme started at 8:00am and ended at 4pm with all COVID-19 protocols duly observed.
According to data from the WHO, cancer is the second leading cause of death globally and is responsible for an estimated 9.6 million deaths in 2018. Globally, about 1 in 6 deaths are due to cancer. Tying for the position of top killing cancers are Lung cancer and Breast cancer each was responsible for 2.09 million deaths in 2018 alone. This makes it more worrisome to us in Ghana as the data indicates that approximately, 70% of deaths from cancer occur in low and middle-income countries (Ghana falls within this bracket).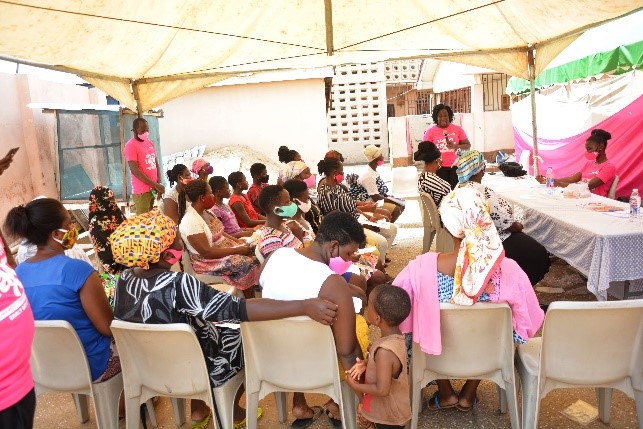 This project is aligned to two of The Rotary Foundation's Areas of Focus – Disease Prevention and Treatment and Maternal and Child Health.
Community sensitization was done by Members of the Rotary Club of Accra-East prior to the event in the community as well as a live studio interview at TV Africa. By 10:00 am, the premises was filled with women of different age groups ready to have their breasts examined and to be informed about breast cancer
The programme started with breast cancer education on various topics such as what is breast cancer; early detection and self-examination. There was also Questions & Answers time to seek clarity on some myths regarding breast cancer.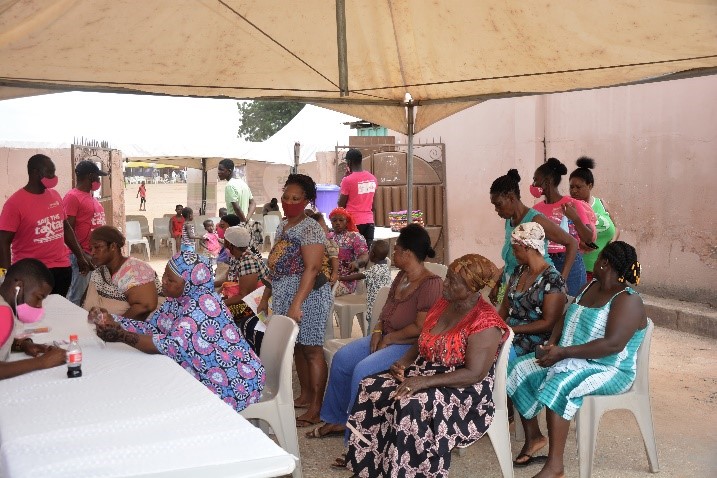 The President of the Rotary Club of Accra-East, Rotarian President Mumuni Haruna commended the women of the Dome area for their bravery in taking advantage of the screening adding that;
"As much as we hope nobody is diagnosed with breast cancer in the community, we also know that chances of surviving the disease are much higher if early detected. You all look quite strong and active. In the unlikely event, any of you found to have breast cancer, the likelihood of it being at the early stages seems quite high, and that is a good thing because it can be treated easily".
A total of 142 women were screened with 6 reported cases referred for further testing.
Rotarian Serge Sourou Oga concluded by stating "It brings joy to see how through our collective efforts the Rotary Club of Accra-East has been able to help deprived women address one of their important health needs. May this spirit prevail on our Club's upcoming service projects."