Football to some extent has returned. However, the full complement of the beautiful game will be realized sooner rather than later. La Liga resumes this week, the Premier League returns next week, the week after? Serie A will complete the return of mainstream football.
When the league in Italy resumes, the focus unequivocally will be on the title race – one that has merely existed considering Juventus' dominance in the past seven years.
Beyond that, is the fanciful story of a team discreetly located on the north side of the meandering Adige River in Veneto, Italy.
Hellas Verona have been the surprise package this season. Promoted from Serie B last season, currently sitting 8th in Serie A., the team from the north-eastern part of Italy are just four points away from Europa League qualification with a game in hand.
In an interview with Joy Sports via Zoom, Emmanuel Agyemang-Badu, who is a midfielder for Hellas Verona, on loan from Udinese believes the goal for them has always been the 40 point mark.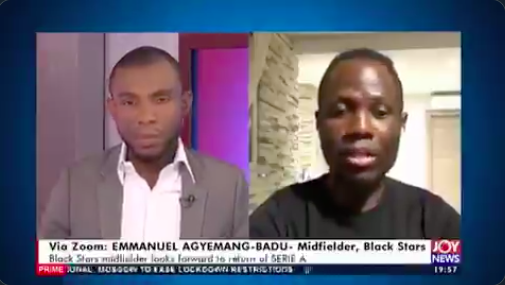 Despite Verona needing just five points to reach the 40 point mark from the remaining 13 games, Agyemang-Badu is still cautious with their ambition for the season.
He says: "It's too early to think about going to Europe. It's left with 13 games for the season to end. It's going to be a very difficult one and half months for the clubs because every three days we have a game. Before we started the league, our main ambition was to get 40 points and to be safe in the league. Nobody thought we will even be here at this time."
Verona have a threat on the break and play with a high intensity and Agyemang-Badu attributes that to the staff of the team. "We have a good coach, good team full of young guys who are ready for success. For now, we are thinking of being safe in the league, once that happens we will see what happens."
It's been more than three months since Italian prime minister Giuseppe Conte suspended Serie A. With the league returning in a week, Agyemang-Badu weighs up the struggles most teams will face.
"We know it will be very difficult for us. The weather is very hot and every three days we have a game. A lot of injuries are in camp as well. We just need to be sure that we are safe in the league"
---
The process of resuming football has rather been a gradual one – with players being quarantined and tested frequently to players training whilst observing social distancing. The Ghana international provides first-hand experience on how it feels to be part of this gradual process.
"Our first two weeks was weird a bit, we kept a distance of 10 meters whilst passing to ourselves. But now they have brought a lot of laws. Every four days, we do a Covid-19 test. So far, everyone is fine and we have started normal training sessions so we are enjoying ourselves."
The concept of playing behind closed doors, how is it going to feel?
Agyemang-Badu describes it as "Weird", he pauses and chuckles for a while and tells Joy Sports: " We are not used to this kind of situations. Last week, I was watching the Bundesliga and I asked myself 'Wow so this is how it is going to be for us?' But so far we have played some friendly games in our stadium and we are getting used to it."
DISCLAIMER: The Views, Comments, Opinions, Contributions and Statements made by Readers and Contributors on this platform do not necessarily represent the views or policy of Multimedia Group Limited.