The Ghana Revenue Authority (GRA) says it is consulting with the management of GCNet for the restoration of the GCNet GCMS services while the challenges with UNIPASS are fixed.
In a statement on Tuesday, the Ag. Commissioner-General of the GRA, Ammishaddai Owusu-Amoah, said "It has come to the notice of the Management of the Ghana Revenue Authority (GRA) that Customs House Agents/declarants are facing some challenges processing their Customs documents on the Integrated Customs Management Systems (ICUMS).
"Management of GRA as part of efforts to resolve these challenges is having consultations with the management of GCNet for the restoration of the GCNet GCMS services."
The statement added, "The discussions are almost concluded and Management is hopeful that the GCNet GCMS will be operational by Wednesday, 29 April 2020."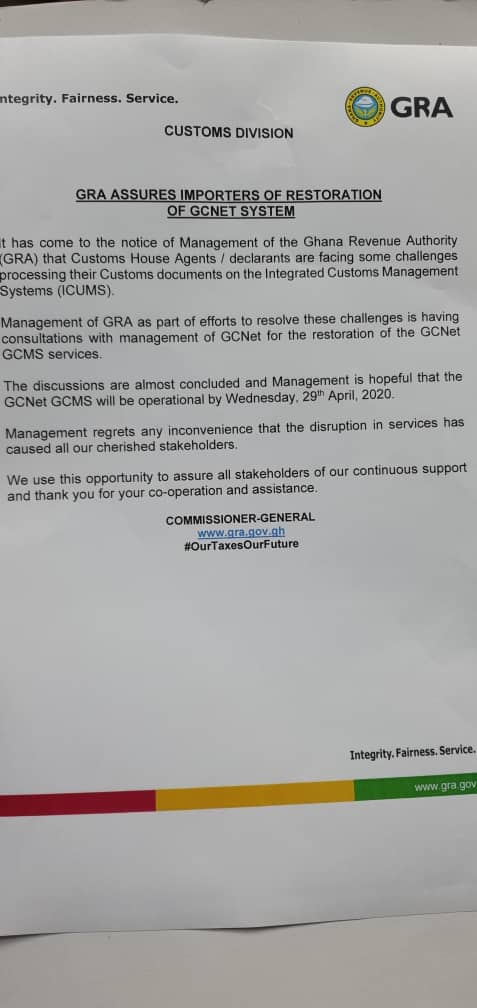 There was frustration among industry players Tuesday as the ICUMS was unable to function as expected when freight forwarders turned up at the port to undertake documentation on import procedures.
Many of them claimed they were unable to process vessel manifests needed to activate import declarations as the new ICUMS system had no platform that allowed agents and importers to upload their documents for processing, the Daily Graphic reported.
The Integrated Customs Management System (ICUMS) also known as Uni-Pass, which is being implemented by the government in partnership with Ghana Link and Customs Uni-Pass International Agency (CUPIA) of Korea, was expected to go into full implementation Tuesday.
The new electronic clearance platform will have processing and handling of all import and export documentations centralised under a common platform known as single window.