Former Deputy Power Minister, John Abdulai Jinapor has opined that the current power outage experienced in the country is as a result of financial challenges.
In a communiqué dated April 13, Mr Jinapor was emphatic that the power outage has little to do with technical upgrades as purported by the Energy Minister, Dr Matthew Opoku Prempeh.
"It is a well-known fact especially amongst energy sector players that the current outages in the country is due to financial challenges and not because of technical challenges as being claimed by GRIDCo and government officials."
His comment comes weeks after the former Education Minister refuted the assertion that the energy sector is in a financial crisis thus contributing to the power outage.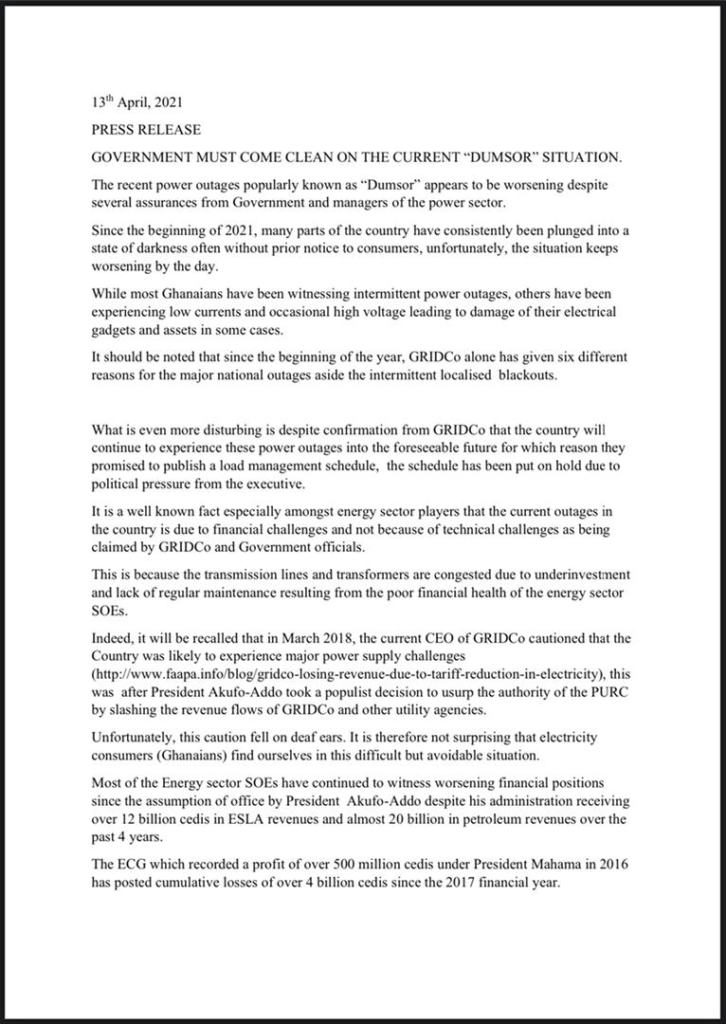 Speaking to the media during his visit to GRIDCo, Dr Opoku Prempeh added that the current system upgrade is responsible for the intermittent power outage.
However, the Yapei-Kusawgu MP is of the view that the poor financial stability in the energy sector caused the failure to invest and ensure proper maintenance in the sector.
This, he says, contributed to the congestion of transmission lines and transformers.
"The transmission lines and transformers are congested due to underinvestment and lack of regular maintenance resulting from the poor financial health of the State-Owned Enterprises (SOEs) in the energy sector."
Mr Jinapor in his statement, further revealed that the Ghana Grid Company Limited (GRIDCo) during President Akufo-Addo's first term in office, had its revenue flows slashed.
According to him, the incumbent GRIDCo CEO, Jonathan Amoako-Baah, cautioned the government that the initiative would have a dire impact on the power sector.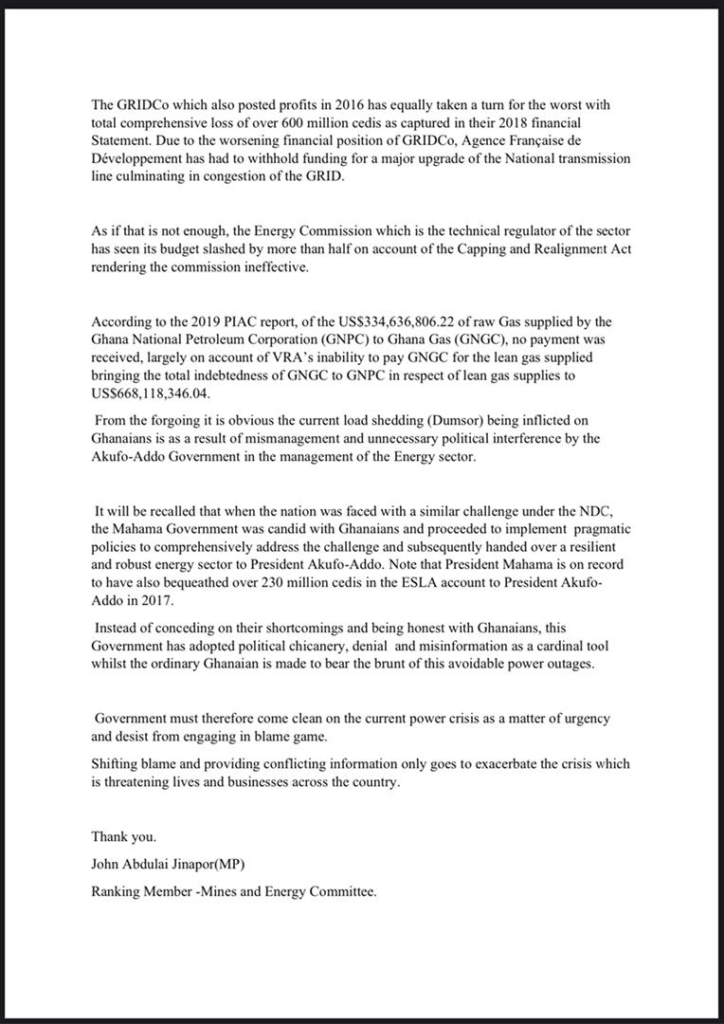 "Indeed, it will be recalled that March 2018, the current CEO of GRIDCo cautioned that the country was likely to experience major power supply challenges, this was after President Akufo-Addo took a populist decision to usurp the authority of the PURC by slashing the revenue flows of GRIDCo and other utility agencies.
But the caution, according to him, "fell on deaf ears. It is therefore not surprising that electricity consumers find ourselves in this difficult but avoidable situation."
He, therefore, called on government to divert its course to save Ghanaian businesses and come clean on the challenges facing the energy sector.
"Government must therefore come clean on the current power crises as a matter of urgency and desist from engaging in blame game. Shifting blame and providing conflicting information only goes to exacerbate the crisis which is threatening lives and businesses across the country," he urged.
DISCLAIMER: The Views, Comments, Opinions, Contributions and Statements made by Readers and Contributors on this platform do not necessarily represent the views or policy of Multimedia Group Limited.