Period poverty remains a pressing issue that affects millions of girls and women worldwide, particularly in rural communities and hinterlands. In Ghana, where girls make up 52% of the population, approximately 7 million of them are eligible to menstruate. Access to affordable and hygienic menstrual products is limited, forcing many girls to resort to unhygienic alternatives or face the challenges of using disposable pads, which are made even more expensive due to exorbitant taxes. However, there is hope in the form of reusable pads, which offer a sustainable solution to combat period poverty, while also addressing the links to teenage pregnancies and educational outcomes.
Rural communities and hinterlands face unique challenges when it comes to menstrual health. The lack of affordable and accessible menstrual products leaves many girls in these areas vulnerable and exposed to potential health risks. In the absence of suitable menstrual products, girls are often compelled to use unhygienic alternatives such as old clothes, their socks, newspapers, polythene bags, leaves, or even mud. This not only jeopardizes their health but also leads to feelings of embarrassment, shame, and social exclusion. Some live with the stigma forever. Moreover, the inability to manage their periods effectively often results in school absenteeism, hindering their educational opportunities and future prospects. In 9 out of 10 girls regularly miss school during their periods, which has negative impact on their learning and retention in school.
Even in the schools, a research done by the Africa Education Watch revealed 16, 294 public primary and Junior High Schools (JHS) are without toilet facilities, 16,415 without flowing water, 15, 231 without urinals. That begs the question, how can a female student attend to menstrual emergencies? This sad state of affair further exeveabate the woes of the girl child when that time of the month approaches.
The impact of period poverty extends beyond the immediate challenges of managing menstruation. There is a clear link between period poverty and teenage pregnancies. In their desperation for money to purchase sanitary products, girls facing period poverty are often driven to engage in risky sexual behavior. By providing access to affordable reusable pads, we can alleviate the financial pressures on girls and reduce their vulnerability to teenage pregnancies.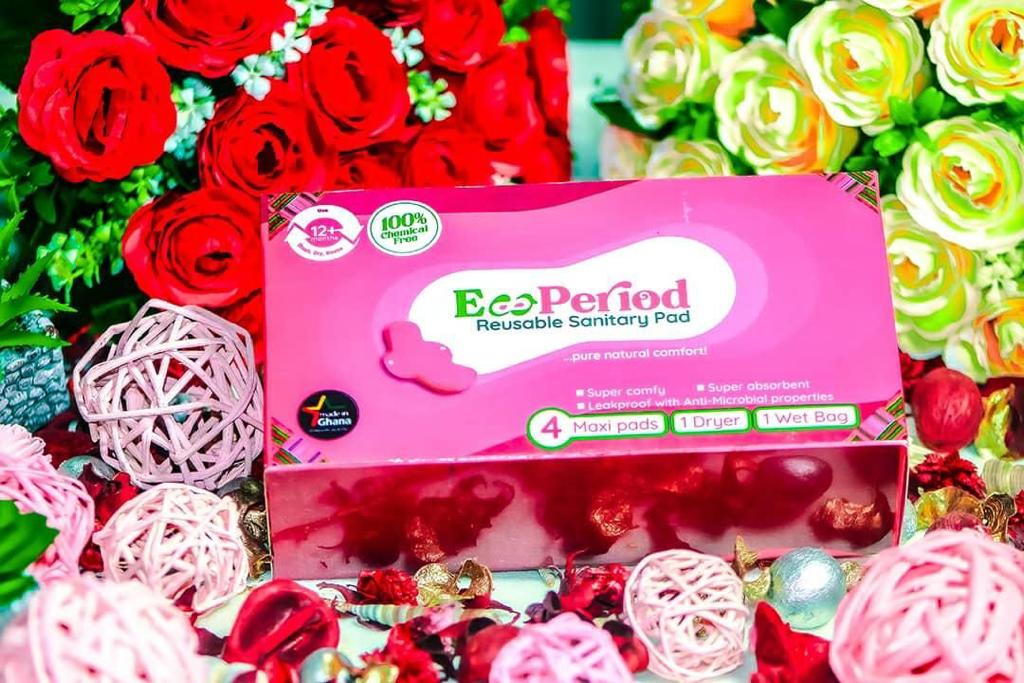 Furthermore, period poverty has a significant impact on educational outcomes. Girls who lack access to menstrual products often miss school during their periods, leading to interrupted learning and decreased educational performance. The consequences of these absences can be long-lasting, hindering their overall educational achievements and limiting their potential for future success. By ensuring that girls in rural communities have access to reusable pads, we can improve their educational opportunities, empower them to pursue their dreams, and create a more equitable society.
One promising solution to these challenges lies in reusable pads. These pads provide a sustainable and cost-effective alternative to disposable pads, offering girls in rural communities a reliable and long-lasting menstrual product. By employing basic hygiene and maintenance techniques, reusable pads can be used for at least a year, ensuring that girls have a continuous supply of sanitary protection. This reduces their reliance on expensive disposable pads and ensures that they can manage their periods without interruption.
However, addressing period poverty is not just about providing reusable pads. It requires a comprehensive approach that takes into account the broader social and environmental factors. In Ghana, the cost of disposable pads is inflated by various taxes, making them unaffordable for many. On average, a single pack of pads sells for 20 cedis, with a staggering 33% of the price comprising taxes, amounting to nearly 7 cedis. This excessive taxation exacerbates period poverty and hinders progress in ensuring menstrual equity. Advocacy is needed to address these issues and reduce the financial burden on girls and women.
In this pursuit, initiatives like ecoperiod play a crucial role. Ecoperiod promotes sustainable menstrual products and education, advocating for reusable pads and raising awareness about their benefits. By supporting ecoperiod and similar initiatives, we can empower girls and women in rural communities, foster long-term solutions for period poverty, and promote environmental sustainability.
I cannot forget the beautiful smiles of the young girls ar Prabon M/A Basic school and the over 400 girls at Jacubo who jumps with joy when we introduced them to the reusable pads. The sign of relief heaved was telling and a statement to the effect, this is our future. Ecoperiods are ecologically friendly and as a student of sustainability, I was frown away by the quality, the sutainablity nauces and how it presents a unique solution to the issue of period poverty.
In conclusion, reusable pads offer a promising solution to end period poverty in rural communities, hinterlands, and particularly in Ghana. By providing affordable and sustainable menstrual products, we can alleviate the financial burden on girls, reduce teenage pregnancies, and improve educational outcomes. Additionally, addressing the excessive taxation on disposable pads and supporting initiatives like ecoperiod will help keep many girls in school. As the producer of LUV FM and the coordinator of our annual Menstrual Hygiene Day, I will end by thanking and appreciating Madam Amdiya Abdul Latiff, Founder of Eco-Me Africa for your efforts, valuable support and impactful support.
By Eugene Osei-Tutu
The writer is a producer and researcher with Luv 99.5Fm in Kumasi
DISCLAIMER: The Views, Comments, Opinions, Contributions and Statements made by Readers and Contributors on this platform do not necessarily represent the views or policy of Multimedia Group Limited.