After a long time out of favour, figurative painting has returned to the contemporary art scene with some fanfare.
Few artists, however, have enjoyed such a stratospheric rise over the last couple of years as Amoako Boafo.
Before then, few in the upper echelons of the art world had heard of the 36-year old Ghanaian figurative painter.
Though he'd lived in Vienna since 2014, not many curators, critics, and dealers had heard so much as a rumor about the brilliant portraitist toiling away in his studio right under their noses, painting his huge, bold, expressive, and joyful pictures with his fingers, capturing the Black creatives and friends that make up his social circle and inspire him.
In the spring of 2018, however, the American painter Kehinde Wiley discovered Boafo's work on Instagram, and his whole life was turned upside down.
Now everything has changed: New York's most powerful galleries are competing for his signature, his painting 'The Lemon Bathing Suit' (2019) was sold in February 2020 at Phillips for £675,000 (that's £625,000 above its high estimate), and he's collaborated with artistic director Kim Jones on the gorgeous Dior Men's Summer 2021 collection, making him the first African artist to have worked with the storied French house.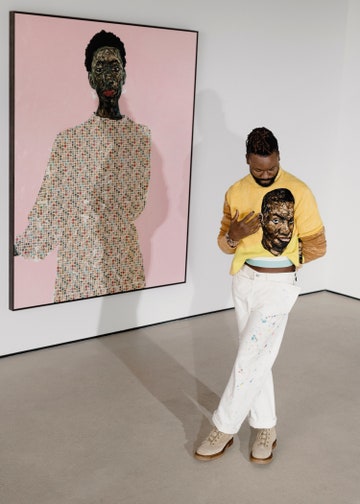 Boafo and Jones were introduced last December in Miami, where the former was on a residency at the Rubell Museum and the latter was showing Dior's Pre-Fall collection and hit it off immediately.
Soon afterward, Jones and his design team flew to Accra to visit the artist in his studio there, and together they dreamt up a collection of Boafo's portraits and florals rendered in embroidery and intarsia, jacquards and knits inspired by close-up details of his canvases, and splashes of the sunny colors he often uses for his backgrounds.
Like many tales of overnight success, Boafo's journey to the top has actually been a long time in the making.
Growing up, he taught himself to paint but wasn't planning on making a living as an artist – that never seemed much of a possibility for an ordinary boy like him in Accra – and was, in fact, playing tennis semi-professionally until, one lucky day, his mother's employer offered to pay his tuition for art school.
Amoako duly attended Ghanatta College of Art and Design, graduating in 2008 with an award for his portraiture, and six years later moved to Vienna with his artist lover, now wife, Sunanda Mesquita.
His great artistic breakthrough came when he decided to relinquish control.
While continuing to paint his backgrounds and his subjects' clothes with brushes, Boafo started painting their faces and hands with his fingers.
Five centuries ago, the great Venetian Renaissance master Titian sometimes abandoned his brushes, smearing his fingers through the paint to convey a mood of sensuality, to become more sculptural, and Boafo has embraced a similarly colorful and intimate tactility.
Today, when life can feel very abstract, and images misleading, his portraits are incontrovertibly real: figurative paintings of real people, real friends, incorporating patterns he's found and reproduced by photo transfer, made with his own hands, bearing the traces of his fingers. His exhibitions are an index of his life, and
his community, and the world that he inhabits. Boafo recently opened I STAND BY ME, a show of pattern-filled, beautiful oversized portraits at Chicago's Mariane Ibrahim Gallery, and that's where our conversation began.
Why did you choose the title I STAND BY ME?
The title of my current exhibition represents my current state of self-reflection. Individualism and individuality are crucial in times of uncertainty, and this mindset has shifted my role as an artist, and my viewpoint of my role as a person.
The traits associated with I STAND BY ME are ever-important, not only to myself but for the general public during this pandemic and state of crisis.
By bringing forth this vision in my current body of work on view, I hope to invite the audience to reflect and, most importantly, to value themselves.
How did you choose your subjects for this new series of portraits?

The subjects are those around me and those I am inspired by in the creative world. Many are visionaries, most of whom are underrepresented and invisible; some who are already recognised.
I represent them as grand and powerful in the viewers' eyes. Some remain anonymous, some are revealed subtly through the title of the works, and some titles name the person I am representing.
I enjoy both aspects of revealing the subjects, and by being subtle about their identity, it leaves the viewer with a sense of mystery, and wonder.
Why do you use finger-painting only for painting your subjects' flesh?
The lack of control I have with using my fingers is organic, and that shows through in the abstract forms that create the beautiful faces of my subjects.
I love that this seemingly simple motion can generate such intense energy and create almost sculptural figures.
What happened when Kim Jones came to your studio?

When Kim came to Accra with his team and my dealer, Mariane Ibrahim, he was instantly drawn to my work 'Green Beret'.
That visit was wonderful, as we had many incredible conversations about the collection and about Kim's vision and my own. My experience collaborating on the Dior Men's Summer 2021 collection has been mind-blowing.
We worked together on how to utilize fashion as a vehicle for art and vice versa, and how the fusion of these creative worlds will empower individuals.
In many ways, the fashion and art worlds are similar in their creative venture, their craft. They convey genuine messages about being, and self-worth.
This concept aligns with why I create artworks: to elevate individuals and to define oneself. Seeing these images in a new way has not changed the images I make but, rather, reinforced them.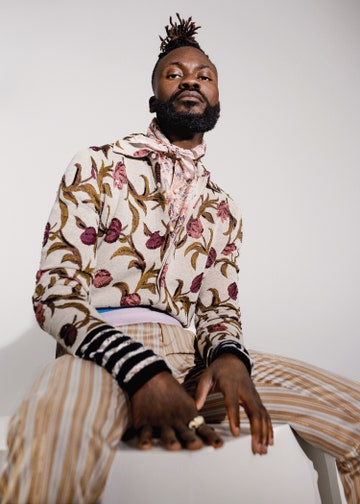 Why do you like European wallpaper and wrapping paper as materials?

These decorative elements allow a new transformation of the figures, and their environment, by embellishing them with patterns.
As my hope is to present my subjects in a vivid way, I elevate their environment with colors and intriguing patterns through the wallpaper. The gift papers I've sourced adorn textiles on my subjects.
The subjects of my works and the composition of their presence in my paintings put forward definitive sentiments of how Black people are not only constructing their own identities but celebrating them. The wallpapers further embellish this sentiment.
Your paintings have often been compared to Egon Schiele's. Have Viennese artists like him influenced you at all?

I enjoy bringing Black portraiture to Europe. I am interested in creating work that incorporates multicultural elements rooted in my experiences in both Europe and Africa, including Egon Schiele.
In Ghana, the contemporary art scene is still evolving; there are a lot of creatives and talented individuals emerging out of Africa, which is very exciting.