The Finance Ministry has given clearance to the Education Minister to enable the Ghana Education Service (GES) to recruit 16,850 newly trained teachers.
A statement signed by the Deputy Minister of Finance, Abena Osei-Asare, further urged, "The Director-General of the GES is to ensure that the newly trained teachers have their documents processed in time and placed on the mechanised payroll early enough to enable the Controller and Accountant-General's Department effect payment of their salaries.
"The Controller and Accountant-General is requested to effect the payment of salaries of the newly trained teachers and make appropriate deductions of Social Security and Income Tax to SSNIT and the Domestic Tax Division of Ghana Revenue Authority (GRA) respectively."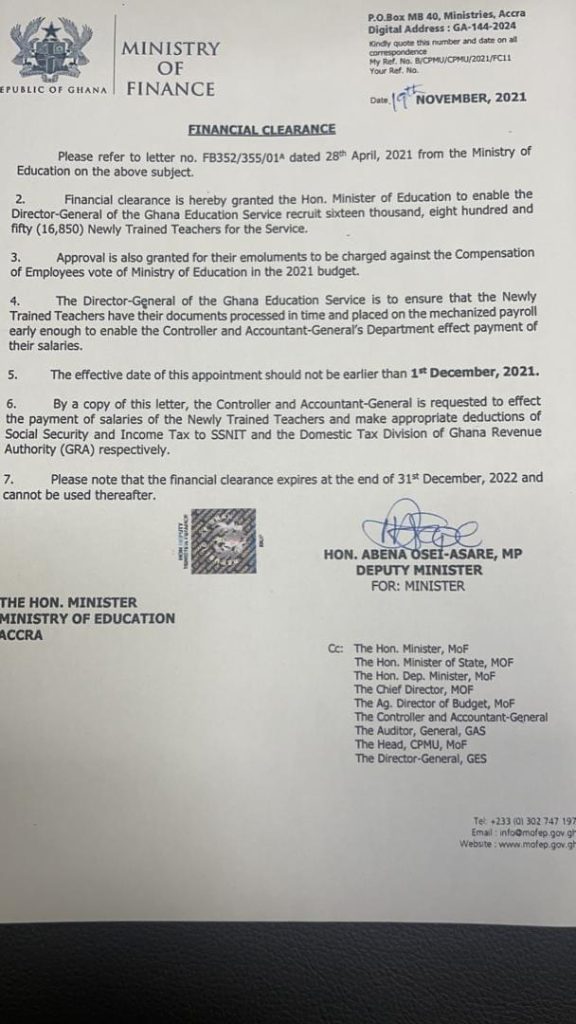 The financial clearance will expire at the end of December 31, 2022.
In September last year, the GES announced that it has begun processes to recruit 16,500 trained teachers who completed colleges of education in 2019.
The service, in early 2020, recruited 1,500 teachers in a special mop-up exercise for trained teachers who completed their studies in the 2017/18 academic year but could not be recruited because of challenges with their documents.