Charles Akonnor started his first competitive game with the Black Stars on a good note with a 2-0 win over Sudan in the 2021 Africa Cup of Nations qualifiers on Thursday.
The victory sees the team remain top of Group C with a perfect record.
Here are five things we learned from the game:
The team needs better fullbacks:
The Black Stars have been struggling to find permanent options for the left-back and right-back positions over the years with different personnel making appearances.
In this game, Akonnor picked Kotoko's Christopher Nettey at right-back and Chelsea defender Baba Rahman took the left side. It is safe to say that the pair failed to impress.
Both of them exposed the centre back pair on several occasions which could have resulted in goals if not for the brilliant reactions from Alexander Djiku and John Boye.
Rahman and Nettey showed indiscipline throughout the fixture. Akonnor should consider other options in the next game.
Lomotey and Acquah not the ideal midfield pair
Afriyie Acquah and Emmanuel Lomotey were surprisingly given starts against Sudan as a double pivot. Acquah was handed a late callup after injuries and some other issues caused a depletion to the other midfield options.
Lomotey was named in Akonnor's squad despite his disappointing performances in the friendlies. With Partey and Iddrisu absent from the lineup, it was expected that Lomotey and Acquah make cases for regular minutes in the side together but they failed to live up to expectation.
This could be attributed to the fact that both of them were defensive on the day. Akonnor needs to find a solution and it could mean dropping one of them or all of them.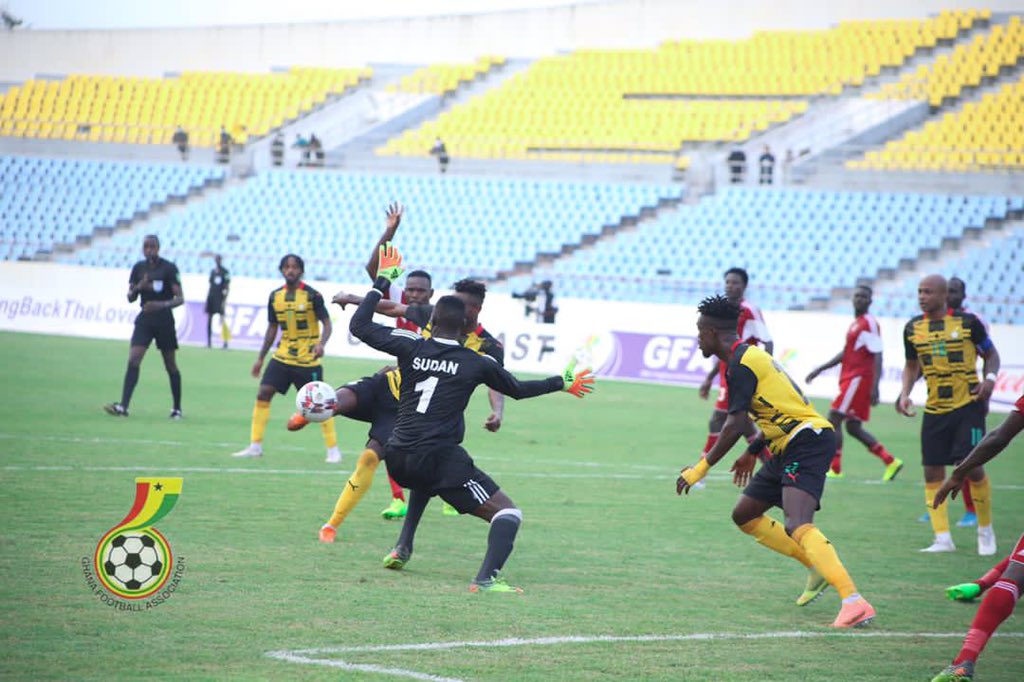 Black Stars need to work against counter attacks
In the three friendlies that Akonnor's side have played so far, one main theme has been present throughout; a susceptibility to counter attacks.
Mali used it to great effect in the 3-0 loss and Sudan were unlucky with theirs on the day.
In the Sudan game, the away side had a worrying number of counter-attacking opportunities which could have resulted in one or more goals.
Boye and Djiku held their own in such situations. Sudan also exhibited poor finishing. Against more quality opponents, it could be a different story. Akonnor must find ways to deal with it in the next few games.
The number 10 role is the best fit for Andre Ayew
In the current lineup, Akonnor deployed captain Andre Ayew just behind the hole to try and make an impact in the game. That role seems to be his best in the national team and it should be his permanent slot in further matches.
The captain showed confidence on the ball and was able to move around well to link up with others. He scored a brilliant free kick and an excellent solo goal. It is paramount that he is no longer deployed on the wing as he has seemingly lost his pace of old and looks more limited there.
In any future formations, it will do Ayew and the team a lot of good if he plays centrally.
Ghana will qualify for the AFCON with games to spare
The team started their AFCON qualifiers in a promising fashion, clinching a 2-0 win over South Africa in Cape Coast. A few days later, they earned a 1-0 victory over Sao Tome and Principe to make it two wins out of two.
In this match, they have managed to take all three points despite playing without some key players in the team. So far, Ghana sits on top of Group C with five goals scored and none conceded.
With another clash against Sudan coming in a few days, a win will most likely ensure qualification into the continental showcase.
—