The quest for 11-year-old Gifty Odanjo to get furniture for decent education in her rural school, Bakpaba DA Primary School in the Northern region moved her to uncontrollable tears. She questioned why they have to slam on hard bare floors, sometimes lying on their bellies just to have an education.
As the hot tears run down Gifty's cheeks, she cried out, "Just look at us lying on the floor because we want to learn and it's not the best. We are appealing to the government to come to our aid. My friends must always wash school uniforms daily because there is no furniture".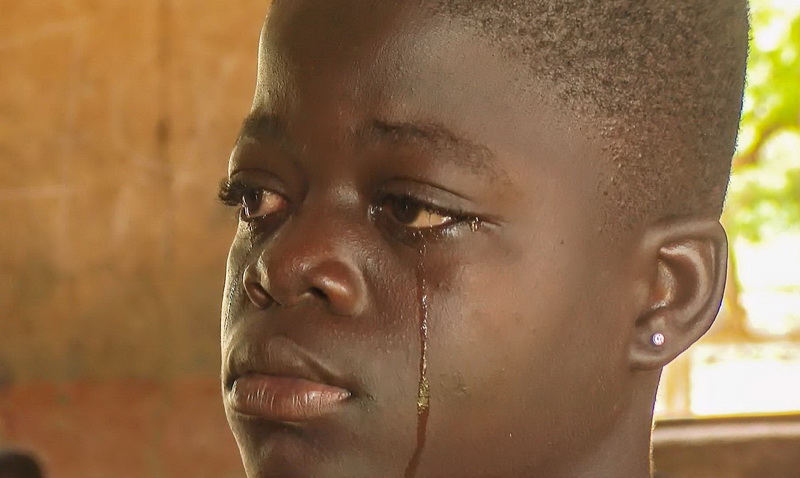 And as she spoke eloquently in her Likpakpaln language spoken by the Konkombas, tears welled up in the eyes of Janet Tiijootab, Gifty's teacher who was helping to translate the interview into English. "She made me emotional and I couldn't help it and before I could realise, the tears started flowing", Janet said.
Gifty is a primary 5 pupil. To get access to a desk, she comes to school very early in the morning. The furniture situation here is based on a first come first served basis. But she is not happy losing hours of sleep because of furniture.
She found a way to avoid lying on her belly to write. But she is not happy her colleagues lie on their bellies to write. Tears cloud her eyes and soon all emotions she had bottled up finally let loose.
She has endured enough of the humiliation.
"As you can see, some of us do not have uniforms, even me, I don't have any decent uniform and we sit on the floor to learn. When it rains, we are all compelled to sit in this structure and because of its size, we get beaten by the rain", she cried.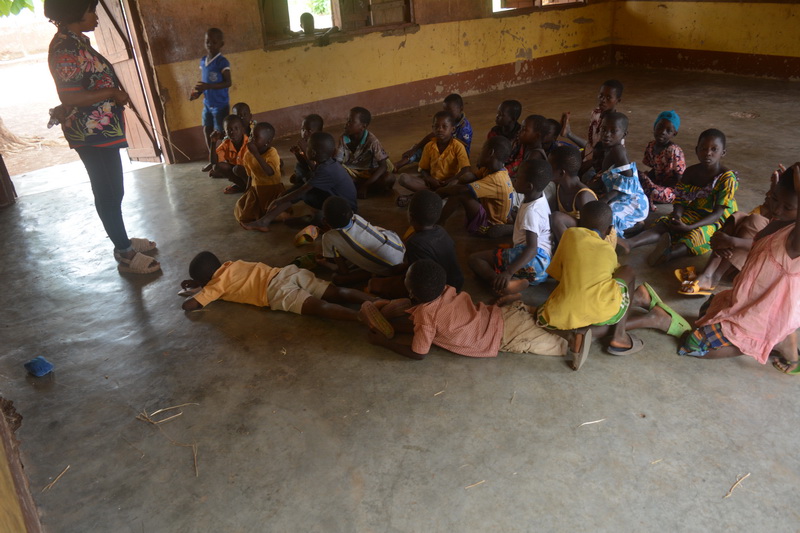 An old bench accommodates about four to five pupils in the classroom. But the real challenge is how the children will write comfortably. So, some put the books on their laps and bend to write. But when they are overwhelmed, they just lie belly down to take lessons.
Gifty's tears are because of the pain of inequalities they had suffered for years. Many, including teachers assume the children are used to slum on the floor. But the times have changed. The children are demanding equality.
"Government should give us furniture to sit on. We beg!" Gifty concludes while wiping her tears.
Children sitting on the bare dirty floor in the name of education is common in many rural communities across the country.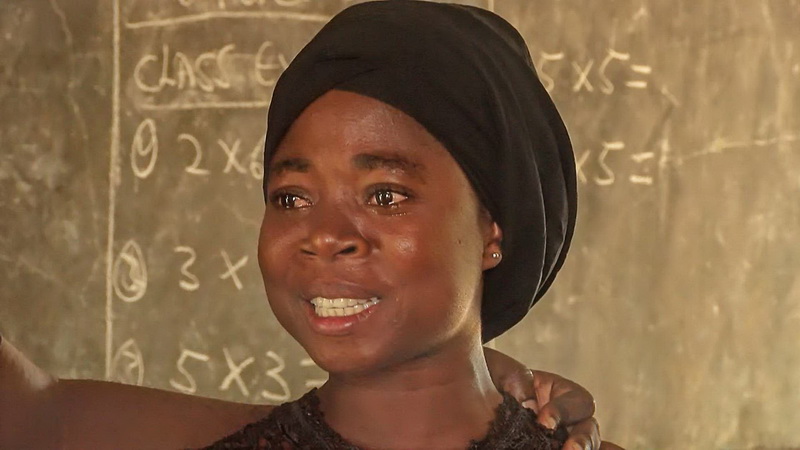 The pupils improvise by squatting, lying on their bellies or assuming weird positions on the floor just to get an education. Her school, Bakpaba Primary School in the Nanumba North district of the Northern region has a huge furniture problem. About six classes sit on the bare floor to study.
For many years the nursery, kindergarten all the way to primary five do not have furniture. The problem is really big in the Northern region.
About 213,252 children are without furniture and that is according to the Ministry of Education Management Information System (EMIS 2021). Children show up to school in clean uniforms but get dirty in less than 30 minutes upon arrival.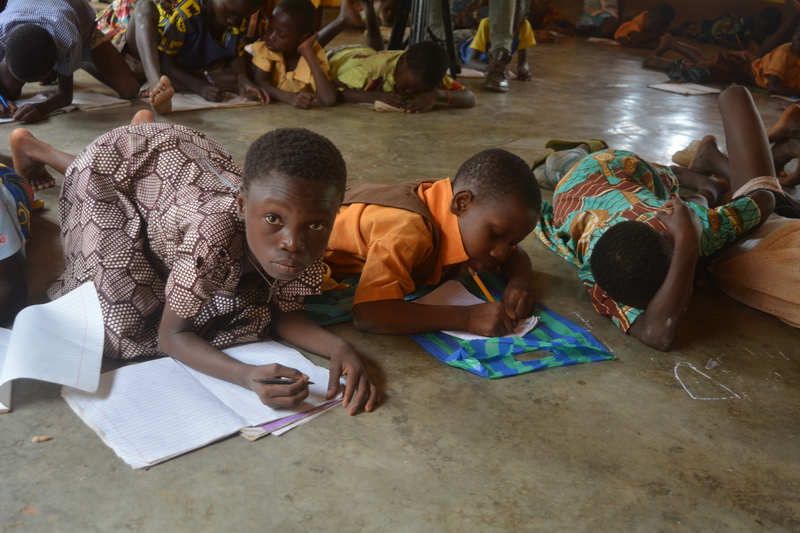 In 2021, data from the Ministry of Education indicate that about 596,000 KG pupils, representing half of the national KG population and 1.28 million pupils in primary schools lacked desks in school.
Community members of Bakpaba say they have been supporting their children the best they can. An NGO in education, School for Life brought them together to ponder on the affairs of the school.
To implement a project called Citizen-led Educational Accountability and Responsiveness which aims at getting the community to hold the government accountable, parents and some community members divided themselves into two groups debating ways of achieving the objectives. They agreed to write letters to the district assembly to provide them with furniture.
But back in the classroom, a teacher, Mohammed Andaratu is having a hard time teaching her pupils how to write the number four.
The children have no exercise books or pencils. So, they are called to write on the chalkboard.
Andaratu says it is indeed exhausting teaching children without basic learning materials.
"I don't even have a chair to sit on not to talk about a table. Our major problem is the lack of furniture. Some of them are lying on the floor. Before you realise it, some of them will be sleeping. When they are playing on the floor you can't control them".
At a nearby school, Joanaayili DA Primary School, a headmaster is not happy with the state of the school- inadequate classrooms, and inadequate teachers, the list is endless.
The lack of furniture has kept many children at home. They prefer staying at home to coming to school.
Pupils in Primary 2 are trying to identify the alphabets but it is a disaster. The pupils can recite the alphabet but are unable to point the letters out. This is the effect of not having enough teachers.
The Director of School for Life, Wedad Sayibu is not happy with this situation.
"It makes me sad. Very sad! When I go to the communities and look at children really struggling to just acquire basic education. In the Northern region, most pupils have 35 per cent of the trained teachers they need. About 30 per cent do not have schools nearby. That is a lot of injustice", she added.
There are about 2.3 million children in Ghana's public basic schools, who lack desks.
Ministry of Education's response
The Press Secretary at the Education Ministry, Mr. Felix A. Baidoo says the government has since 2017 distributed a total of 1,155,240 pieces of furniture to Senior High and Basic Schools across the country.
He stated that out of the number 925,793 were distributed to SHS while the remaining 229,447 went to Basic Schools in the country.
Following JoyNews feature documentary on inadequate infrastructure in the Kpandai, East Mamprusi, Krachi Nchumuru districts in January, the Ministry of Education in February promised to send 40,000 desks to schools without desks.
Although the figure is just a drop in the ocean considering the number of children without furniture, Joy News checks show that not all the desks have been sent to the communities that needed them.
Children should not be crying because of a lack of furniture. The government then should make it a priority to provide basic furniture to all schools lacking furniture.
DISCLAIMER: The Views, Comments, Opinions, Contributions and Statements made by Readers and Contributors on this platform do not necessarily represent the views or policy of Multimedia Group Limited.