With just two days to the Euros, it's time to update you on the how-tos regarding this exciting football tournament.
There will be 51 matches played across 11 cities featuring 24 teams. So much news and content will be generated, and the best place to follow it all is with the Multimedia Group.
Before we begin, if you are not clear on some of the key facts about this tournament (like, why is it still called Euro 2020 even thought it's being played in 2021?) check out this fun guide.
#Euro2020 is here but many fans still have questions about venues, format and more.

Here's a #JoySports guide, featuring @AmaAyenor and @AyenorJesse.#EurosOnMGL pic.twitter.com/2earHPwCUr

— #EurosOnMGL (@JoySportsGH) June 7, 2021
Now, let's get on with how to actually enjoy it in Ghana.
How to follow on TV
The Multimedia Group will broadcast 30 selected matches in total on television – 15 in English on the Joy Prime channel and 15 in Akan on the Adom TV channel. There will be no live matches on the Joy News channel.
This is made possible because the official free-to-air channels in Ghana for the competition are Joy Prime and Adom TV. Free-to-air means that once you have a connected television set within Ghana, you do not have to pay any one-off fees, ongoing cost or subscription fees to view the competition.
2️⃣ days to #EURO2020 pic.twitter.com/pdaHgigtgQ

— #EurosOnMGL (@JoySportsGH) June 9, 2021
Apart from live matches, a variety programs on TV are expected to keep the audience informed during this soccer festival.
JoyNews, where no live matches will he shown, will be heavy on highlights shows such as EuroZone (Mondays to Fridays, 10.30pm), the official UEFA Euro 2020 highlight show (airs at various throughout the day during the tournament) and news update bulletins.
On Adom TV, daily shows such as Euro Nsemsem, Euro Nkomo, Euro Wrap and regular news updates will keep the audience attuned to all that's happening.
How to follow on TV, but in HD
There is also another exciting television option for those who want to watch games in even clearer quality. A few weeks ago, the Multimedia Group announced HD+ as its official HD Experience Partner for the Euros. What this means for you is that with an HD+ decoder, you can enjoy our coverage on JoyNews HD (channel 101 on the decoder), Joy Prime HD (channel 102 on the decoder) and Adom TV HD (channel 103 on the decoder).
Get the HD+ Decoder from any Electroland outlet or Multi TV installer nationwide. There's an ongoing promo (7 June to 9 August, 2021) where it costs just GHS 89.99. If you already have a Multi TV decoder, you'd have to take your decoder to any Multi TV outlet and top up in exchange for an HD+ Decoder.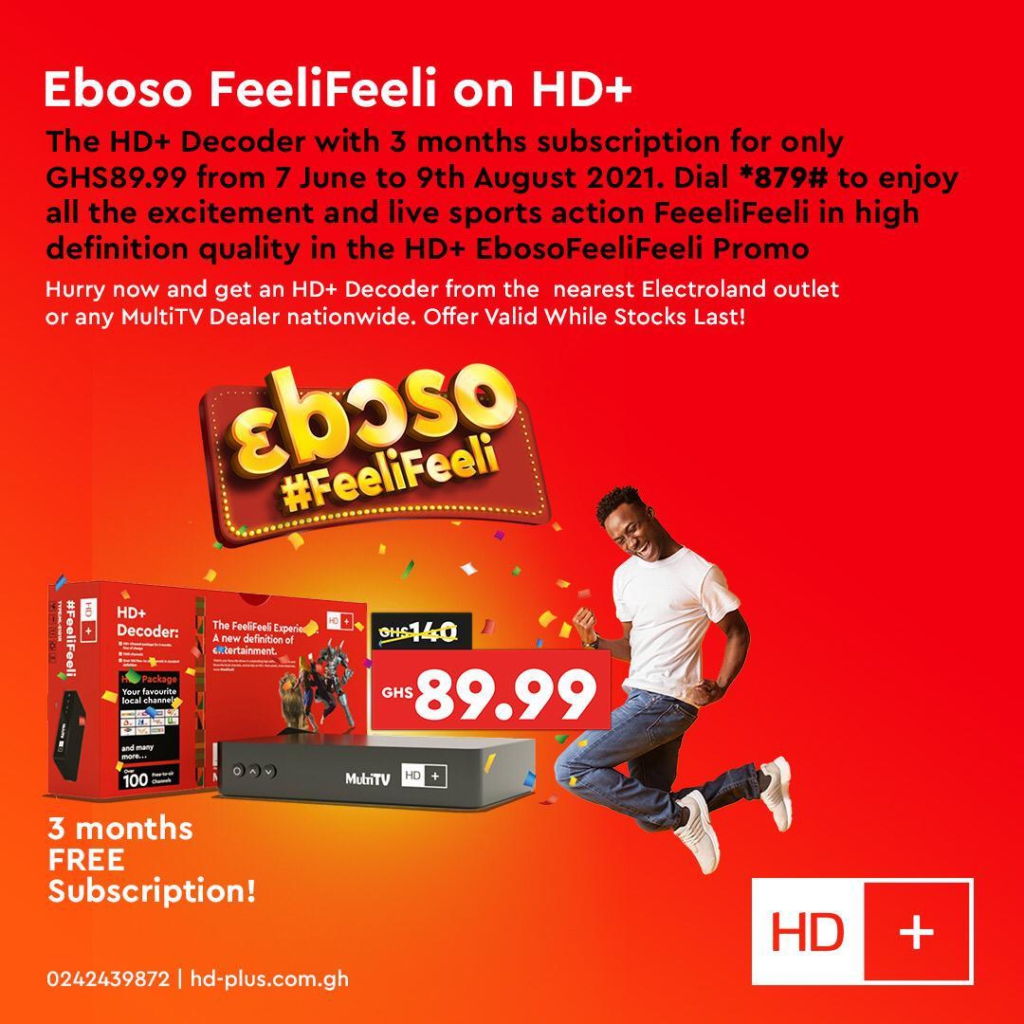 How to follow on radio
The Multimedia Group will broadcast all the games across its radio platforms in Akan and English.
For English broadcasts,, Joy 99.7 FM and Luv 99.5 FM will broadcast up to 50 games each, while entertainment-biased Hitz 103.9 FM will have up to 10 selected major games throughout the period.
Akan broadcasts will be on Asempa 94.7 FM, Adom 106.3 FM, and Nhyira 104.5 FM, where all 51 games are expected to be broadcast on each station.
Digital
This website, Myjoyonline.com, will have betting previews of all 51 games, sponsored by Betway. This will include helpful stats and pre-match information ahead of all matches. You can also get insightful articles, trivia and news during the tournament.
On Twitter, follow the verified @JoySportsGH handle for credible and official information regarding the tournament.
Also follow, Asempa FM, Adom FM, Nhyira FM, Hitz FM, Joy FM, Luv FM, JoyNews, Adom TV and JoyPrime for station-specific schedules and broadcast information.
All the above stations have Facebook and Instagram handles that we encourage you to follow during the tournament for exciting content.
Don't be left out of the fun and thrills of UEFA Euro 2020, best enjoyed with the coverage from the Multimedia Group.