Some concerned delegates of the National Democratic Congress (NDC) in the Ketu North Constituency have called on the top hierarchy of the party to conduct a re-run of the parliamentary primary, to avert apathy. 
According to them, it was unfair for the NDC's National Executive Committee to declare, Edem Agbana, the winner of the May 13th, 2023 primary in Ketu North, after the Electoral Commission (EC) declared a tie at the end of polls.
The group's spokesperson, Enoch Amedegbe, lamented that the decision has caused political tension among the rank and file of the party, which if not addressed could cause the NDC to lose the 2024 general elections.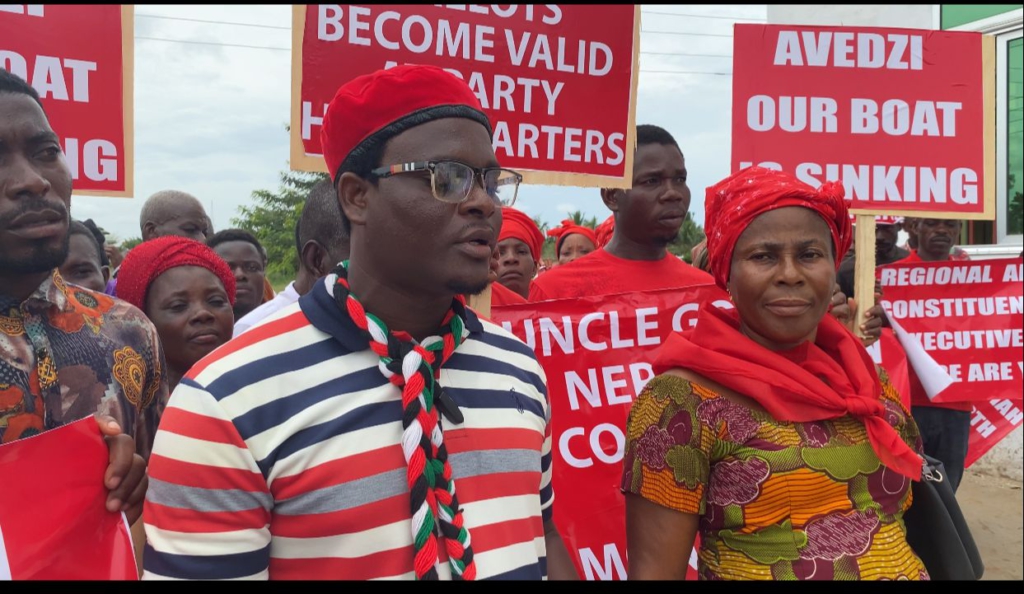 Edem Agbana and his contender, John Adanu Zewu, polled 358 votes each after three rounds of counting.
The electoral officials identified 3 unstamped ballots, 2 in favor of Edem Agbana, and 1 in favor of John Adanu Zewu, hence declaring them invalid and announcing, a tie and a rerun of the primary.
"What at all will somebody lose if re-run is conducted? We feel like the party at the national level is imposing a candidate on us instead of allowing the democratic processes to take its course and give us the opportunity to elect our parliamentary candidate and not to select for us.
"We the concerned delegates and loyalists of the party are stakeholders. We demand that the National Executive Committee looks at their decision again. Let the re-run be done for the delegates to choose the parliamentary candidate as declared by the Electoral Commission.
"Overturning the declaration by EC is not in the best interest of the party in the Ketu North constituency and the rationale behind that unprecedented declaration is not in the interest of the whole NDC family", he said at a press conference in Dzodze. 
Mr. Amedegbe indicated that the precedence sends a "bad signal" about the party and could affect it's electoral fortunes in the 2024 general elections.
"The general election is bigger than the primaries and all hands must be on board. The uneasy calm and the political atmosphere in the constituency should never be taken for granted.
"We must not for the sake of party unity discourage ourselves from speaking the truth and doing the right things. We are sending a very bad signal to ordinary Ghanaians and floating voters about our nature. This is not the NDC's ideals, this is not in our DNA.
"We have collectively toiled for so long a time to protect the Ketu North Parliamentary seat. We are still determined to do all we can to continue to protect it. Let not the actions and inactions of a few people derail our ancient efforts", he further indicated. 
DISCLAIMER: The Views, Comments, Opinions, Contributions and Statements made by Readers and Contributors on this platform do not necessarily represent the views or policy of Multimedia Group Limited.