The Ghana Institution of Engineering (GhIE) has held an investiture ceremony for Ing. Kwabena Bempong as the new President of the institution at a colourful Presidential Banquet at the Best Western Plus Atlantic hotel, Takoradi on Thursday, March 30, 2023.
The investiture ceremony climaxed the week-long Annual Engineering Conference and AGM which began from March 27, 2023 and ended on April 1, 2023.
Handing over the chain of authority, the out-going President of GhIE, Ing. Rev. Prof. Charles Anum Adams said, having had a great and enjoyable two-year journey, it is time now to hand over the Presidency of the GhIE to the new President, Ing. Kwabena Bempong.
He stated that he was very confident that in him GhIE would have an excellent and pragmatic leadership.
"I am convinced that the GhIE is going to go even higher and further. We are all available to support and work him and under his leadership", Ing. Rev. Prof. Charles Anum Adams assured.
In his inaugural address, the new President of GhIE, Ing. Kwabena Bempong said, he was elated that two years ago in Kumasi, he was overwhelmingly elected by majority of members to become the 52nd President of the Ghana Institution of Engineering and have served as President-Elect for the past two years.
Ing. Kwabena Bempong outlined his vision 2023 and beyond to over 500 engineers who attended the banquet, saying, "I intend to lead the institution to further our strategic plan which was first developed in 2007.
He would further support the growth agenda of membership of the institution and put the welfare of members and their issue at the center of all their deliberations.
He would also bring all engineering practitioners under one umbrella, especially, Technologists, Technicians and Craftsmen in accordance with the constitution and engineering Council Law, Act 819, and appreciate the roles they play in the realization of engineering value chain.
He further said he would strengthen the GhIE secretariat to respond to membership issues such as registration, examination, training, professional development and welfare. On national issue, Ing. President Kwabena Bempong said, he would lead GhIE to remain relevant on national issues by ensuring the Engineering voices are heard and respected.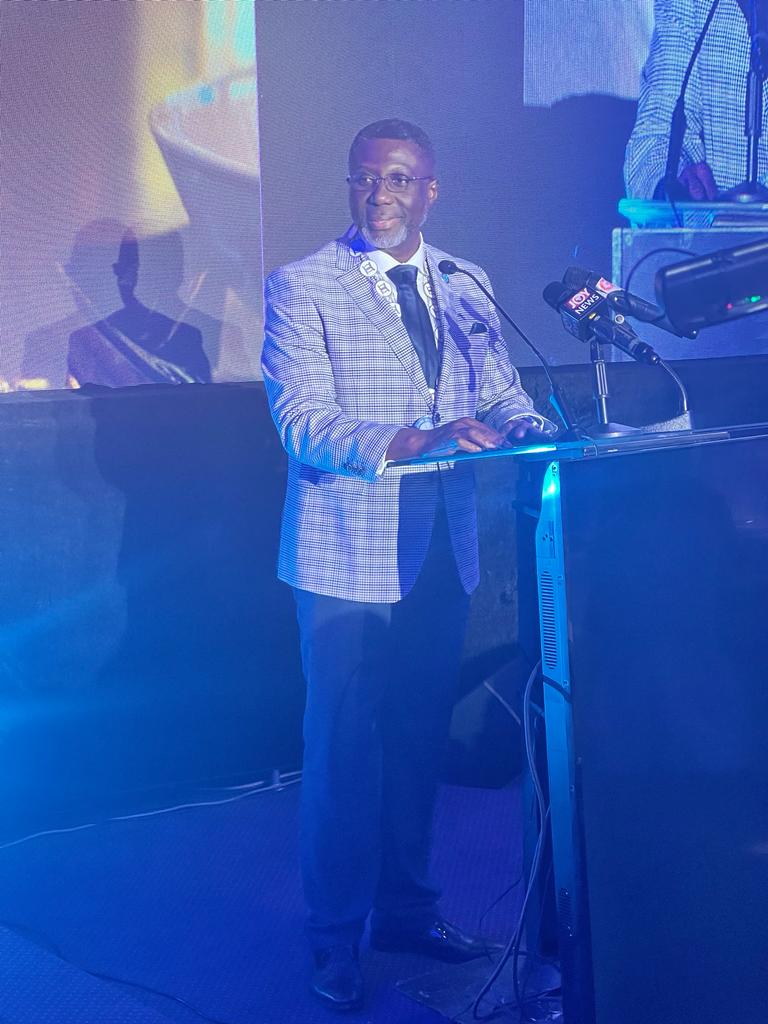 To meet the UN's Universal call to action in the 2030 Agenda for Sustainability Development, the new GhIE President said, he would endeavor to steer the institution's activities towards the achievement of these goals, especially, the engineering related goals through their activities and deliberations.
The Special Guest of Honour, Kwasi Amoako-Atta, Minister for Roads and Highways, in a speech read on his behalf by Ing. Philip Lartey, said Ing. Kwabena Bempong was the Engineer who supervised the four-tier Pokuase Interchange in Ghana, an interchange which has received numerous honours in Ghana, West Africa, Africa and the rest of the world.
The Minister therefore couldn't hide his joy, saying, "I am happy that the GhIE elected Ing. Kwabena Bempong as their 53rd President of the institution.
He explained that Ing. Bempong comes across as an Engineer per excellence, his professionalism and dedication to work are extraordinary.
The Oath of office for the new President and newly elected Council members of the GhIE was administered by Her Ladyship Justice Sedina Agbemava, Justice of the High Court of the Republic of Ghana.
The new leadership of the GhIE and Council members for 2023-2024 include Ing. Kwabena Bempong-President, Ing. Sophia Tujani – Vice President, Ing. Ludwig A. Hesse-President-elect, Ing. Yaa Okudjeto-National Councilor, Ing. Naa Lamkai Quaye-Ballard, Augustina Amoateng - National Councilor, Felix Ohene Ayisi - National Councilor, Gideon Bidor - National Councilor and Ing. Prof. Elsie Effah Kaufmann-National Councilor.
Others include Ing. Michael Obeng Konadu - Chair of Civil Division, Ing. Prof. Nana Yaw Asiedu - Chair of Chemical Division, Ing. Ebenezer Ato Roberts - Chair of Electrical/Electronics Division, Ing. Darlington Ahuble-Chair of Mech/Agric/Marine.
The rest are Richard Adarkwah-Executive Representative, Ing. Dr. Patrick Amoah Bekoe - Executive Representative, M. Philip Kwame Aheto, Ing. Dr. Joseph X.F. Ribeiro - Branch 1 (Ashanti Region), Ing. Dr. Emmanuel Kwesi Nyantakyi - Branch 2 (Brong, Bono East, Ahafo Regions), Ing. Godfrey Atta Jackson -Branch 3 (Eastern region), Ing. Abdul Shakud Iddrisu - Branch 5 (Northern, Savannah, Upper East, Upper West), Ing. Antoinette Ama Agboado - Branch 6 (Volta and Oti Regions), Ing. Franklin Kumassah - Branch 7 (Western, Central, Western-North) and Ing. David Nyante-Executive Director of GhIE. The institution is yet to select someone for Branch 4 (Greater Accra region).
The Outgoing President, Ing. Rev. Prof. Charles Anum Adams presented Presidential awards to individuals who have distinguished themselves and have served the institution meritoriously in the year under review.
DISCLAIMER: The Views, Comments, Opinions, Contributions and Statements made by Readers and Contributors on this platform do not necessarily represent the views or policy of Multimedia Group Limited.