Lewis Hamilton says he is still fully committed to success in Formula 1 despite signing only a one-year deal with Mercedes this winter.
The seven-time champion, 36, said he had twin goals of winning an eighth title and pushing for real change on diversity within motorsport this year.
The Briton said: "I am fully invested in this season. I still love what I do.
"There was great discussion around diversity last year, but what's really important is that we're taking action."
Mercedes have maintained the black livery to which they switched their cars in 2020 as a continuation of their push for diversity and anti-racism.
Hamilton said he was "proud" of the steps Mercedes were taking to make their team more inclusive and increase opportunities for minorities, and that his commission investigating the reasons for a lack of diversity in motorsport would deliver its first report in the summer.
"We are starting to see that progress and it takes one step at a time," he said. "That's my driving force this year too – to make sure we continue to push for accountability. And on top of that hopefully I can deliver some good performances."
After taking the knee before races last year to highlight anti-racism, he said he had not yet decided what actions to take on the grid this year.
"It is not the most important thing that everyone takes the knee," he said. "It is more the action in the background.
"It continues to be an issue that affects my day-to-day life and so many people out there. It is really important to continue to hold uncomfortable conversations with people – change is possible and change is needed."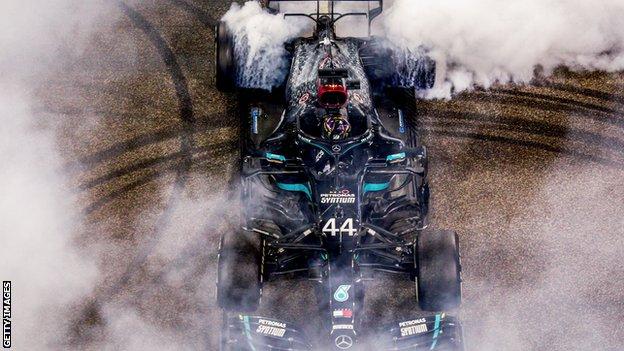 Will Hamilton race on in 2022?
Hamilton said his decision over whether to continue in F1 beyond 2021 would not be based solely on whether he breaks the all-time record of championship victories and win an eighth title.
"I have decided I don't want that to be the deciding factor," Hamilton said.
"I got into racing because I loved it and that's got to always be at the core of what you do.
"If all you're going for is accolades, I feel I could potentially lose my way. Of course it is the ultimate dream but I don't think it is going to be the deciding factor whether I stay or keep going; it is more whether I still have the smile when I leave the garage.
"It is going back to: 'Do you enjoy it?' Last year was a really tough year for everyone, including me, but there were some really impactful moments. Will that be the case this year? We'll see. Will I enjoy it as much, we'll see. I am excited now, so I am sure I will."
Hamilton said it had taken him some time over the winter to get back to full fitness after contracting Covid-19 and missing the penultimate race of the season last December.
"It wasn't the easiest of breaks," he said. "I just kept to myself and was focused on recovery – because it wasn't a quick situation – and getting myself back to full strength. [I also focused on] getting the deal done and working on some personal relationships."
Is this Bottas' last chance?
Valtteri Bottas remains Hamilton's team-mate for a fifth consecutive season, and the Finn is also on a one-year contract.
Bottas' position after this year is considered to be vulnerable after George Russell impressed on his debut for the team as a stand-in for Hamilton in Bahrain last year.
The Finn said he had analysed his season last year and continues to believe he has the chance to beat Hamilton to the title.
"Starting from fresh, absolutely I believe I can fight for the title," Bottas said. "But it is a long way from that and I need to take it step by step.
"This year I am demanding more from myself than ever. The ultimate goal is that I can look back and say I did 100%; I did every single bit I could to win the title. One year in your lifetime giving everything you have is quite short. That is including me and people around me.
"If I give everything I have, I can have no regrets."
What about the new car?
Mercedes team principal Toto Wolff said the team were as determined to succeed as ever despite their record-breaking run of seven consecutive world title doubles.
"You can never rest on your laurels," he said. "The last few years were tremendous and we're very proud of that, but it all starts from zero, with equal opportunities, and so we need to not look too far ahead.
"Within the team, all of us together, we never have these expectations. There is always a scepticism as to whether we have done a good enough job over the winter. We know that if we don't push ourselves every day we might fall back and the sheer thought is scary."
Technical director James Allison said the Mercedes design team had focused on recovering the losses created by rule changes that have cut away part of the floor with the intention of keeping cornering speeds under control.
Allison said the team were deliberately not yet revealing their design solutions at the rear of the floor, to prevent rivals seeing it and potentially copying it.
He also refused to reveal on which parts of the car Mercedes had spent their permitted development 'tokens' at a time when mechanical changes to the cars are limited for cost reasons.
DISCLAIMER: The Views, Comments, Opinions, Contributions and Statements made by Readers and Contributors on this platform do not necessarily represent the views or policy of Multimedia Group Limited.