The Foreign Affairs Ministry has urged Ghanaian nationals in Ukraine to limit their movements in public places or remain in their homes, following what it describes as the deteriorating military situation in Ukraine.
In a statement issued on Thursday, February 24, it said the development directly affects the security and safety of over 1,000 students and Ghanaian nationals.
It has also engaged with the relevant authorities in Ukraine in an effort to secure the safety and protection of Ghanaian citizens.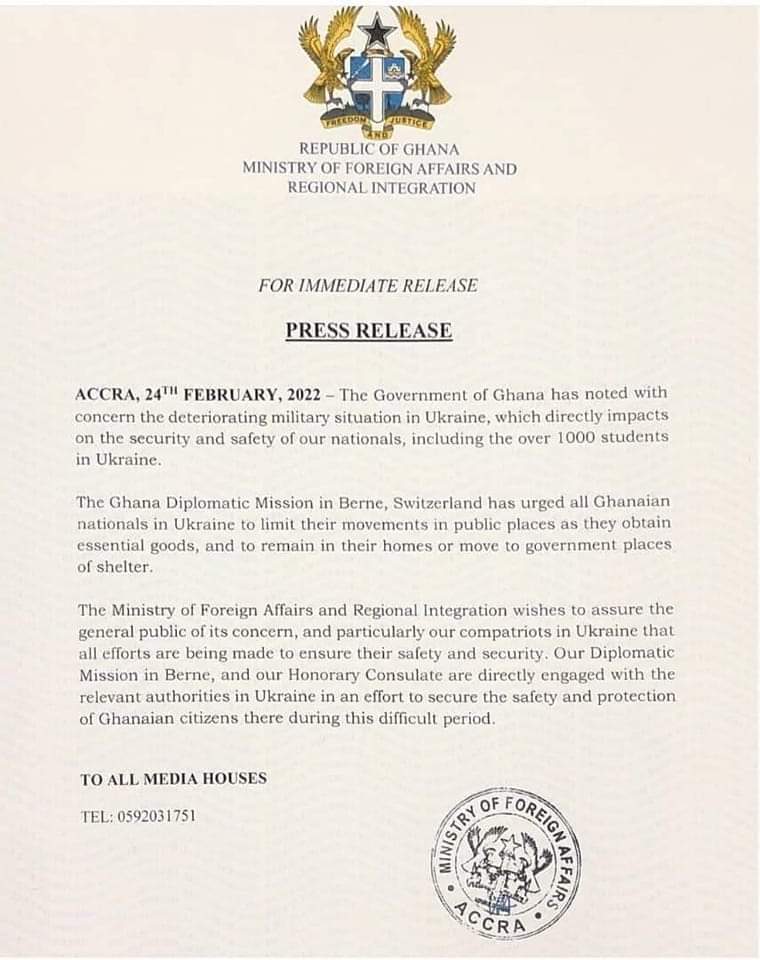 In an interview with JoyNews, the Foreign Affairs Minister, Shirley Ayorkor Botchwey, said government is doing all within it means to ensure Ghanaians in Ukraine are safe.
"Ukraine is under siege and that means that apart from the fact that a lot has been said, a lot of diplomatic moves have been made to stop the aggression; unfortunately, it hasn't worked. We are all waiting to see what will happen."
"We are trying to figure out what to do with our nationals who are resident in Ukraine. It's becoming quite difficult to move them so we need to ensure that they are safe and that they are keeping safe," she said.
Meanwhile, some Ghanaian students in Ukraine have appealed to the government to immediately consider evacuating them from the Ukraine-Russia region after reports of tensions and violent clashes.
One of the students, Joseph Cobblah, told JoyNews they feel unsafe. He revealed some of his colleagues have been hiding in bunkers.
"The explosion has reduced for now but as of now, we are all underground – the Africans, the Indians, we are all hiding here. If there is a bomb explosion, we are to seek shelter."
"Information coming up is that people who are in apartments as students or whoever shouldn't be in a storey building…we want to be evacuated," he appealed.
What happened?
Russian troops launched their anticipated attack on Ukraine on Thursday, as President Vladimir Putin cast aside international condemnation and sanctions and warned other countries that any attempt to interfere would lead to "consequences you have never seen."
Big explosions were heard before dawn in Kyiv, Kharkiv and Odesa as world leaders decried the start of an invasion that could cause massive casualties, topple Ukraine's democratically elected government and threaten the post-Cold War balance on the continent.
Ukrainians who had long braced for the prospect of an assault, while never knowing precisely when it would come, were urged to stay home and not to panic even as the country's border guard agency reported an artillery barrage by Russian troops from neighboring Belarus.
Meanwhile, experts have warned of dire consequences for the global economy including challenges for oil and gas supply as Russia continues to launch special military operation in Ukraine's Eastern Donbas region.
DISCLAIMER: The Views, Comments, Opinions, Contributions and Statements made by Readers and Contributors on this platform do not necessarily represent the views or policy of Multimedia Group Limited.