He calls himself the King, and with all his achievements from year one to 20, it checks out. But even to him, clocking 38,388 seemed impossible.
"It's still mind-boggling to myself. I've set goals throughout my whole career – I wanted to be rookie of the year, I wanted to be MVP in this league, I wanted to win the championship, be an All-Star. I wanted to lead the league in assists and make the all-defensive team and be defensive player of the year.
"[But] I've never said I wanted to lead the league in scoring, or for sure I never said I wanted to be the all-time leader in scoring. It's never been a dream of mine," LeBron told the ESPN's Michael Wilbon.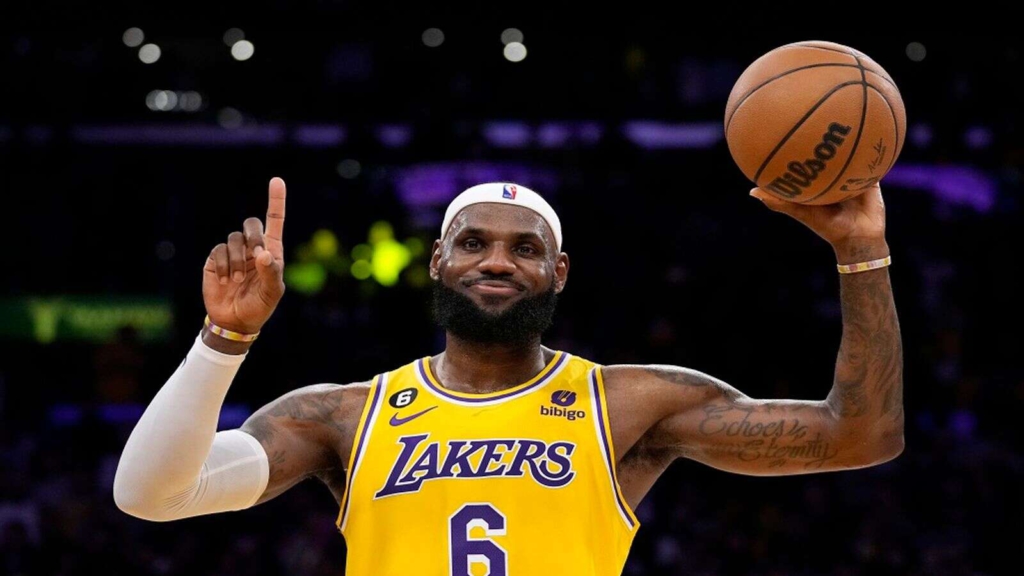 It was a record which stood for well over 3 decades and scraped the edges of a 4th. 39 years is what it took for Kareem Abdul-Jabbar to be toppled.
And guess what, he was toppled by a man who was born 9 months after he set it.
In fact, LeBron-sexuals will tell you James was conceived on the night or close to the night Abdul-Jabbar set his. And if you deep it, this crazy theory measures up.
And on the night when it was finally meant to be, all it took LeBron was 26 minutes.
"There couldn't be a better person to do it than LeBron. He earned it, he worked hard for it [and] it's kind of interesting he was born in the year I set the record," Abdul-Jabbar said in a video he posted on his personal Twitter page.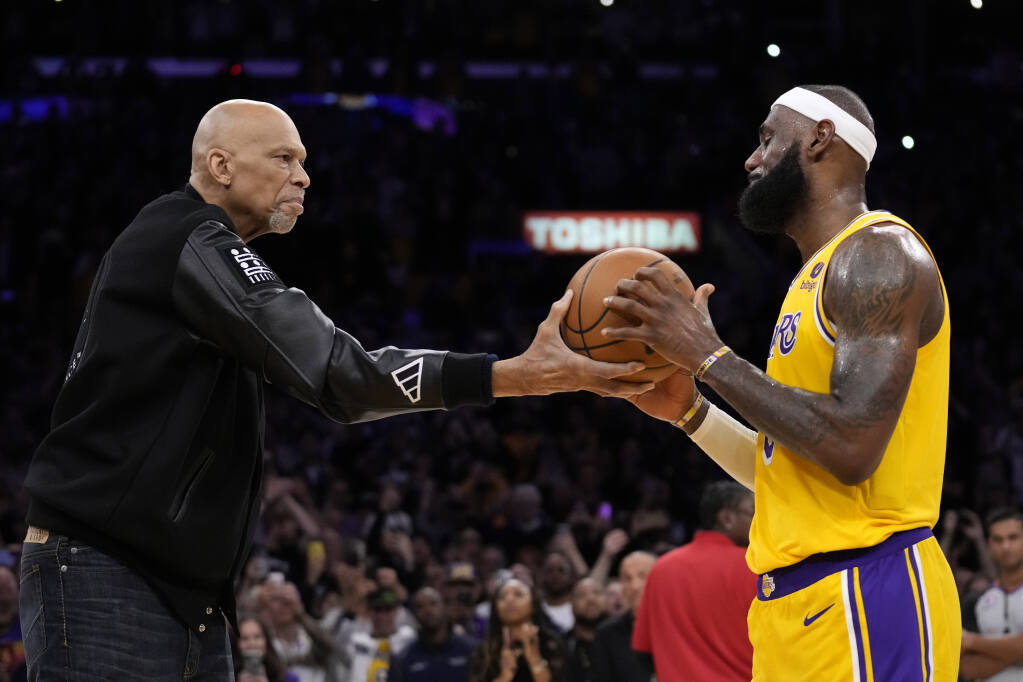 LeBron came in prepared as well; spotting an all-black attire when he arrived at the arena, and brought out the headband for the game as well.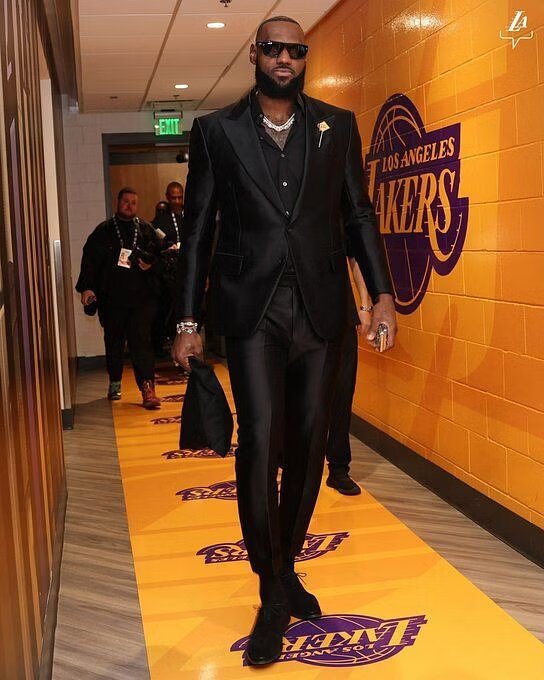 And though looking to close everything out on that same night, LeBron did not spam and made sure to be effective.
Before sitting out parts of the 4th quarter due to a right ankle injury, LeBron clocked 34 minutes on the floor, scoring 38 points – leading the team in scoring, as he's done all season.
He went 13-20 with his field goal attempts and hit a clean 80% from the free throw line, as well as 4-6 from beyond the arc. But after all the plush and jazz of clocking 3,388, what really is LeBron's legacy?
The comparisons
Mention legacy, and LeBron is currently in a field of his own – chasing down the 40k scoring barrier; no other player has achieved that – not even the single-game 100-point-hitting Wilt Chamberlain.
In the present season, Luca Doncic boasts of the highest average point per game in the franchise with 33.4 – meaning for any potential NBA player hoping to hit even Kareem's figures, they need to clock at least 33.4 points a game for 17+ years.
Longevity is the biggest question at this level.
There are some who argue Michael Jordan failed to break the scoring record because he did not play long enough. For someone who posted a point average of 30.1 – and widely believed to be a better scorer than LeBron – probably going beyond 15 years will have done the deal for him.
LeBron is currently in his 20th season, and still leading the scoring charts for the Lakers – as his game has transitioned from his rookie year to the year 20.
His first-ever point in the franchise came from an uncontested fadeaway for the Cavs, and two points away from his record-breaking shot, he posted up on Kenrich Williams to hit the record-breaking fadeaway.
However, what probably speaks more of LeBron's transitioning, is his first shot on the night which was a 3-point. And this is important to note because shooting from beyond the arc was regarded as one of his letdowns.
The barbershop NBA GOAT debates has setup two sets of distinct NBA followership; the Jordan-sexuals and LeBron-sexuals. These two factions have also generated an extra two; Jordan-haters and LeBron-haters, making it seem like the debate includes only these two.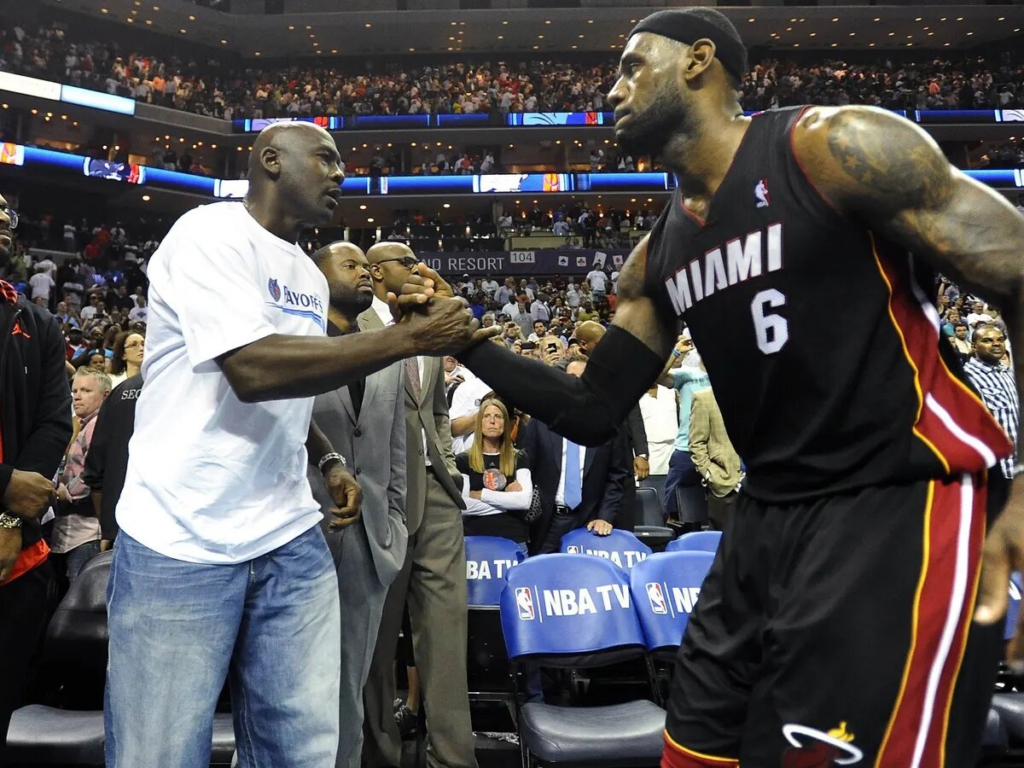 However, there is an older generation of fans – and also some modern generation – who make arguments for Abdul-Jabbar, Wilt Chamberlain and Bill Russell. Regardless, the previous two are those who have split majority of the fandom and dominated these debates.
"I think he's going to have the greatest career of all time. I think he's already had it. I think Michael [Jordan] is the greatest of all time, but that doesn't take anything away from LeBron. LeBron's had the greatest career" Doc Rivers said of LeBron.
Nonetheless in the NBA, what matters more than others are the rings, and Jordan's domineering selling point will always be his 6-0 finals record, which will always be a trolling point for LeBron who has lost six of his 10 finals.
But something which will always work magic for him is his 4 finals MVPs as well as winning the championship with three different teams.
Plus, it is widely believed the level of quality during the Jordan era is a step down of what LeBron has experienced since 2003, with more 3s and less physical defense.
And while Jordan is regarded as the better scorer – not only leading the franchise in the average points per game (30.1), but also boasting of 10 scoring titles – LeBron taking over from Abdul-Jabbar will look to steer that argument in his favour. More critically, since LeBron possesses a wider scoring range than Jordan – unstoppable when he picks up a ball and drives to the rim, and also boasting of the ability to sink 3s.
Jordan made 'only' 581 3-pointers in his entire career; LeBron has 621 with the Lakers alone – he first played for the Lakers in 2018. Nonetheless, there are some who insist, Jordan is the better scorer and the ESPN's Stephen A. Smith is one of them.
"The greatest scorer ever was Michael Jordan. LeBron James is the greatest all-around player but when you talk about an assassin, a scorer, no, that's going to be Michael Jordan. It's been that way and it's going to stay that way."
However, he agreed that between the two, LeBron is the more versatile scorer, but being the more versatile scorer definitely has to secure additional points, no?
Shelve that in the meantime though, and cast back on the others which go beyond scoring, with LeBron sitting in 4th on the NBA's all-time assists board, and for active players, he's only behind Chris Paul.
Also, the Lakers' forward's 19 All-Star appearances and 18 All-NBA teams as compared to Jordan's 14 and 11, leave him with much greater appeal. But Jordan also boasts where LeBron falls short: six final MVP awards, nine All-Defensive First Team selections and the Defensive Player of the Year award.
Can there be 2?
Some arguments transcend and can never end, and this GOAT debate between Jordan and LeBron is one. The margins are narrow, with achievements diverse.
While LeBron always gets stick for losing six finals, with the league's spike in quality, what shows Jordan will have won all six of his finals? However, if this was a game of what ifs, anything could have just been said for argument's sake.
Both names have inspired generations of players which succeeded them, and also generations which sprung up during their time – not just on the court, but also off it. And perhaps, what makes it more difficult to conclude is they both played in different eras.
LeBron's teammate, Anthony Davis, is from one of such generations, admiring the legend of Jordan while also experiencing the exploits of James first-hand and besides being teammates with LeBron, what makes it more difficult for Davis to choose is his origin.
Being from Chicago – the centre of Jordan's galaxy, it is almost impossible to choose one.
"I'm a big Jordan guy. But also growing up? I was all LeBron," Davis said. "The shoes, the number, everything. Because that's who I was seeing every day. I didn't see Jordan."
It's two different eras," Davis said. "I'm always curious to see guys now, older guys they played but they always go back to Mike, like, 'MJ was MJ.' Alright, well Bron is Bron. It's a good debate."
DISCLAIMER: The Views, Comments, Opinions, Contributions and Statements made by Readers and Contributors on this platform do not necessarily represent the views or policy of Multimedia Group Limited.