The Attorney General is seeking public support to apprehend the fugitive behind the Central Medical Stores (CMS) fire.
Debunking the perception that there is a grand conspiracy to bury the case, Gloria Akuffo said the general public has not been supportive in the attempt to arrest the fugitive.
She said if the general public was minded, reasonable force could have been used if necessary to arrest Samuel Dogbe, a labourer, who a suspect named in the 2015 fire disaster.
"The law requires that even a private person can use reasonable force to arrest and within a reasonable time to hand over a suspect to the police.
"If indeed people know where this man who has fled is, it is the binding responsibility of the people to give the information to the police. It will be very helpful," she said.
She also suggested monitoring the banking activities of the fugitive could also help to arrest him.
According to her, the incident which occurred in 2015 had about 18 suspects on the same docket.
"There was the need when the docket was submitted with all the names on one docket to be returned for the accused persons to be separated on different dockets.
"A docket will require witnesses that have to be taken in respect to the accused," she said.
The prosecution has had a litany of failures by its investigators to do a job with constructing a good docket
The fire left over $200 million worth of drugs burnt to ashes.
Investigations into the fire incident point to a case of arson with at least 12 employees of the Ghana Health Service interdicted.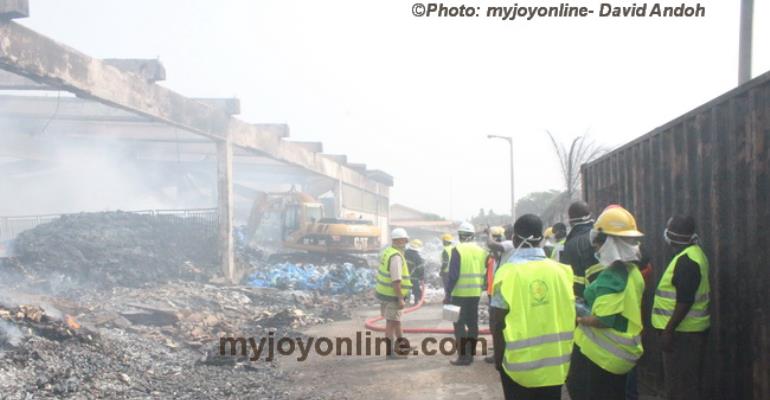 This was after it established that the arson was part of a conspiracy to cover up the theft of medicines at the Store.
According to the AG, her office plans to charge the suspects with causing financial loss to the state but confirmed they have struggled due to the nature of the work done by the investigators.
"If you study the docket you will see those investigations were geared towards charging the suspects for causing financial loss to the state; you need to know the amount involved for each of the accused persons. It was not there," she noted.
She said it would be difficult to know which cost to charge to each suspect since there was already a case of malfeasance at the CMS before it was allegedly torched.
But anti-graft institutions are not satisfied with the response of the AG.
Beauty Emefa Nartey said if the AG was committed to getting to the bottom of the case, a reward package could have been announced to the public to volunteer information that will lead to the arrest of the suspect.
Watch the video below:
Have your say
---
More

News

Headlines
---